Yesterday was Father's Day, and Danny gave up breakfast in bed to join his dad and the rest of the family for a good cause: the Procure 5k walk to raise funds for prostate cancer research.
Even Clara came along, and we strolled the course, not concerning ourselves with the time, but just happy to be together, and with a cancer survivor in our group.
When the race wrapped up, we headed back to the grandparents to jump in the pool and fire up the barbecue. I wanted to contribute a dessert that was refreshing after our (rather sweaty) walk and quick to toss together.
I decided on a colourful salad of grilled pineapple, mango, and peaches, with a handful of raspberries thrown in, and a squeeze of lime juice on the top. It was a fine, fine choice.
Grilling Fruit
If you want to bring out the natural sweetness of fruit, as well as add a subtle smoky flavor, then grilling is the way to go. After the fruit is cooked, you can refresh it with a squeeze of citrus juice and a grating of zest.
Fruit Grilling Tips:
Choose firm, unblemished fruit that is not quite ripe, but still yielding.
Be sure to brush the grill clean, and scrape off any charred meat remains.
Keep a close eye on the fruit, as their natural sugars can cause them to burn quickly if left unattended.
Serve grilled fruit while still slightly warm to fully capture the flavor of the fruit.
As I was plating this salad, I couldn't help but think how amazing it would be wrapped in a paper-thin crepe, and topped with whipped cream, of course. Alternately, you could scoop some Greek yogurt on top of your grilled salad and call it lunch.
One thing is for sure, once you start grilling your fruit salad, you'll be hooked. Here's how to do it.
Grilled Fruit Salad with Lime Zest & Vanilla Sugar
The flavours of this salad are bright and bold, perfect for pairing with barbecue fare. Choose stone fruits, pineapple, or pears for grilling, and finish with a splash of citrus. Serve with whipped cream or vanilla ice cream for a true summer treat.
Print
Pin
Rate
Ingredients
An assortment of fresh fruit

peaches, plums, pineapple, mango, or pears

olive oil

2

limes

vanilla sugar or honey

to taste
Instructions
Preheat grill to 400F.

Wash fruit and prep for grill. Cut stone fruit into quarters, and pineapple into wedges.

Toss fruit in a teaspoon or so of olive oil and place on the grill.

Grill 4-5 minutes per side, or until grill marks show.

Remove from grill onto a cutting board. Chop fruit into large, rustic chunks and add to a bowl.

Squeeze lime juice over fruit and add zest. Sprinkle vanilla sugar or drizzle honey over fruit.

Toss gently and serve at once.
Notes
Chopped or torn mint is another excellent flavour pairing with the grilled fruit. A few leaves are often enough, as you don't want the mint to overpower the fruit.

More Grilled Salads
Eating in season is one of the best ways to stretch the food budget over the summer and tossing a warm-weather staple like salad on the grill changes it up nicely.
Here are a few more options for grilled salads:
Grilled Caesar Salad
Get the recipe: Grilled Caesar Salad.
Grilled Peach, Haloumi, and Arugula Salad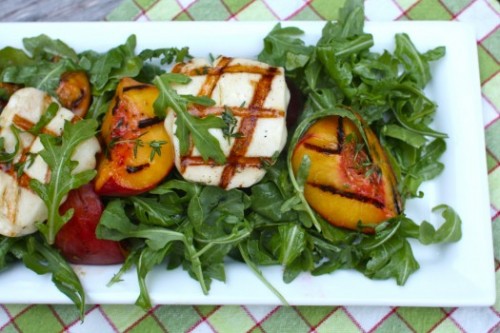 Get the recipe: Grilled Peach, Haloumi, and Arugula Salad.
Grilled Corn & Avocado Salad with Lime & Basil
Get the recipe: Grilled Corn & Avocado Salad
What is your favorite fruit to throw on the grill?