Before we get started, though, let me just clarify one thing. I see a lot of recipes and methods for "Bone Broth". What is the difference between 'bone broth' and 'stock', you ask? Is there a difference? Yes, indeed.
Sure, both are made by simmering bones and mildly aromatic vegetables in water for a lengthy period of time, but a true bone broth is made with meat as well as bones, and often contains extra flavorings such as garlic or turnip. A stock is more 'bare bones' (pun intended!) containing not much more than bones, water, and mirepoix.

Think of it this way: the term 'broth' implies it could be a dish, while 'stock' is clearly just an ingredient. Hope that helps. We're going to learn how to make a brown stock today.
Brown Stock 101
I use this stock the most in my kitchen, putting it to good use in soups, stews, sauces, risottos, or pastas.
You can make it with chicken, veal, beef, duck or wild game bones, all of which are roasted beforehand to give that rich, dark color to the stock. In this recipe, I use veal bones, as that is what I received from my butcher along with the side of young beef we recently purchased.
15 lbs beef or veal bones, in 3-5 inch pieces
3 gallons cold water, approximately
2 large onions, peeled
2 sticks of celery, washed
2 medium carrots, peeled
2 bay leaves
1/2 teaspoon whole black peppercorn
handful of fresh parsley OR
2 springs of fresh thyme
2 Tablespoons apple cider vinegar
2 tablespoons tomato paste (optional)
Preheat oven to 350° F.
Rinse & Roast
Rinse the bones under cold water, pat dry, and place them in a oiled roasting pan. If desired, brush them quickly with tomato paste (this adds more color and flavor to the stock).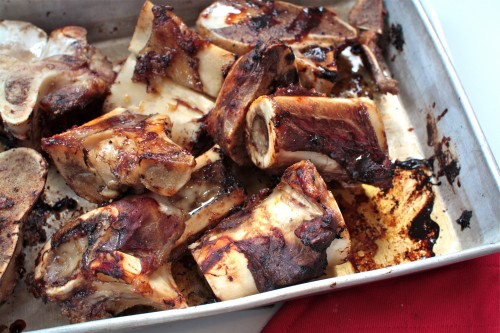 Roast the bones, turning occasionally with a sturdy pair of tongs, until the bones caramelize, approximately one hour.  Do not let them burn, or your stock will be bitter.
Meanwhile, prepare your mirepoix. Roughly chop the onion, celery and carrots, place them in another oiled roasting pan or sheet, and roast alongside the bones until lightly caramelized.
Remove bones from oven and transfer to a large stock pot. Add a few cups of cold water to the roasting pan to deglaze it, and use a solid spatula to lift off the remaining food particles on the bottom of the pan and all the flavor they bring. Add mixture to the pot with the bones.
Simmer & Stew
Add roasted mirepoix, herbs, pepper corns, vinegar and bay leaves to the pot of bones. Fill pot up with cold water until the ingredients are just barely submerged and place on stove burner.
Bring stock to a boil — and reduce heat immediately. Simmer slowly for 8-12 hours, occasionally skimming excess oil or scum off the top. You don't need to babysit it much, just make sure it is at a temperature where it will will simmer, but not boil.
When you need to get to bed, or need your large pot for other tasks, turn off the stock and prepare to strain it.
Sieve & Strain
Using a sturdy Spider Skimmer
, dip into the large pot and fish out the bones. Allow them to drain a bit and then toss them in the garbage. (I usually haul my garbage bin right over to the stove, to make things easier.) When you have fished out all the large ingredients, strain the broth through a fine sieve into a sturdy bucket, or another pot.
If you have the time and patience, strain the stock a second time through a cheesecloth to further remove impurities.
Chill & Store
Place the pot into your sink, run some cold water around it to help speed up the cooling process. When it is at room temperature, divide among sanitized covered containers for storage. Mason jars work well for freezing, but be sure to leave at least 1 inch of head space to allow for expansion.
Don't worry if a thin layer of fat forms at the top of your containers. This helps preserve the stock and can easily be removed with a spoon before using.
Stock can be stored for up to one week in the refrigerator or frozen for 3-4 months.
Do you use stock at home?