Long ago, in the kitchen of one of Montreal's finest restaurants, I was taught that a truly fantastic soup can be made from a mere handful of humble ingredients.
What made the soup exceedingly good was the quality and freshness of the ingredients, and the method used for cooking. Over the long, frigid Montreal winters, we cooked batch after batch of sous vide butternut squash, and pureed them with a splash of cream for a velvety soup with vivid color. Night after night, I filled bowls with the rich potage, and topped it with delicacies such as seared foie gras, sauteed wild black trumpet mushrooms, and a pomegranate juice reduction. Sublime.
Today's recipe is inspired by those upscale bowls of soup: a simple combination of apple, squash and onion, seasoned with salt, and thinned with a little cream. Garnished with diced apples, it's fall in a bowl; and yes, it was cooked sous vide.
Now, I'm a fan of simple soup from scratch, and will be the first to admit that a sharp knife and a sturdy pot are the only requirements for a good soup, be it rustic, roasted or rich. Alternately, I also have enough of a background in professional cooking to know that ingredients slowly cooked in a water oven (or sous vide) will yield a superior soup.
Ten years ago, when I was manning the stove in various restaurants, the culinary term 'sous vide' was virtually unknown to anyone outside of processionals. Now, thanks to crazy-popular TV shows such as Top Chef, Master Chef, and Iron Chef, sous vide is fast gaining on culinary terms such as 'braising' or 'searing'. There are even cookbooks devoted to the subject such as Under Pressure: Cooking Sous Vide
and Sous Vide: Help for the Busy Cook
.
When the kind folks behind Sous Vide Supreme contacted me to try one of their counter top water ovens, I agreed, as I was eager to see this beautiful new home version for myself. It has been really fun to recreate some of the recipes for my family I had tucked away from my restaurant days.
Danny, armed with his copy of Cooking for Geeks
, is pretty excited to get into sous vide cooking. Being our resident numbers guy, he of course loves the science behind the sous vide method and I'm more than happy to let him share the kitchen.
I can see the sous vide supreme working out very well for our family thanks to my background and Danny's obsession with temperature. We'll keep you posted.
What is 'sous vide'? It means to cook food in vacuum-sealed pouches, submerged in a water bath held at a precisely controlled temperature. Sous vide means "under vacuum" in French, as you can see from the images above. The first photo is before cooking, the second is after. (There's a helpful video on the Sous Vide Supreme website that explains the cooking method with a great visual.)
What makes a sous vide soup superior? When cooked slowly, in a water bath, vegetables and fruits retain their full color and flavor as well as undergo a remarkable transformation in texture. Once pureed, the flavors seem intensified, and the resulting texture is soft and velvety. With just one bite of this soup, Danny was smitten.
We're going to be enjoying it all winter long.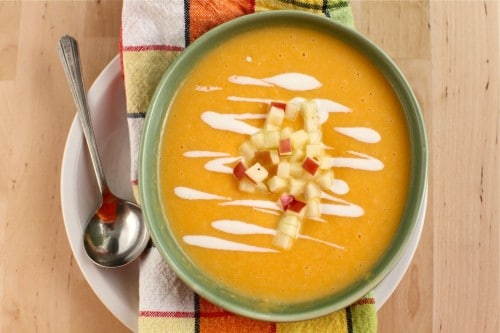 5-ingredient Butternut Squash & Apple Soup (sous vide)
Fresh fall ingredients, cooked together sous vide, make for a surprisingly sophisticated soup.
Print
Pin
Rate
Ingredients
1

medium

butternut squash

peeled and sliced

1

large

tart apple

such as Granny Smith, cored and sliced

1/2

onion

sliced, or 6 green onions, ends trimmed

1

teaspoon

sea salt

3/4

cup

light cream
Instructions
Fill 2/3 full with water and preheat the sous vide unit to between 182 and 185 degrees F.

Place the sliced squash, apple and onion into a large, one-gallon food-grade pouch. Vacuum seal the bag to remove as much air as possible.

Submerge the pouch in the sous vide unit and cook for 2 hours until the squash and apples are quite soft. Check the pouches after 20 minutes to make sure they're fully submerged. If they are floating, weigh them down with a mug or other heavy object.

When the squash is cooked, remove the pouch from the Supreme, and pour the contents into a blender. Puree until smooth.

Add sea salt and cream and puree again. Taste and add more salt if you like. Serve hot, garnished with diced apple if desired.
Nutrition
Calories:
123
kcal
|
Carbohydrates:
21
g
|
Protein:
1
g
|
Fat:
4
g
|
Saturated Fat:
2
g
|
Cholesterol:
16
mg
|
Sodium:
398
mg
|
Potassium:
507
mg
|
Fiber:
3
g
|
Sugar:
7
g
|
Vitamin A:
13460
IU
|
Vitamin C:
28.6
mg
|
Calcium:
75
mg
|
Iron:
0.9
mg
Are you familiar with cooking sous vide? Is it a technique you would like to learn more about?