A regular brown package arrived via courier last week. Inside, all three hundred and four first pass pages of an uncorrected manuscript that is my next cookbook.
The words, the photos and the recipes all compiled together into a neat little package that has been my passion project for the last two years. What a thrill to hold the unbound pages in my hand.
I'll get to introduce the cookbook to you soon, and share the cover as well as a sneak peek of the recipes to come, but for now, I need to pick up a pencil, put my head down and focus on these final corrections before it goes to print. Things may continue to be a little quiet here on the blog in January, but I'll be back before you know it, along with more stories, ideas and recipes.
But for right now, let's share breakfast in the form of Apple Almond Bircher Muesli with Winter Fruits.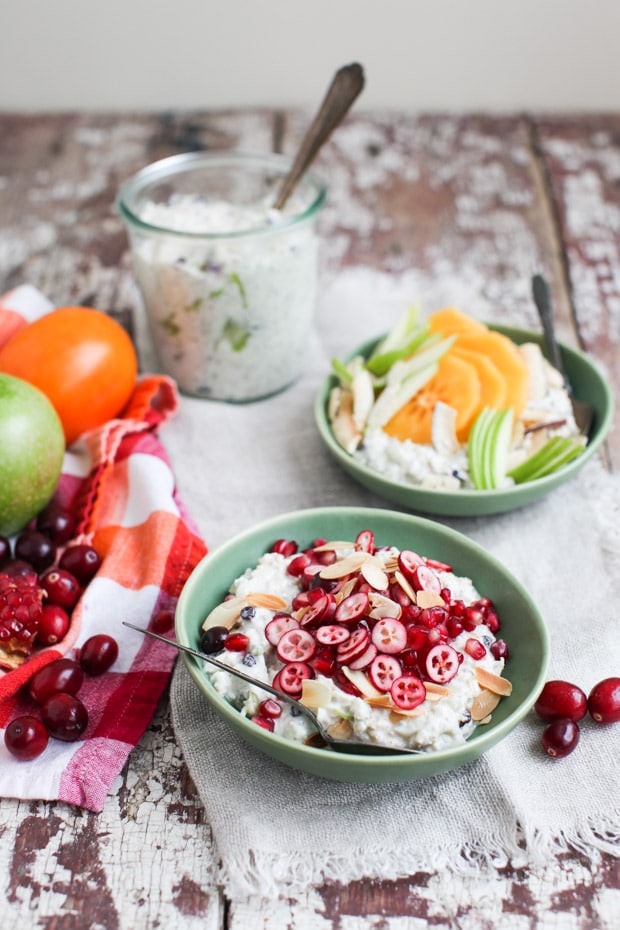 My mom had a copy of Jill Dupleix's New Food when I was growing up, and I must have made every recipe in the book, as well as memorized many of Jill's famous kitchen mottos like learning from our mistakes, refusing to buy anything called instant and never apologizing for our food.
Jill introduced my eleven-year-old self to the joy of starting the day with a bowl of bircher muesli topped with yogourt and grated apple. It's a breakfast bowl I've made over and over again ever since those earlier days, customizing it with whatever I have on hand in my pantry and fruit bowl. And it never gets old.
Nowadays, I sweeten it slightly with maple syrup and add a little chia seed for those Omega 3's. I use almond milk as I can't digest regular milk anymore, but I have no problem with cultured yogourt, and always stir a few spoonfuls into the oats.
Toppings include toasted nuts, seeds and coconut chips, as well as heaps and heaps of seasonal fruit. I adore sliced cranberries paired with pomegranate or thinly sliced tart green apple with chopped persimmon.
If you're looking for a fresh and nourishing breakfast that is also fast to prepare, mix up a jar of bircher muesli today. It's prepped the night before, which makes for an absolutely simple morning.
One last tip: try toasting the oats and the coconut before stirring the muesli together for a nuttier take on the usual bowl of oats.
Ingredients
1

cup

rolled oats

1/4

cup

unsweetened shredded coconut

1

Tablespoon

chia seed

2

teaspoons

ground flax

1

pinch

fine sea salt

3

Tablespoons

currants

1 1/4

cups

almond milk

or milk

1

cup

plain yogurt

1/2

teaspoon

pure vanilla extract

1

Tablespoon

pure maple syrup

plus more to serve

1

large Granny Smith apple

1/4

cup

slivered almonds

toasted
Winter Fruits
sliced cranberries

pomegranate

persimmon

clementines

apples
Instructions
In a medium bowl, stir together the rolled oats, coconut, chia, flax, salt and currants.

Pour over the milk, yogurt, vanilla, and maple syrup. Stir to combine.

Cut the apple into quarters and remove the core. Grate, skin and all, on the large side of a box grater. Add the grated apple, along with the juices, to the muesli.

Mix the muesli thoroughly, then transfer to a jar and refrigerate overnight or up to 3 days.

To serve: spoon about a cup and a half of muesli into a bowl. Thin out with a little milk or a spoonful of yogourt if desired. You don't want the consistency to be like glue, but more like porridge.

Drizzle with additional teaspoon of maple syrup, if desired, and sprinkled a few toasted almonds on top.

Heap the bowl of muesli with about a cup of winter fruits: sliced cranberries, pomegranate arils, sliced persimmon or chopped apple. Enjoy at once.
Eat Seasonal
Our blogging group is back and kicking off a whole new year of seasonal recipes. Check out the January seasonal produce guide on Vintage Mixer, as well as our original creations below.
Healthy Tangerine Julius Smoothie by Letty's Kitchen
Leek and Turnip Soup by Vintage Mixer
Olive Oil Cornmeal Cake with Grapefruit and Fennel by Floating Kitchen
Saucy Sweet Potatoes with Coconut Curry and Mint by Healthy Seasonal Recipes
Garlic and Herb Spaghetti Squash Boats by She Likes Food
Peanut Butter Crusted Sweet Potato Fries by JoyFoodSunshine
Raw Brussels Sprouts Salad with Harissa Vinaigrette by Project Domestication
Winter Cauliflower Rice Bowl with Cranberry-Mustard Sauce Cafe Johnsonia
Meyer Lemon Coconut Panna Cotta by Kitchen Confidante
Maple Orange Teriyaki Salmon Bowls by Flavor the Moments