Today's crunchy vegetable and rice noodle salad is a dish we've all been raving over recently at the dinner table.
It might be the umami of the soy sauce or the salty shrimp that we've been craving.  Or the rainbow of vegetables tossed into the mix. Maybe we just love the cold dinner option after months of soups, stews and winter braises.
Whatever the appeal, I've made this enormous, main-dish salad three times recently and my kids go crazy for it each time it hits their plate. No, this salad isn't exactly seasonal, but it's worth letting things slide once in a while to see my children cramming forkfuls of fresh vegetables into their mouths!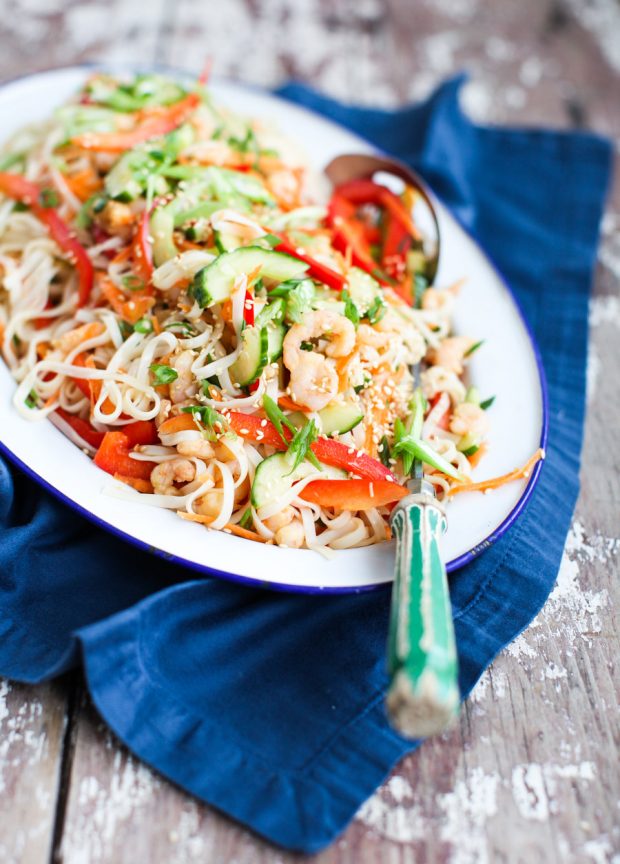 I posted a photo of this salad on Instagram a while back and so many of you asked for the recipe, I decided to actually write down my method and share the dish with you. If shrimp aren't your thing or you'd like a vegetarian version, swap out the shrimp for tofu or even toasted cashews.
I nearly always have a bag of frozen northern shrimp in the freezer and a bag of rice noodles in my pantry as a back-up meal plan. Sometime they come together in a soup with coconut milk, ginger and fish sauce, and other times they are a hot stir fry, topped with peanuts and cilantro.
Today's recipe is another favourite combination of rice noodles and shrimp: a simple salad with a delightfully complex range of flavours and textures. Snappy bits of carrot and cucumber, slivers of hot green onion, lime-laced shrimp and a craveable vinaigrette that brings all the ingredients to life.
If you've got little ones who are keen to help out, invite them into the kitchen to make this recipe. They can squeeze limes and whisk together the dressing or peel the carrots.
Of all kitchen tasks, Clara loves knife work the most. I set her up with a large wooden board and a (really) small serrated knife at a table that is just her height, and she is thrilled to help. For this recipe, she chopped the peppers and the cucumbers and did a great job.
Together we mixed up a generous bowl of salad in the afternoon and left it for a few hours in the fridge for the flavours to make friends. The vegetables won't be quite as crunchy, but I find the salad is more appealing after a short chill.
A  quick note on shrimp….it's best not to purchase shrimp that comes from Asia or any warm waters. All you have to do is Google "shrimp slavery" to know what I am talking about. Either look for something from our North American fisheries or don't eat shrimp at all.
There are plenty of great options for Atlantic or Pacific Northwest wild-caught shrimp, also known as cold-water shrimp. There are many different species, but both Atlantic and Pacific Northwest shrimp can be marketed as "northern", "nordic" or "pink" shrimp, so check labels carefully or ask your fishmonger where they came from.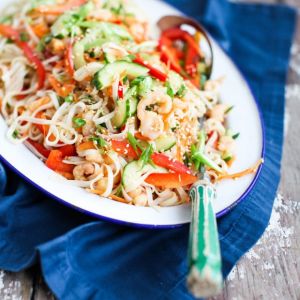 Ingredients
325

g

flat vermicelli rice noodles

1

ripe lime

juiced

2

Tablespoons

soy sauce

1

teaspoon

fish sauce

1

Tablespoon

rice vinegar

3

Tablespoons

sesame oil

1

English cucumber

1

red pepper

thinly sliced

2

medium carrots

peeled

1

small bunch green onions

340

g

Northern Shrimp

cooked and peeled

1/4

cup

toasted sesame seeds
Instructions
Bring a pot of salted water to a boil and drop in the rice noodles. Cook according to the package directions or until tender with a bit of bite. This will only be a couple of minutes, so don't go anywhere. Taste the noodles frequently to have an idea of when they are getting close. Mine cook in about 3 minutes. Drain noodles and rinse under ice cold water. Leave to drain.

In a small bowl, whisk together the lime juice, soy sauce, fish sauce, rice vinegar and sesame oil.

Slice the cucumber lengthwise and scrape out the seeds with a spoon. You should have two cucumber "canoes". Flip them onto the flat side and thinly slice into half moons. Grate the carrot on the large side of a box grater. Finely chop the green onion.

In a large bowl, toss together the cold rice noodles, shrimp, cucumber, red pepper, grated carrot, and green onions. Pour the vinaigrette over the salad and toss well to coat everything. Chill for about an hour or up to 4 hours.

To serve, heap salad high on a platter. Sprinkle with sesame seeds and serve.
Notes
Sliced avocado, sliced mango or chopped cilantro are all additional toppings that are delicious with this salad.
Also, this salad is almost as good on the second day. I usually add a little fresh cilantro and send it to school in a chilled thermos for the boy's lunch.