Four months into our round-the-world journey, we've wound up in Mediterranean Europe. First mainland Greece, then Naxos island, Rome, and now Sicily, then on to Provence in France, and the south of Spain.
I've arrived in the land of open-air markets, and I'm not quite sure how my husband is going to drag me onto the airplane that will take me away from this wondrous place.
For those blessed with access to a farmer's market, you'll understand my sentiments when I say the market is an easy place to delightfully lose track of time, sniff aromatic melons, smile at blushing red tomatoes, and fill your cloth shopping bags until you come home with a bounty like the one pictured above (the literal fruits of my first Sicilian shopping trip– local pistachios and almonds, three types of local cheese, salami to die for, and gorgeous seasonal produce).
There's another side to these markets, however, one that even caught my children's eyes (or rather, noses) when we first stumbled upon it. The fish stalls.
It's not a sight that we're used to in North America. My fish usually comes frozen in packages, bound up in cans (for salmon patties), or at the very least, laying clean on styrofoam, shrink-wrapped in plastic.
Not here. Particularly on the islands or in coastal cities, the "pescheria" (as they call the fishmonger shops here in Italy) are prevalent and popular among the locals.
Wanting to challenge myself in each locale we visit, I decided it was high time I make my way to the fish stalls, purchase something fresh and glossy-eyed, and take it back to the kitchen of our rental apartment to prepare it as a Sicilian cook might.
Luckily for me, my attempts at buying said fish were facilitated by a lovely elderly Sicilian woman, who happened to have lived in New York for 10 years and spoke enough English to step in like an adopted Italian grandmother and show me the ropes.
She chose the fish – a midsize white-fleshed fish called Sgrombo which is common in this area. Next, she determined the size of our family and how many we might need (she chose four, although we would have done fine with three). The man at the counter attempted to bag them for me as-is. She caught my wild-eyed look and asked them to slice open and gut the fish… phew.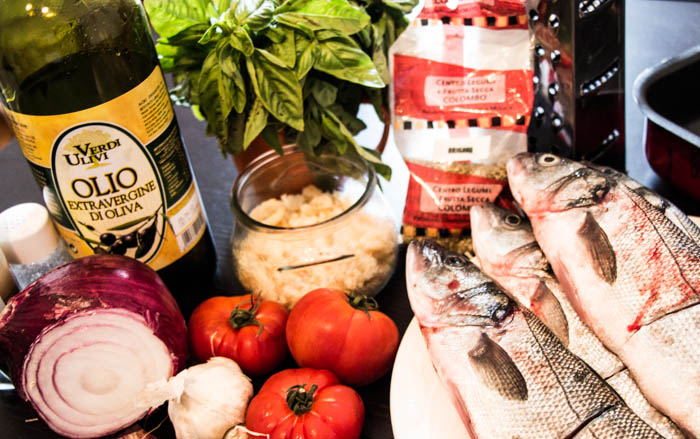 How to bake a whole fish– Sicilian style
These are the oh-so-precise directions I received from my adopted Italian grandmother: Stuff the fish with something like tomatoes, onions, garlic, celery, whatever you like. (I had also read recipes that included cheese and breadcrumbs, so I added those as well). Do not put olive oil and salt on before cooking, she stressed. Just stuff them, and then bake them until they're done (oh dear), and add oil and salt afterwards.
Easy enough, right?
Thank heavens for Google. I found general instructions for cooking whole fish that suggested 10 minutes per inch of thickness at a temperature of around 375 F. I ended up cooking them for just over 20 minutes. They were a little less than 2 inches thick, but they were also stuffed, which is probably why they needed a tad longer.
The result? Absolutely perfect. I almost forgot, but then drizzled the fish with oil and salt after, but they honestly didn't even need it. Perfectly moist and tender and flaky and flavorful. The stuffing was a delicious bonus, and I only wished I had stuffed them a little more.
Editor's note: Head HERE for tips on how to test if a while fish is properly cooked through.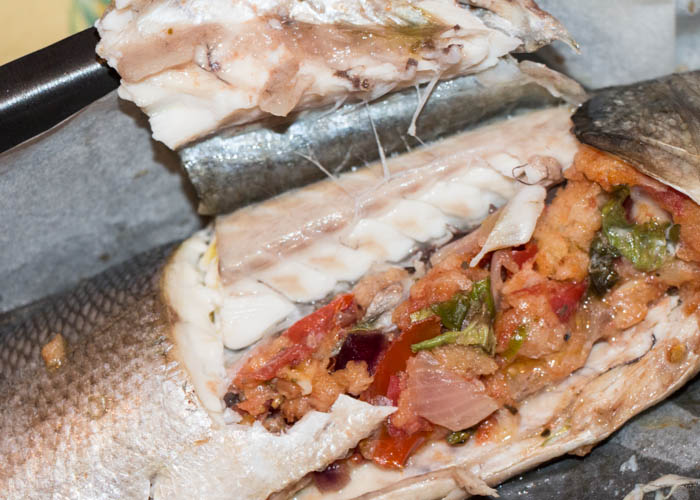 A few tips on serving and eating a whole fish
Eating fish off the bones can be intimidating. Several times per year, we buy whole Pacific salmon since we live on the West Coast, and so we've gradually gotten better at maneuvering our way past the bones, and on to the good stuff.
We find it best to use a fork to gently open up the top and peel off the top layer of fish from the bones. Then, take the end of the tail and pull the entire spine up in one fell swoop. If the fish is fully cooked, it should come out easily. We're not brave enough to eat the head, so we just leave it well enough alone.
After the bones have been removed, we simply peel the rest of the cooked fish out of the skin (you can eat the skin of some fish, like salmon, but this particular fish had very scaly skin and after a couple attempts, I decided it just wasn't edible). This isn't a foolproof method for avoiding bones, but it does deal with the majority of them, and you'll just have to be attentive for any remaining bones as you eat.
When feeding fish to children, I break it apart with my fingers into chunks before putting it on their plates, so that I can check carefully for any bones.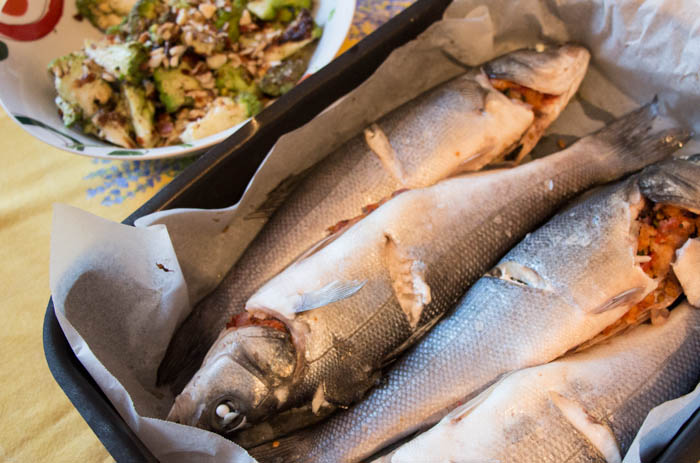 Baked & Stuffed Whole Fish (Sicilian Style)
Here in North America, you can prepare this recipe with most any variety of round fish such as trout, Arctic char, small salmon, grouper, tilapia or snapper.
Print
Pin
Rate
Ingredients
4

whole white fish

these were mid-sized

3

chopped tomatoes

1

cup

breadcrumbs

1/4

cup

sharp white cheese

grated (mine was pecorino, but any sharp cheese would work)

1/2

chopped red onion

1

handful

chopped fresh basil leaves

5-7

cloves

garlic

chopped or crushed

Sea salt and olive oil
Instructions
Warm up olive oil on medium heat in a frying pan. Add onions first to soften, then all stuffing ingredients, until warm and well mixed.

Meanwhile, wash fish well and pat dry.

Stuff open cavities of fish with warm stuffing, and lay in a baking dish. I used parchment paper in my pan to prevent the skin from sticking and to minimize cleanup. First, spread olive oil over the parchment, then lay the fish down head-to-tail so that they fit well.

Bake at 375 for approximately 10 min. per inch of thickness. This is just a general rule. Set your timer for 10 minutes and start checking in 5 minute intervals from that point forward. Avoiding overcooking is key. Test with a fork to see if the fish flakes when you open it. Another key for me was noticing that the gill area burst open slightly and I could see a little cooked white flesh coming out.

Drizzle lightly with extra virgin olive oil and sprinkle with sea salt after removing from the oven.
Notes
It's a good idea to ask the fishmonger how much of a particular fish they suggest for the number of people you'll be serving. I had mine gutted which left it slit open down the middle, but the heads, tails, etc. were left on.
Nutrition
Calories:
133
kcal
|
Carbohydrates:
22
g
|
Protein:
5
g
|
Fat:
2
g
|
Saturated Fat:
1
g
|
Cholesterol:
5
mg
|
Sodium:
456
mg
|
Potassium:
445
mg
|
Fiber:
3
g
|
Sugar:
6
g
|
Vitamin A:
305
IU
|
Vitamin C:
20.5
mg
|
Calcium:
137
mg
|
Iron:
2.9
mg
I confess, eating a pan full of whole fish like this still weirded us all out, be it ever so slightly. That said, every single family member not only liked it, but said it was some of the best fish they'd ever had. 
Wouldn't my Italian grandmother be proud?
Related links:
How do you serve fish to your family? Do whole fish like these ones grace your dining room table?