The following is a guest post by Jan of Family Bites. Welcome Jan!

If you're anything like me, you're probably always looking for new ways to jazz up the midday meal, whether your packing a lunch for work or school, or both. Let's face it, packing lunches isn't the most glamorous job in the home culinary world, and when you're facing picky eaters, allergies and school policies, feeling inspired each time you approach an empty lunchbox can become quite challenging.
With five full months of lunch-making under my belt for this school year, I've been feeling uninspired with the daily packing of late. In order to keep myself motivated, I decided that instead of approaching lunches with a menu, I would attempt to approach them with a theme.
Nine Lunchbox Themes
It used to be that I would head off to the fridge or pantry looking for items that could be assembled quickly with hopes of creating a decent meal, but now I have learned to tackle each lunch with a theme in mind instead. Not only does this make packing the meal more fun, it also makes it easier as my focus is narrowed down to the few items that fit into my category for the day.
These nine themes are the ones we use most often, however we've decided to come up with special ones for holidays and seasonal celebrations.
The "Thermos" Lunch
The "Not-Lunch" Lunch
The "Breakfast-for-Lunch" Lunch
The "International" Lunch
The "Tea Party" Lunch
The "Kids' Choice" Lunch
The "Wrap and Roll" Lunch
The "Pizza" Lunch
The "Pasta and Grains" Lunch

All photos by Jan Scott.
The "Thermos" Lunch
With soup and stew season upon us, doubling up on what you make for dinner one night can mean that lunch is ready in a matter of minutes the next day. I like to use a stainless steel thermos, and keep the food extra hot by pouring boiling water into the thermos and allowing it to rest, before pouring it out and adding the soup in. Serve alongside a bun and a piece of fruit, and a hearty lunch can be had in no time at all.
Sample Menus:
Chicken and wild rice soup, pita wedges and cucumber rounds
Parsnip and pear soup, wheat crackers, cheddar cheese and grapes
The "Not-Lunch" Lunch
We like to serve what we call a Parisian Picnic. Similar to Aimee's "Guilt-free Non-Suppers", this is an assortment of yummy eats and often includes crackers, cheeses, fruits, meats, veggies and dips packaged in small individual containers. This is also a wonderful way to feed a gaggle of kiddies who come over to play, or adult guests who pop by for a leisurely weekend lunch.
Sample Menu: Cheddar cheese cubes, bread sticks, turkey slices, apple wedges, grapes, carrots and hummus, dates and dark chocolate squares.
The "Breakfast for Lunch" Lunch
Omelettes and frittatas are a favorite for my boys, and so are waffles and pancakes. Each of these works well if served at room temperature and when paired with a fruit and veggies, a complete meal can be had.
Sample Menu: Sweet potato pancakes with maple syrup, celery topped with cream cheese and raisins, and apple slices.
The "International Lunch"
Perhaps one of the most fun lunches to assemble, we start by choosing a country we want to eat from and build from there. This works great for adult lunches as well and can prompt creative action from the entire family.
Sample Menus:
Italian – Gnocchi with Parmesan and prosciutto, mini pots of tiramisu, grapes.
French – Brie, baguette, walnuts, Dijon potato salad, strawberry cake, French mineral water.
The "Tea Party" Lunch
Fun for adults and kids alike, this is a lunch comprised of easy-to-eat finger foods. Remove the crusts from sandwiches for true authenticity and consider sending along a thermos of herbal tea for a warm beverage.
Sample Menu: Assorted tea sandwiches (i.e. tuna and egg with crusts removed), mini scones, veggies and dip, fresh fruit kebabs.
The "Kids' Choice" Lunch
Relinquish control for a day and relish in watching your kids ponder the many possibilities of what to eat for lunch. I think you'll be pleasantly surprised by what they come up with, and astonished by just how creative your culinary protégés can be.
Sample Menu: Guide your kids in their endeavor by suggesting they choose one protein, one grain, one fruit, one veggie and one treat for their creation.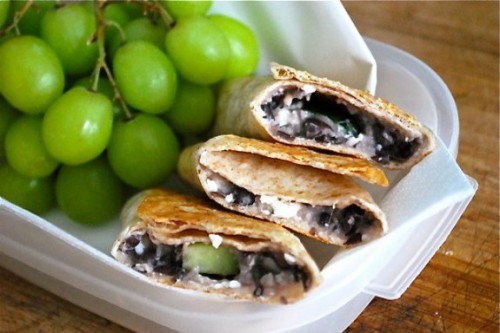 The "Wrap and Roll" Lunch
Give the everyday sandwich a facelift by using tortilla wraps in place of ordinary bread. Be creative with your presentation and cut the rolls into ½ or ¼'s for a different look.
Sample Menus:
Black bean and feta tacos, fresh fruit salad and homemade cookies.
Black bean burritos, tortilla chips, pineapple wedges.
The "Pizza" Lunch
Pizza doesn't have to be a fast food/take-out item. When made at home it can be a healthy solution to those greasy cravings. Consider making pizzas from English muffins, whole grain pitas and flatbreads, or traditional pizza dough and use leftovers for an assortment of toppings.
Sample Menu: Chicken club pizza and tomato, bocconcini and basil skewers
The "Pasta and Grains" Lunch
This can be served as a hot lunch (use a thermos) or a room temperature one (think salads), and the possibilities are endless. Leftover spaghetti, noodles and gnocchi make for a great hot lunch, while penne is a great base for a pasta salad.
Sample Menu: Honey-glazed chicken and penne salad, orange slices and mini muffins.
These are the themes that work for our family, but please feel free to adapt them to what will work for you. I know several families who try to offer a vegetarian lunch each week and I know of others who make a "fast-food-at-home" lunch each week.
Be creative and have fun, and I guarantee your lunch making blues will be banished.
Which lunch theme(s) will you integrate into your week?