There's a droopy apple tree in our backyard, branches bare to the elements save for a dozen or so brown apples hanging on for dear life.
The other day I watched from the kitchen window as my boys walked down to the frozen lake with their hockey sticks over their shoulders. My eldest paused for a moment under the tree, raised his stick and whacked one of the frosty fruits out onto the ice. Then they skidded after it in their clunky winter boots, lowered their hockey sticks and began passing the apple back and forth between them.
I had to smile at the scene: the frozen, wrinkled apple bouncing across the ice and the nonchalance of the young hockey players with their makeshift puck.
My heart smiled too, at the significance of the moment: brothers together, creative play, unparalleled outdoor fun with a whole lake at their disposal. This sort of effortless play was part of the Dream, and by 'effortless' I mean good old fashioned fresh air adventures that don't require us driving somewhere, slave to a schedule/opening hours, paying for entrance fees/uniforms/gas or whathaveyou.
I had wanted a home where the backyard would beckon to the children, full of potential fun as long as they took the first steps. So far that part seems to be unfolding: apple tree, frozen lake, hockey games and all.
Later, when the boys trooped into the house with crimson cheeks, damp hair and rumbling bellies, I ladled steaming red lentil soup into bowls and set it down on the table for them.
Last January I was carb-hungry, embracing deep pots of pasta to fuel our winter sports and, in retrospect, my borderline depression. This year in Halifax, deep winter doesn't seem to exist; instead we have intensely windy days, where the snow whirls in every which way except down. It's soup weather, through and through.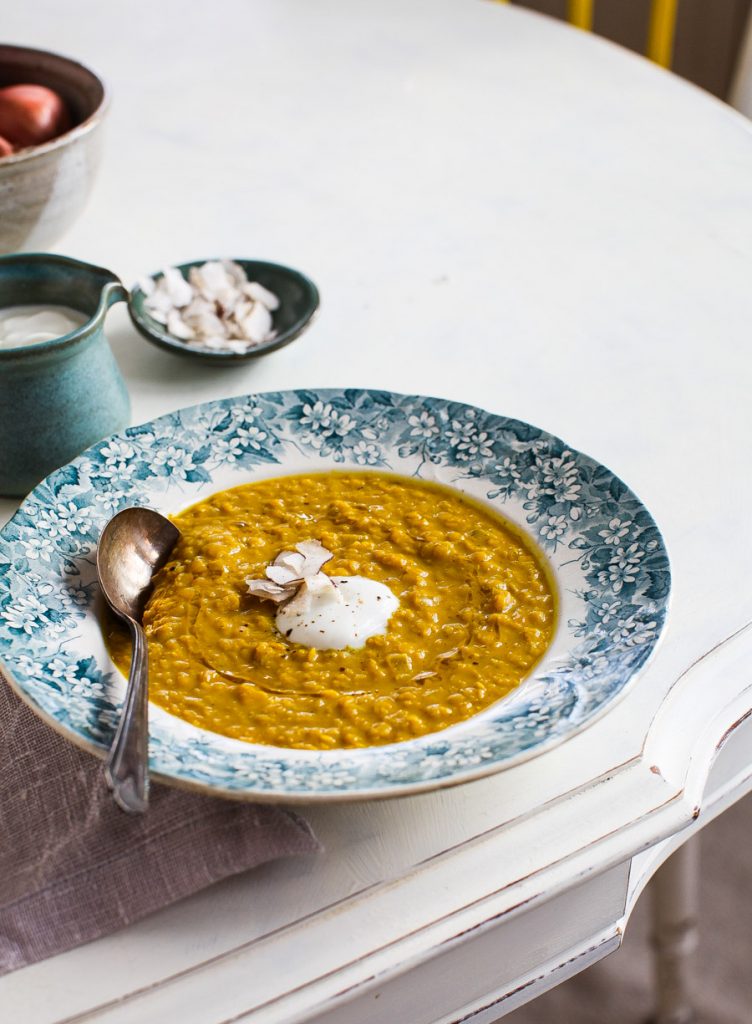 Slow-Cooker Coconut Curry Red Lentil Soup
I tend to make two types of lentil soup – both of them come together by feel, plying around with the ingredients I have on hand. The first, and my children's favourite, is a riff off this basic French Lentil Soup with Bacon. It made with du Puy lentils, sweet carrots, dried thyme and a bit of bacon to round out the flavour.
The French lentil is a hearty soup, and a recipe that I often double or triple because it freezes so well. Think European flavours when building and garnishing this soup; simmer it with herbes de Provence, bulk it up with cubed ham or kielbasa , and finish it with a grating of Parmesan cheese and crispy pancetta. It's very versatile, as you can see.
My second go-to lentil soup, and my personal favourite, uses red lentils and leans toward warm Indian flavours: curry, ginger, cumin, coconut milk and cilantro. It's mild enough for the kids, yet served up with a pungent yogurt-ginger sauce to give it a little kick.
Slow-cooker coconut curry red lentil soup is another easily adaptable recipe, designed to get a hearty, nourishing meal on the table with minimal effort.
I've developed this comforting soup to be a 100% dump-and-go type of slow cooker recipe. The active time is as little as five minutes, if you have your ingredients within reach. Of course as with most slow cooker recipes, you can also simmer this soup on the stovetop for a relatively quick meal . Cooking time as about 30-40 minutes and the result is slightly thicker, like a dal, because some of the liquid evaporated during the cooking time.
I recommend simmering a vegetable broth in advance of making this soup as it really rounds out the flavour. I've made it with water, and that's okay in a pinch, but the soup does feel a little thin. If you do make a stock from scratch, toss a little ginger root in as well as the stems from the cilantro and this will boost the flavour tremendously.
The split red lentils from my friends at Eat Grain are the best I've found and I start getting nervous when my supplies run short! I like knowing that they come from Saskatchewan, not that far from my mother's childhood farm.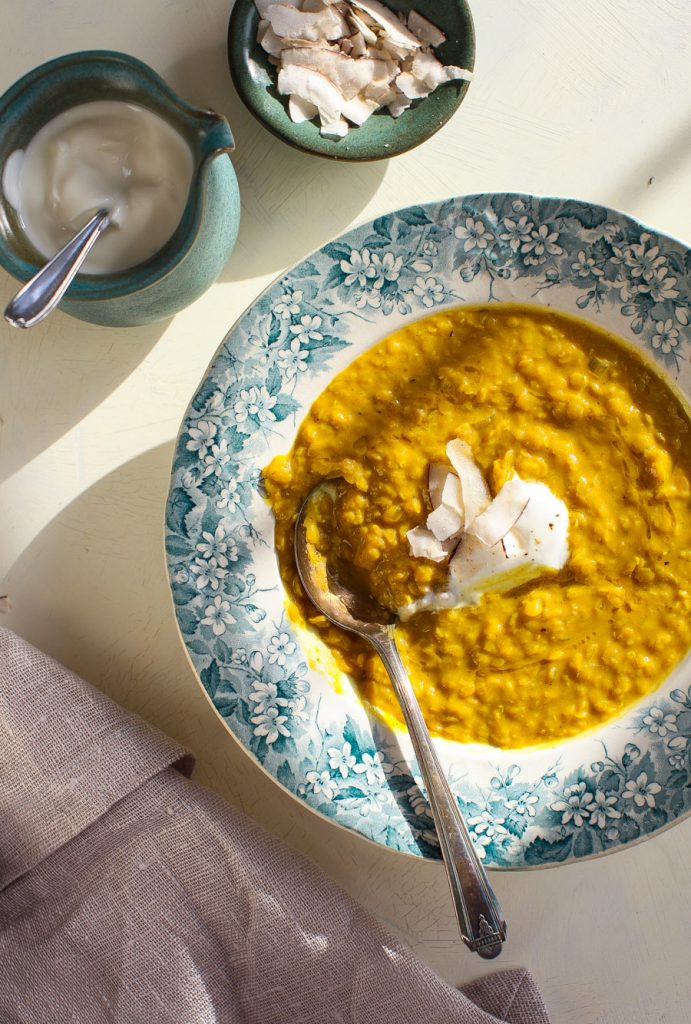 Because I'm always trying to fit more vegetables in our diet, today's soup has roasted, mashed sweet potato in the mix. This is the perfect way to use up that last little bit of purée from dinner. Any mashed up winter squash will do, as will cooked carrots or canned pumpkin. Not only does a bit of squash bring a depth of flavour to the soup, it also helps to thicken it up to a nice, spoonable consistency.
You can also bump up the vegetables even more by stirring in a handful of baby spinach and a punch of salt into a hot bowl of soup. And should you want to ladle this over brown rice pilaf and top it with a fried egg and a shot of hot sauce, well, I highly recommend that, too.
Stay warm this winter, friends. Simmer or slow cook a big batch of curried red lentil soup and stay nourished, too. Don't forget to include the kids in the kitchen; they can make the crackers to go with the soup.
Slow-Cooker Coconut Curry Red Lentil Soup
A comforting and nourishing soup that is delicious in any season.
Print
Pin
Rate
Ingredients
1 1/2

cups

split red lentils

2

French shallots

peeled

2

cloves

garlic

peeled

1

inch

ginger root

peeled

1

teaspoon

ground cumin

2

teaspoons

mild curry powder

1

cup

mashed sweet potato or pumpkin

1

can

coconut milk

(14 oz can)

4

cups

vegetable stock

1

teaspoon

fine sea salt

1

juice of 1 lime

1/2

cup

plain yogurt

chopped cilantro

to garnish
Instructions
Pour the lentils into a fine-mesh sieve and rinse under cool running water until the water draining is no longer cloudy. Dump the lentils into a slow cooker.

Finely chop the shallots; mince or grate the garlic. And them both to the lentils. Using a microplane, grate the ginger into a fragrant heap of pulp and juice. Reserve 1 teaspoon of this to stir into the yogurt topping; add the rest to the slow cooker.

Sprinkle in the cumin and the curry powder; dump in the sweet potato puree and give everything a stir.

Shake the coconut milk well, then open the can and pour it over the soup ingredients. Finish by adding the vegetable stock and give the pot a final stir. Cover with a lid and set to High for 5 hours. Easy, right?

Just before serving, stir in the salt and the lime juice. Taste and adjust seasoning to taste; it may be necessary to add more salt.

Stir together the yogurt and the reserved grated ginger. Serve alongside the lentil soup, adding a dollop to the top of the bowls. Garnish with chopped cilantro, toasted coconut flakes or a drizzle of olive oil, if desired
Notes
Note that slow cookers may vary, so if you find that yours tends to cook meals faster than usual, begin checking to the soup around 4 hours. You are looking for a tender lentil in a fragrant broth.
Nutrition
Calories:
336
kcal
|
Carbohydrates:
39
g
|
Protein:
14
g
|
Fat:
14
g
|
Saturated Fat:
12
g
|
Cholesterol:
2
mg
|
Sodium:
1049
mg
|
Potassium:
720
mg
|
Fiber:
14
g
|
Sugar:
4
g
|
Vitamin A:
3515
IU
|
Vitamin C:
5.6
mg
|
Calcium:
79
mg
|
Iron:
6.2
mg