This is one of those cooking tricks that I've always done without thinking much about it, but it's probably time to share. They say the secret is in the sauce, but these little gelatinous lumps are the secret to the sauce!
I had quite a bit of leftover pork stock from my head cheese project, and after freezing several jars, I decided to reduce the rest down further for a soup enhancer known as bouillon.
I tossed store-bought liquid and cube bouillon from my pantry a very long time ago. The amount of  salt, monosodium glutamate (MSG), and hydrogenated oil (trans fat) that they contain just isn't something I want to feed my family. Why make a soup from scratch only to then add a highly processed ingredient? (Remember Shaina's story?)
Instead, in addition to homemade stock, I flavour soup and sauces with natural aromatics – fresh herbs, Parmesan cheese, dried mushrooms, chilies, garlic, spices, vinegars – and homemade bouillon like this.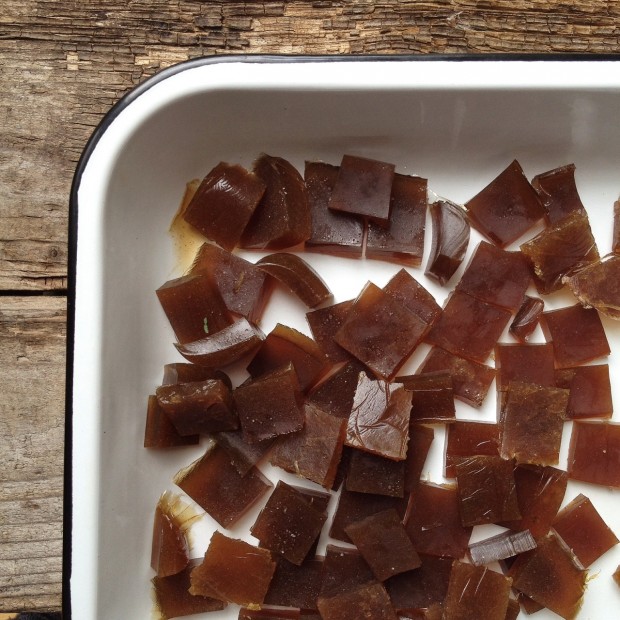 How to make homemade bouillon cubes
If you've come for a tidy little recipe, you might be disappointed. It's more of a method than a cut and dried recipe – but it's simple: only one ingredient.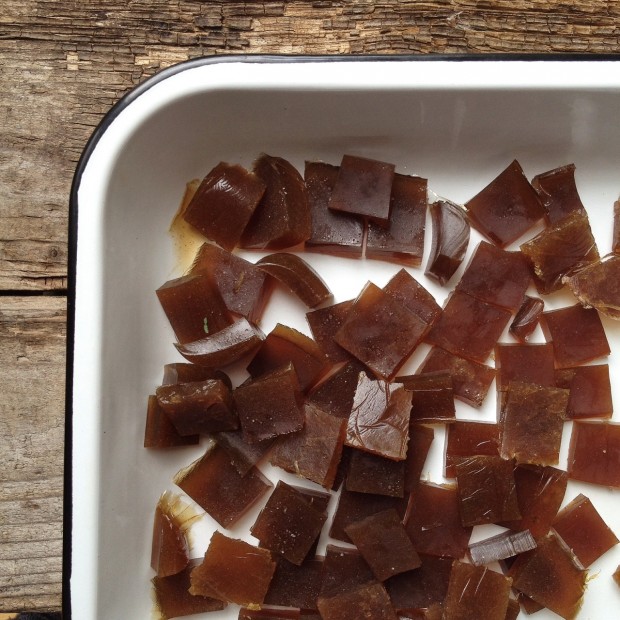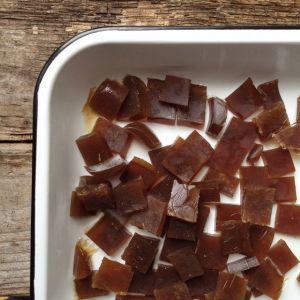 Homemade Bouillon Cubes
They say the secret is in the sauce, but these little gelatinous lumps are the secret TO the sauce.
Print
Pin
Rate
Instructions
Stock. It all begins with homemade stock. You can use chicken or beef, or any meat-based stock. For the bouillon above I used pork stock for a delicious rich, bacon-scented flavour. It's pretty awesome.

Skim. I like to cool my finished stock overnight, then skim off any fat that has risen and congealed. Then I place it in a pot and begin the reduction. Don't worry, you'll still get plenty of flavour, just none of the grease.

Simmer. Simply reducing stock to a syrup-like sauce is all it takes to make homemade bouillon. I boil it fast at first, and then lower to a simmer when it is about half reduced. Why? Because it can get away on you towards the end, over-reduce and possibly burn.

Sauce. On average, a gallon of stock will reduce to about 1 cup of liquid bouillon, but rather than measure everything (which I almost never do), it's better to know what to look for in a reduction of stock. It will have thickened into a lush sauce. It should coat the back of a spoon, and hang out there, all glossy and rich. It's about the consistency of hot maple syrup, still runny, but with some weight to it. Now cool the sauce!

Set. Line a pan (loaf pan, 8x8, 9x13.....depending on how much stock you boiled, you can probably eyeball this) with plastic wrap. Pour the cooled sauce into the pan and place in the refrigerator overnight. The sauce will set like jello.

Slice. Invert the brown jello onto a board, peel off plastic wrap and cut into squares. Package in ziplock baggies or small jars. Store in the refrigerator for up to 2 months or the freezer for up to 1 year, but they never last that long.
Do you make stock at home? Would you try bouillon?