If the current weather is trying to get us in the mood for heading back to school, it's working.
Yesterday morning felt like a brisk autumn day; I sent the boys outdoors with hoodies and socks, in addition to their usual attire, and they returned a short while later to request hot cocoa. It feels as though summer has been even more fleeting than usual, leaving me wishing for one more weekend to barbecue and enough heat to turn my green tomatoes to red.
Maybe a few more hot days are to come, maybe not, but instead of grasping at summer like I usually do, I've decided to look ahead to fall – the return to books and the inevitable school lunch.
If I have a lunchbox plan down on paper – a handful of ideas, a shopping lists, new items to try and old items to reintroduce – I'm good. Then I can take it morning-by-morning, a week at a time. This post is just as much for me as it is for you; I tend to forget what is in the archives and how much we enjoyed certain recipes.
So let's take a look at some new ideas for school lunches together and get ready to make a plan, because, ready or not, that first day of school is coming up soon.
29 (or so) New Lunchbox Ideas
Sandwiches Revisited
What's new about the sandwich? You're right, not much. But baking your own bread could start this fall and that is enough to transform the hum-drum school lunch staple into a craveable meal. Our recipe for Whole Wheat Sandwich Bread is all you need to get started.
I've already ground several jars of wheat in preparation for back-to-school baking and plan to include a batch of homemade bagels. My boys are crazy about bagels + cream cheese + smoked salmon. It's a rare treat and I keep bagels in the freezer for those special occasions.
Once you're on board with homemade bread, the fillings can get as creative (or simple) as you like, such as a loaded Cobb sandwich or Apricot Basil Chicken Salad packed with lettuce and cucumber.
I recommend an occasional batch of Chocolate Sunflower Seed Butter to go with your wheat bread; I suspect that sandwich could help improve any Monday blues. Who's up for testing my theory?
Worth a Wrap? I don't have a single wrap recipe in the archives (unless you count these vegetarian burritos), because my philosophy is that wraps are just leftovers + condiments + tortilla. Last night's roast chicken with a little mayonnaise and lettuce is wrap-worthy, as are stir-fried noodles with a scrambled egg.
The Gluten-free Lunchbox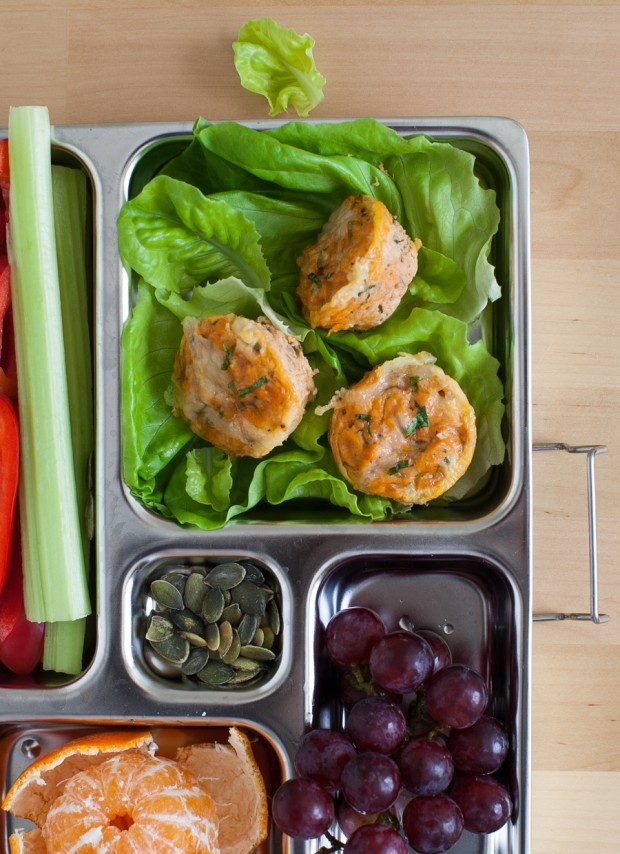 Sensitivity to gluten isn't an issue in our home, but I know plenty of families who have to work around wheat everyday. These Tuna Cheddar Lunchbox Bites are popular, served warm or cold. Squash and parmesan mini quiche are also fantastic, though they don't freeze as well as the tuna bites.
One of my favourite ideas is to make smoothies ahead of time and store them in the freezer in plastic freezer jam containers. By lunchtime, they're soft enough to enjoy, and they help keep any other perishable foods in the lunch box cool. Since I add vegetable to nearly all of my smoothies, they are a snack I feel good about giving my children.
Mains at Midday
Several times a semester, I'll bake up a double batch of homemade chicken nuggets and freeze them for fast and easy lunches. The kids love them and I'm happy they are getting some protein halfway through the day.
Most of the time though? I'm just reheating leftovers, filling thermoses, and sending a hot school lunch. Why not? The boys freak for Chocolate Chip Chili, beg for Butternut Squash Mac & Cheese, and would say "yes" to a bean and cheese quesadilla any day.
A few additional favourite reheats happen to be:
Salmon Croquettes  may be more work than you'd like, but make them for dinner and stash a few away for a healthy lunch option.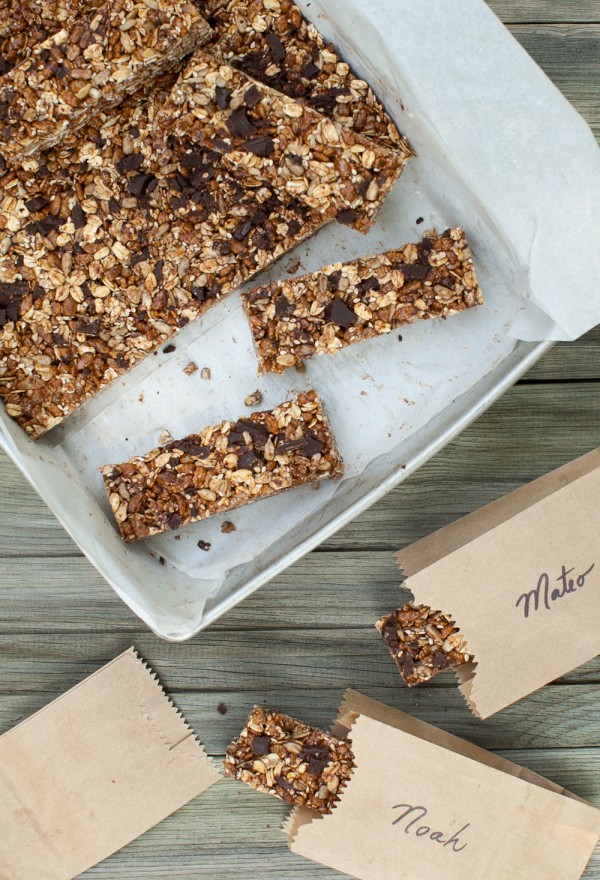 New ideas for Snacks and Treats
Lunchbox treats can be a lot more creative than cookies, although for the day-to-day cookies win hands down. Chocolate-Oat Cereal Bars are a fun kitchen project to do with the kids and we're due for a batch (pictured above).
Homemade pudding cups are a fun lunchbox addition, beginning with the super-healthy chia pudding and moving on to spiced brown rice pudding when the cold weather really hits. You can make a double batch, then store the pudding in the refrigerator for up to three days, assembling a pudding cup for the lunchbox in mere seconds.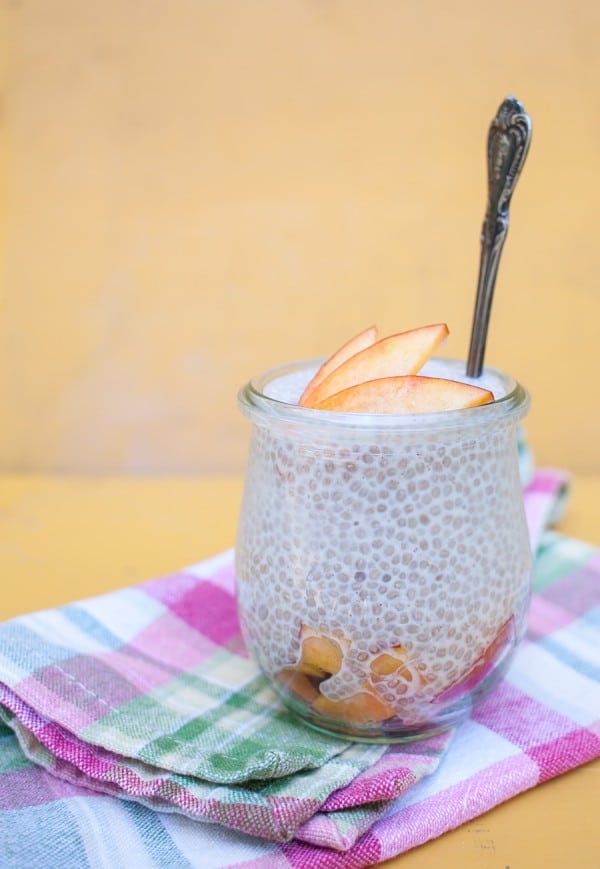 Homemade chewy fruit snacks are pretty darn easy (if you've ever made jam or Jello, you're set) and have less than a handful of ingredients. Oven-dried peaches are also a hit; try this method with plums, apricots or pears, too.
Hemp Cocoa Bites keep so well in the freezer, that they make a great back-up school snack for when you run out of cookie dough. These small raw treats are great to satiate the sweet tooth and provide some healthy fats and proteins to boot.
Don't forget about homemade crackers. We need to get in gear and bake a few batches to freeze for the start of the school year. I'm planning to pack them with sliced cheese and pepperoni for an irresistible snack.
If all else fails, you can always fall back on these beloved classics: 
And last but not least, my famous BEST EVER One-Bowl Oatmeal Muffins. They may not be a new lunchbox idea, but they are the most popular!
I know many of you are already back to school; here's wishing you and the kids a wonderful year!
Did you pick up any new lunchbox ideas? What will you try first?