This summer has been a blur and from what I have gathered in talking to others, it hasn't only sped by for me. Although we've seen a lot of friends and family, there has been very little meaningful conversation. You know how that can happen sometimes? Yeah.
When I saw that my birthday landed mid-week (today!) I knew I wanted to sit down with a few close friends and connect, preferably over tea and scones. Just unhurried conversion, no agenda, countless cups of tea and plenty of laughs. These moments are few and far between, and if we're not intentional about creating them, can slip away entirely.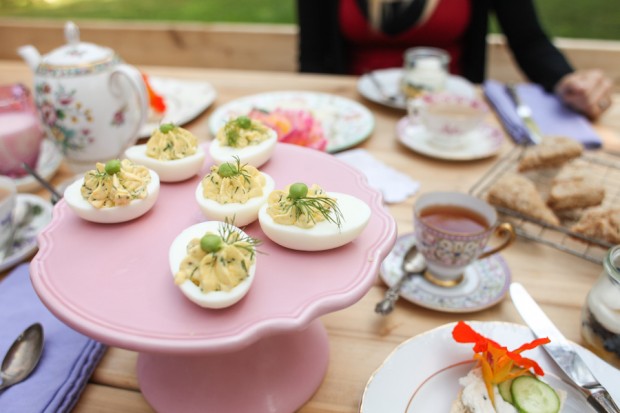 To me, teatime is a delicious ceremony of friendship that doesn't have to be reserved for wedding showers. It's a good excuse to make cucumber sandwiches, deviled eggs and open a couple jars of jam.
A proper high tea is delightful way to honour your guests and make them feel special; an opportunity to snip a few flowers from the garden, frost cookies and set a pretty table.
My friends and I – and Clara, who popped in from time to time to snitch a scone – indulged in a lengthy lunch on our shady deck and got caught up with each others lives. A new baby, a new pregnancy and plenty of other life changes were among our topics of conversation and I so appreciated this time in my week to listen, share and be heard. What a birthday gift!
As you head into a new school year and a new season, why not plan on making time for tea? I think you'll find it brings a certain serenity into our hurried modern lives. At least for an afternoon.
When was the last time you hosted or attended a tea party?