Ah, springtime, the awakening season. When all green life shakes off the dream of winter and reemerges in slow splendour.
This time of the year brings about such a surplus of new topics that I have a difficult time narrowing my focus. My mind wants to goes in every direction, like the seeds on a blown dandelion puff, chasing passions of mine like gardening, entertaining, camping, canning, cocktails, seasonal ingredients and more.
This week, May comes to a close and June begins. So where do I start on today's blank WordPress page?
Do I tell you about that double batch of ramps that I pickled the day before leaving for London? Or the rhubarb syrup I am currently straining for jelly? We could talk about preserving the season. Oh, we could just talk about pickling and have plenty of fodder for dicscussion: pickled strawberries, pickled green beans, pickled asparagus or just plain garlic pickles.
No matter how chaotic our summer gets, we always make time to can our favourite foods. It takes some careful planning, but we get our act together, and then space out preserving projects throughout the summer months as the produce comes into season. Right now the preserves pantry shelves are nearly bare, but the homestead garden is green and filling in.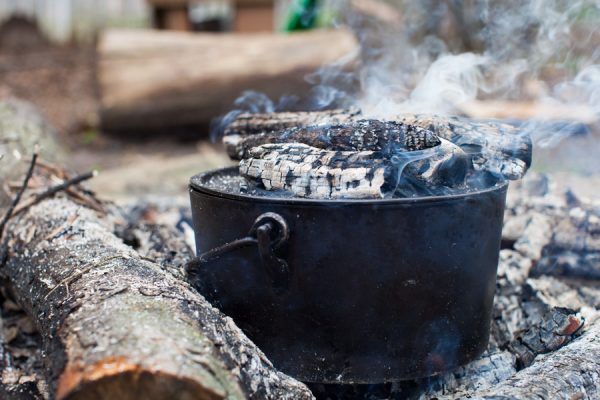 Should I disclose that our first camping trip is in less than two weeks and I am excited for the adventure, yet dreading hauling out all the gear?  We're going to be camping quite a bit this year, as our kids are the ideal age for such adventures. I thoroughly enjoy planning the best camping foods and after we arrive, always set up a functional camp kitchen. Essential.
Or I could chat all day about what I'm planting in my garden this spring – and 5 things I won't do in my garden again. So much is already up from the earth and thriving from a very rainy April: rhubarb, sage, kale, oregano, chives and more. It is looking a lot like last year's spring garden tour, and I am so excited for the potential it holds.
Picnic season is here and I have a new book that is inspiring me to pack a hamper and get outside with the family. Perhaps you and I should just sit and and have a chat about our favourite picnic foods. I'll go first: English peas straight from the garden, radishes with butter, crusty baguette with stinky cheese, sweet summer melons, slow roasted tomatoes.
School is out for some of you, and we have just a few days left to tick off the calendar. I think we could all use some summer survival tips, am I right? Also, let's be sure to get kids in the kitchen (or garden) and continue their culinary education! Here are 42 simple summer lunch ideas kids can make.
Barbecuing. Gatherings. Grilling and parties. Summer is all about entertaining and there are so many directions to go in. Are you a white tablecloth/dinner-in-the-garden type of host? Or someone who has perfected the Art of the Summer Pot-Luck? Do your friends gather around the grill like it is a spectator sport? Are you game for a BIG backyard party or do you prefer a small group of friends and an all-you-can-eat taco bar? I love them all.
Maybe we should just devote an entire summer of blogging to cocktails, party drinks, pool-side sips and refreshing tipples. I mean….right? We could start small with Honey-Sweetened Peach Lemonade for a family picnic and max out with a Raspberry-Rhubarb Collins Party Punch with friends. At any rate, be sure to try my homestead version of a gin & tonic; delicious and refreshing on the hottest of July days. Oh, and don't forget flavoured water for staying hydrated.
Batch cooking in summer is another great focus. The next three months are so busy, it's nice to have a jump start to meals by means of a little advance prep. I wrote about warm weather batch cooking several years ago, and those ideas are still some of my favourites.
We could talk about spring cleaning the pantry.…but then again, let's not. Actually we're getting ready for a garage sale this weekend, so I am purging cupboards and drawers like crazy. Wish me luck.
See what I mean? Which direction should I take this blog now that June is here?  Well, writing this post has helped me come to a conclusion. I can't blog about simply everything I'd like to because, well, blogging is only a small part of what I do.
So I have purposely decided against an editorial calendar for the summer, instead choosing to relay our food and lifestyle adventures as they come. A road trip to the Niagara region? Yes indeed. Camping in the woods with the cousins? Absolutely. Throwing a massive backyard party for Canada's 150th birthday? You better believe that is happening, Bloody Caesar Shrimp Salad and all.
Thanks for sticking around to read this summer! If things get quiet, there are plenty of links in this post to peruse. Hopefully you'll find inspiration, be it in canning, cooking or camping.
Happy almost-summer!