10 simple kitchen tips for a zero food waste holiday including ideas for mindful prep, entertaining and leftovers.
I've got a lot to cover in this post, so let's jump right in.
Today I am joining with FAO, WFP and many other organizations around the world to mark the second annual International Day of Awareness of Food Loss and Waste. Reducing your food waste is one of the most effective actions you can take to help fight climate change.
With the holidays fast approaching, I wanted to outline plenty of viable solutions to help reduce food loss and waste around this time of feasting. While 811 million people go to bed hungry each night, 1/3 of all food is lost or wasted.
These zero food waste tips for the holidays are simple, actionable steps you can take in your own kitchen over the next few months – and beyond.
1. Meal plan to avoid impulse buying
Over-shopping is the biggest culprit for food waste around the holidays. Stores stock your seasonal favourites like fruitcake and blue cheese, and the farmer's markets boast a rainbow of local produce.
The conscientious cook makes a meal plan, writes a shopping list and comes home with only the essentials. Believe me, it's possible!
One of the largest contributors to food being wasted at home is over-shopping or impulse buys, and this is especially true over the holidays. Be mindful about how much food realistically you will go through and try your hardest to only buy what you need. Those box of clementines are probably cheaper but not if half of them go bad before they are eaten.
2. Consider the guest list
One pecan pie or two? Careful planning when creating your menu can make a difference in the amount of food wasted over the holidays. Confirm your guest lists before you shop. Then plan to cook only as much as needed for your party of 4, 8, 10 or more.
Start here: Planning a Party: 10 Questions that Help Define Your Menu
3. Use tried and true recipes to avoid kitchen disasters
Seems pretty straightforward. Now if only more people would smarten up! I love that so many of you return for my Simple Roast Turkey. It's a success story every single time.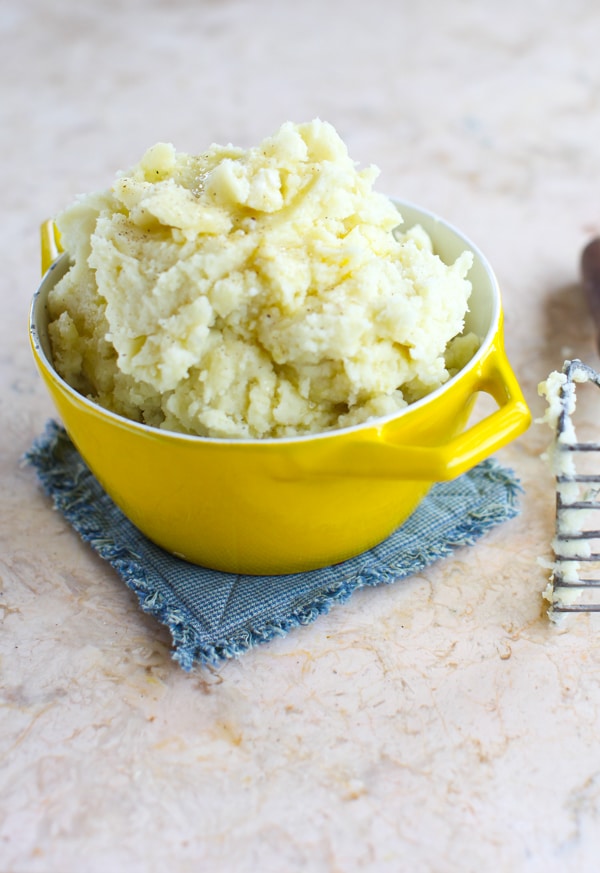 4. Cook family favourites instead of trendy recipes
As pretty as a holiday spread may look in a fancy food magazine, is it really best for your people? I say skip the food trends and serve your favourites, like these comforting mashed potatoes. I guarantee you won't have any food going to waste if you do!
5. Make a menu – and then remove one dish
For the big dinners (Thanksgiving, Christmas Eve), trim one or two dishes from the menu plan. You'll still have enough. Trust me.
I love to cook at the holidays and so usually, I come up with a pretty big menu for our big meal. I then cut at least two of those dishes from my list. And when I shop for the ingredients, I keep in mind that because I will serve more dishes than usual, my diners will eat smaller portions of each one. Even at Thanksgiving, you can fit only so much onto your plate.
6. Consider a completely waste-free meal
Here's a sample Zero-Waste Thanksgiving menu with a few tips for cooking with scraps. A perfect example would be my Grains and Greens-Stuffed Squash with Herb Salsa.
It's a vegetarian main dish of hearty ancient grains and nutritious winter greens; a recipe designed to minimize food waste and maximize the use of leftovers.
7. Serve a soup
Seasonal soups are a fantastic way to use up scraps in the vegetable drawer. Start with a homemade vegetable stock for maximum flavour, then simmer up a Butternut and Apple Soup with Leeks or Creamy Carrot Ginger.
PS: Make stock with your turkey carcass and simmer a big batch of my Chicken Noodle Soup recipe.
8. Practice fridge management
So you've got a fridge packed to the roof with wild rice stuffing, soup, pie dough and everything else under the sun. Only by practicing the fine art of fridge management will you avoid any and all food waste.
Start here: 8 ways to maximize refrigerator storage capacity when entertaining. Then keep track of everything that goes in and out.
9. Love your leftovers
Store leftovers in clear, airtight containers so you can see at a glance what you have. Then think outside the box and don't limit yourself to the obvious (turkey sandwiches)!
Brainstorm new and different ways you can stretch those leftovers with the help of my Leftovers Pinterest Board. For example, turn leftover stuffing into croutons, purée roasted beets into a vibrant dip, or add turkey to my Winter Salad (above).
If you really have too many leftovers, box them up and share a meal with a friend.
Reduce your food waste over the holidays by planning for your leftovers. You can easily send leftovers home with loved ones if you're having guests, freeze extras for a day that you don't feel like cooking, and enjoy making new meals out of leftovers in subsequent days to avoid waste!
The biggest thing we do to cut down on holiday food waste is ensure that leftovers don't languish in the fridge. I am more likely to reach for leftovers when I can turn them into something completely different. With just a can of coconut milk and a bit of curry powder, roasted vegetables are blended into a creamy soup. Yesterday's roasted potatoes become crispy hash browns; flavorful greens get stirred into soups. What's new is more exciting than what is old!
#StopTheWaste
I'm partnering with the WFP and joining their #StoptheWaste campaign. It's a pledge to waste less food in the month of October, as we lead up to World Food Day on October 16.
So whether it be any given Sunday or Thanksgiving Monday, I'll be careful about what I toss in the compost and garbage.
You can help fight hunger by wasting less food and turning your savings from that positive practice into lifesaving food for those who need it most through the United Nations World Food Programme.
Join me and our friends at WFP to help #StoptheWaste! Together let's commit to do better.
A big thank you to these four inspiring women, Christine, Anne-Marie, Tara and Maggy, for sharing their wisdom with us. They are truly pioneers in the relatively young zero waste movement.
How will you avoid food waste over the holidays? Share your tips in the comments!