So you've probably heard of making stuffing or dressing out of croutons – but have you considered the reverse?
Why not turn leftover cubes of herb-scented stuffing into crispy croutons for topping soups and salads? I'm here to introduce you to this recent revelation I had in the kitchen, in hopes that you'll put your leftover stuffing to good use this week – or after Christmas dinner.
Trust me, these buttery sage stuffing croutons are the ideal topping to your turkey noodle soup. I mean, what could be a better flavour pairing?
We had half a pan of leek, apple and herb stuffing leftover from our Thanksgiving dinner; it was a mash-up of my Bread Stuffing with Seasonal Fruits & Herbs and this Chestnut Stuffing with Leeks and Apples. Sufficient to say, it was a fragrant stuffing, and enjoyed by all with plenty to spare.
One afternoon, shortly after our big feast, I decided to tested a theory of mine. I cranked the oven, emptied the remainder of my stuffing onto a sheet pan and baked everything to a crisp.
The result was stuffing croutons – little browned bites, some of which had a slightly soft 'stuffing' interior under the crispy exterior. The slices of celery and bits of onion clung to the bread and roasted up nice and dark. They were the most flavourful croutons I had ever enjoyed.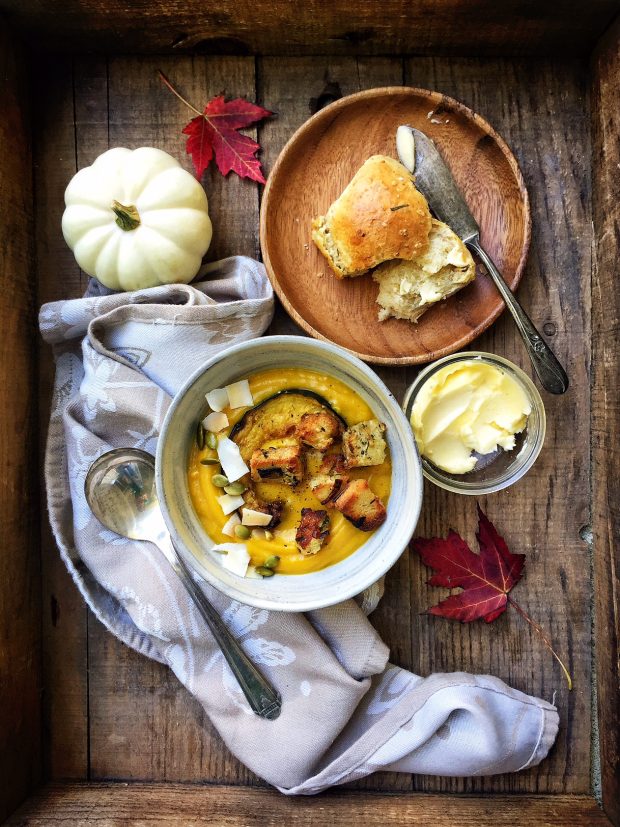 We all know that the crispy pieces of stuffing around the edges are the best part of the dish, so why not crisp everything up into croutons and then serve them as a garnish to soup or salad. Right? I had a hard time not snacking on the entire bowl of croutons when I snapped these photos, to be perfectly honest.
There certainly are some advantages to having our Thanksgiving a month ahead of you readers in the US. For one, I can now advise you to prep extra stuffing this week with the intentions of baking the leftovers into croutons. 
Turkey soup may be optional but these croutons are not.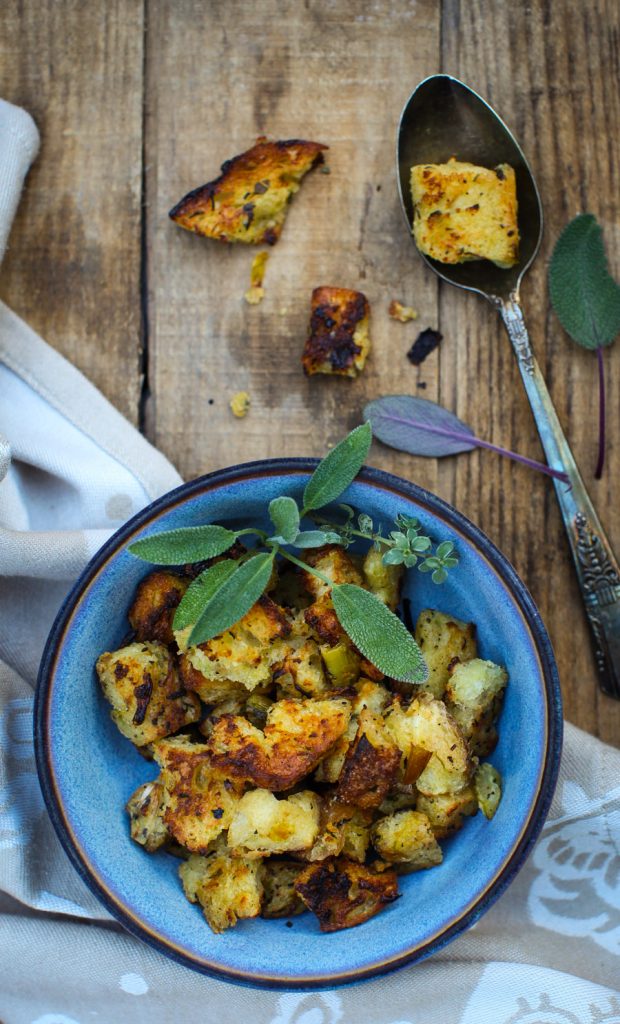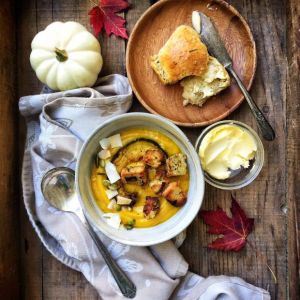 Stuffing Croutons
Crispy, herb-scented croutons made out of leftover stuffing and delicious for topping soups and salads.
Print
Pin
Rate
Ingredients
leftover bread stuffing

olive oil
Instructions
Preheat oven to 350F and lightly oil a baking sheet.

If needed, separate stuffing into bite-sized pieces. Toss cubes in a bowl with a light drizzle of olive oil.

Spread stuffing out in a single layer on the baking sheet. Do not overcrowd the pieces.

Bake for 10 minutes, then stir and bake for an additional 10-20 minutes. Check the croutons every 5 minutes for doneness. Baking time will vary with each variety of stuffing and the moistness level in the bread.

When the croutons are dark brown, remove from oven and cool completely. Some will be crispy throughout and the large pieces will still be slightly soft on the inside.

Serve as a snack or a topping to scrambled eggs, soups and salads.
We love holiday leftovers!
Lemon Pepper Turkey Sandwiches
Cream of Turkey and Wild Rice Soup
On Pinterest: 75 Thanksgiving Leftover Ideas
What do you like to make with leftover stuffing? Any traditions you care to share?