If you're indecisive over where to begin with your fall baking, allow me to bend your ear to pies.
Pie makes so much sense for this time of the year while late peaches and plums are still holding their spot at the markets.
Pears and apples are here too, as well as pumpkins and winter squash. It's a bounty of produce, waiting to be tucked between flaky pie crust.
This inspiration, partnered with my passion for feeding others, led me to host an edible fundraiser last weekend: a fall pie social for a cause!
A Fall Pie Social for a Cause
What is a pie social you ask? One of the very best events of the year – rivaled only by the holiday cookie swap. It's a tradition that started with my old-fashioned pie social and reoccurs around Thanksgiving every fall.
This is my third year hosting an event for The Big Social, an initiative from Community Food Centres Canada.
Donations to the #BigSocial help communities across Canada access healthy food with dignity. They also fund programs that promote food skills, connection and advocacy. Pretty great stuff!
As I told my invitees, I planned this Fall Pie Social because I wanted to raise funds to fight food insecurity. I also wanted to connect around food, and October is obviously pie month.
Lastly, my event at The North Grove was an opportunity to teach my daughter Clara about giving back. She came along to lend a hand – and sample the pie, of course!
I've been so impressed with the community work that is being done at The North Grove, and it was an honour to host my pie social in their beautiful garden.
Friends and blog readers who made a donation to CFCC were given the date and secret address for the social…
A few bakers brought pies, and the rest showed up to help us eat them! From peach to apple, pumpkin and mocha cream, there was a something for everyone.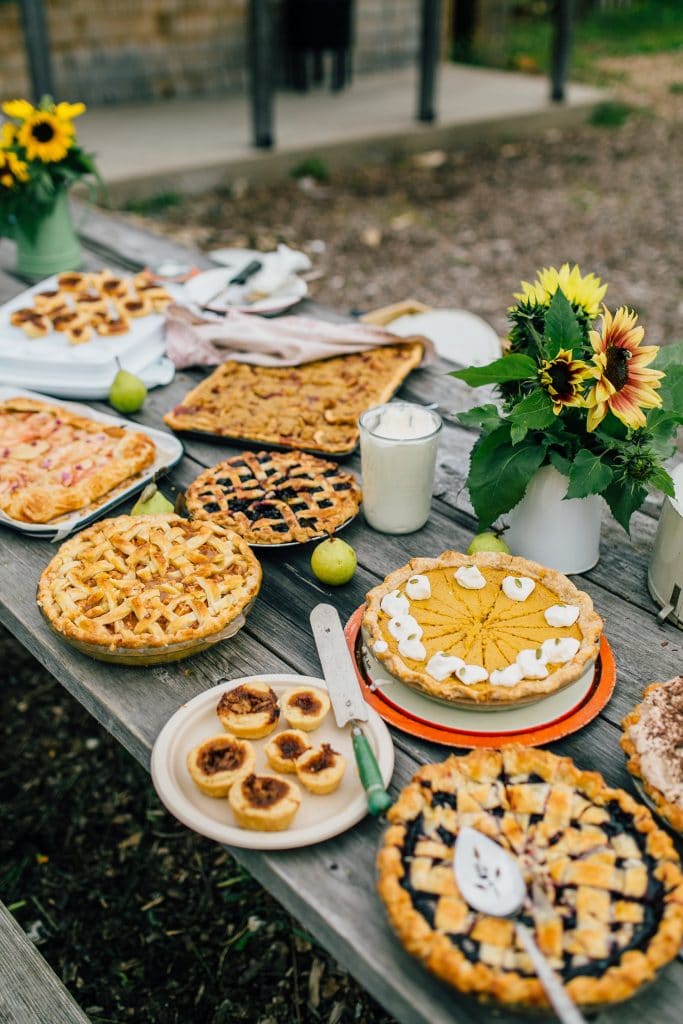 (Looking for recipes? Here are my best pie recipes all in one spot: For the Love of Pie.)
Why Host An Event for the Big Social?
Community Food Centres Canada works with 300+ partners in an incredible 175 communities across the country. They bring people together around food—in kitchens, dining rooms, and gardens—while fighting for a more equitable society.
Being part of the Big Social connects us to a national movement to fight poverty and food insecurity. Isn't that enough reason to get involved?
Here on Simple Bites, I talk a lot about hospitality: hosting others when the focus shifts from you, and a perfectly set table, to the guest and their comforts. For me, this is the simple difference between entertaining and hospitality.
Over a meal, community is built and friendships are cemented. These face-to-face connections are invaluable in our current fast-paced digital world.
Food brings us together like no other medium, and so I challenge you to throw open your doors and invite people over for a Big Social potluck. Fill up your table with folks from all walks of life.
Celebrate your uniqueness; toast your distinct cultures. Perhaps in doing so you will discover that while you are diverse, you are not so very different after all.
Our support is needed now more than ever: during the pandemic, food insecurity affects 1 in 7 Canadians. Any amount helps, and making a donation only takes a minute.
If you have a little extra this Thanksgiving, please help me make change by making an online donation on my page: A Fall Pie Social. Thank you so much.
This post was created in partnership with Community Food Centres Canada. All opinions are my own.
All Images by the talented and gracious Jessica Grace Photography.