Like most Christmas baking projects, this one starts with butter and sugar. Not much sugar, though, as most of the sweetness of the dough comes from molasses. And what a fine dough it is, fragrant with spices and supple to the touch.
Today's project is to mix up our gingerbread dough and let it chill in the refrigerator. We've already assembled our ingredients, now it is time to wash our hands, tie on aprons, and begin!
The full recipe is at the bottom of the post, but first, watch Noah (he's 8 and wearing the red shirt) and Mateo (who is 5, and wearing black) mix up their dough. I turned the mixer on and off for them, but they prepared the rest.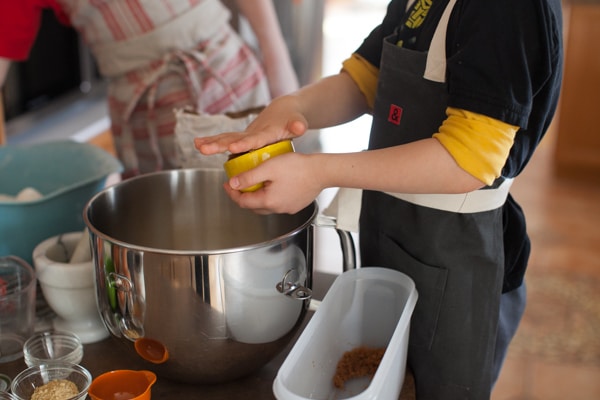 The packed brown sugar, the cane sugar and the butter goes into a big mixing bowl. Have a grown up help you start the mixer and get it creaming – that means to make it smooth.
Noah sifts the flour, salt and baking soda together while Mateo grinds the cloves and allspice in a small mortar and pestle. Fresh spices taste so much better than their pre-ground versions, so when we have time, we like to crush our own. Plus, it's a great way to make muscles!
Next up: whisking the spices into the dry ingredients. Teamwork!
Mateo's tip: "Be careful you don't get cimanin (cinnamon) in yer eyes." This is why they are tightly closed, by the way. He has experienced this in the past. Oops!
Measuring molasses is fun, but sticky business. Same for cracking eggs. It's okay to get your hands dirty for both of these jobs.
Noah's tip: "Crack your egg on a flat surface, like the counter, not on the edge of a bowl, or you might get eggshell in your egg."
Both the egg and the molasses go into the mixer where our butter and sugar is smooth and fluffy. The mixer has been working hard!
See? The counter is getting a little messy, but we're almost finished.
Lastly, Noah adds the spiced flour mixture, cup by cup, to the mixer, and the dough forms. Both boys have a taste, of course.
I think it is good!
The recipe makes a nice big ball of dough. You can divide it into 3 or 4 pieces, and wrap them well in plastic. Put them in the fridge to rest.
We'll see you tomorrow!
Gingerbread Dough
A fragrantly spiced, supple cookie dough, perfect for rolling and cutting. Once the dough is made, it can chill in the refrigerator, well wrapped in plastic, for up to 5 days. Alternatively, stash a few rounds of dough in a resealable bag in the freezer and freeze for 3-6 months.
Print
Pin
Rate
Ingredients
1

cup

salted butter

(2 sticks), cut into chunks

1/2

cup

raw cane sugar

or granulated

1/2

cup

packed organic demerera sugar

or brown sugar

5 1/2

cups

all-purpose flour

1 1/2

teaspoons

baking soda

1/2

teaspoon

salt

1 1/2

Tablespoons

ground ginger

2

teaspoons

ground cinnamon

1/2

teaspoon

ground allspice

1/4

teaspoon

ground cloves

1

cup

molasses

1

large egg
Instructions
In the large bowl of a stand mixer fitted with a paddle attachment, cream together the butter and both sugars until light and fluffy.

In another large bowl, sift together the flour, baking soda, salt, ginger, cinnamon, allspice, and cloves. Set aside.

Add the molasses and egg to the creamed sugar and butter. Mix until well combined. Scrape down the sides and bottom of the bowl as needed.

Add the flour and spices mixture to the mixer in three parts, mixing on low speed until just combined.

Empty the bowl of cookie dough onto the counter and use your hands to bring it all together.

Divide the dough into three pieces and form into disks. Wrap each disk in plastic wrap, and refrigerate overnight or up to 4 days. You can also freeze the gingerbread dough.
Nutrition
Calories:
1980
kcal
|
Carbohydrates:
328
g
|
Protein:
26
g
|
Fat:
65
g
|
Saturated Fat:
39
g
|
Cholesterol:
217
mg
|
Sodium:
1544
mg
|
Potassium:
1961
mg
|
Fiber:
7
g
|
Sugar:
151
g
|
Vitamin A:
1970
IU
|
Calcium:
308
mg
|
Iron:
16.9
mg
Coming Up:
Introduction to the project.
Day 1: List of ingredients and equipment.
Day 2: Make and chill the dough.
Day 3: Cut and bake the pieces.
Day 4: Prepare Royal Icing + assemble the base.
Day 5: Decorate!
Hashtag your gingerbread house projects on Twitter & Instagram with #TASGP, and I'll share a few photos in my next weekend links!