A collection of simple tutorials to help you make edible garnishes for holiday desserts.
A swirl of cream, a spray of sugared rosemary, a scattering of pomegranate seeds – these flourishes capture the eye and stir the appetite.
Pretty garnishes for holiday desserts are more than just the finishing touch. They show that love and care has gone into a baking creation, and they entice us to reach for them on the sweet table.
Today's post is all about how to make edible garnishes for holiday desserts that are festive and fun. Nothing is overly complicated, in fact, I've even included a list of 'instant' garnishes you probably have in your kitchen right now.
It's a busy post, so let's jump right in to my tips for creating a showstopper dessert!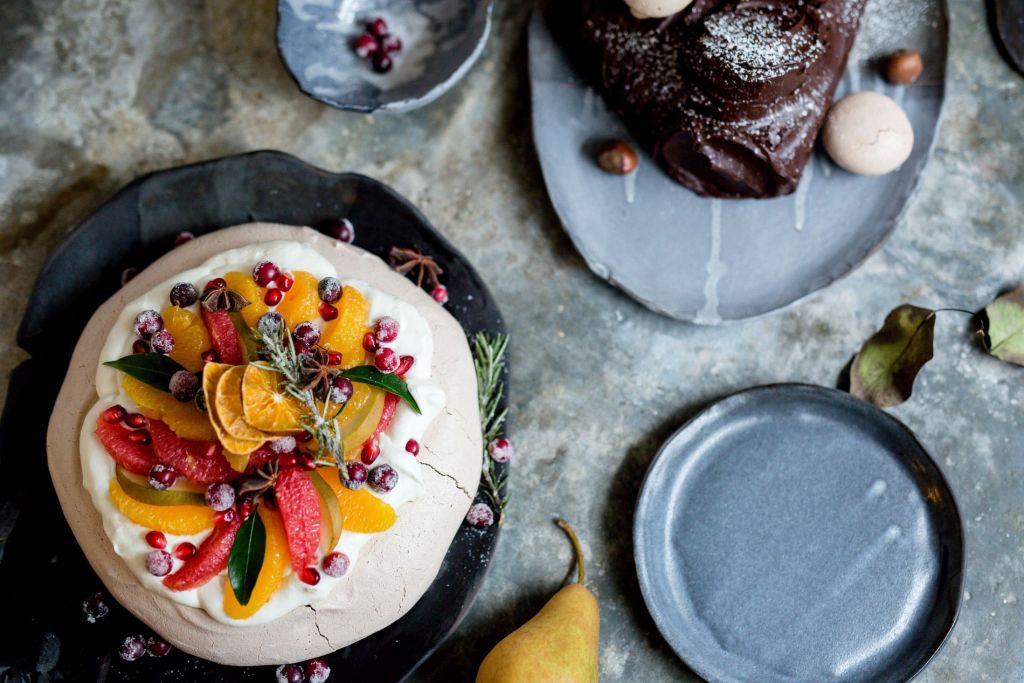 Garnishes for Holiday Desserts Intro
Holiday parties, Christmas Day buffet, New Year's Eve celebrations…the next few months will hold plenty of opportunities to create and serve up a beautiful wintertime dessert.
Remember the The Twelve Days of Holiday Baking Projects? Those showstoppers like pavlova and Yule Logs all had a special decoration on top to truly make them irresistible.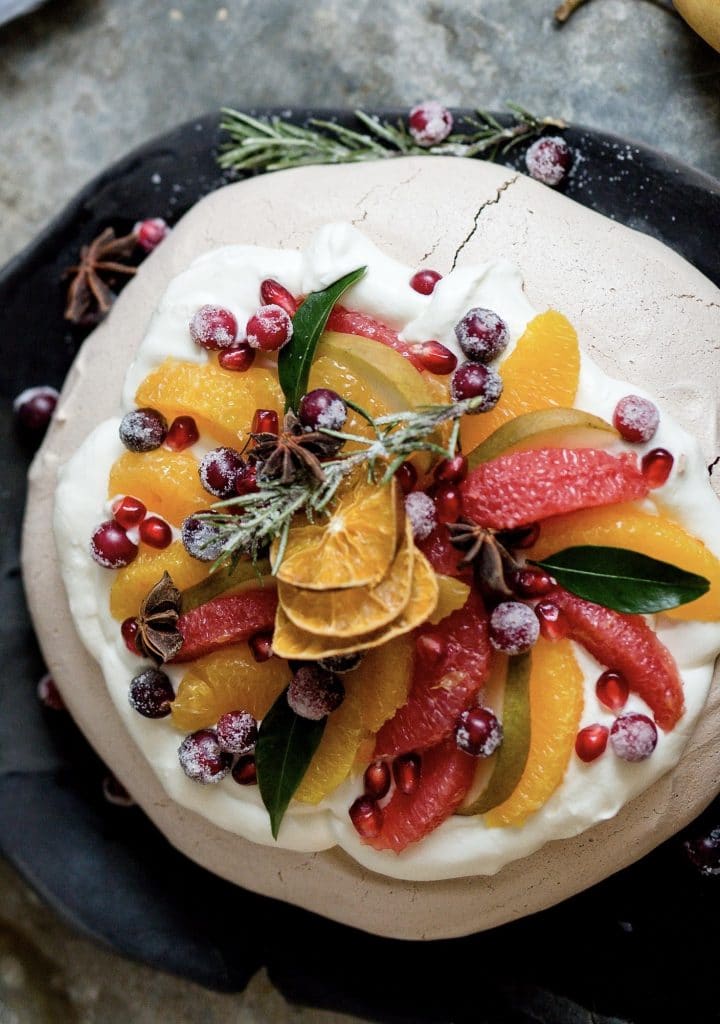 Here's a quick look at some of the edible garnishes I'll be teaching you to make in this post:
Sugared Cranberries
Sugared Rosemary Springs
Candied Citrus (kumquats, lemons, clementines, etc)
Cocoa Meringue Mushrooms
Dried Apple 'Roses"
and more
Whether you're dressing up a store-bought Pannetone or decorating an Espresso Chocolate Cheesecake, there's sure to be one or two garnishes on this list that are perfect for your dessert.
Instant Garnishes for Holiday Desserts
But wait! Before we get into the recipes, here are some suggestions if you're low on time. These are super simple festive garnishes that you probably have in your pantry or fridge right now.
Pomegranate Seeds
Slivered Almonds
Whole Star Anise
Toasted Coconut Flakes
Cinnamon Sticks
Chopped Pistachios
Candied Ginger
Maraschino Cherries
Kishu Mandarins or Clementines
Chop, slice, and sprinkle to your hearts content. Just be sure not to serve up any whole anise or cinnamon to guests when you slice the dessert.
3-in-1: Edible Garnishes Simplified
Here's a quick look at how I make THREE pretty garnishes for holiday desserts with just one pot. Further below I'll give the actual recipe for Sugared Cranberries, Sugared Rosemary and Candied Citrus Slices.
Make a simple syrup
Dip cranberries, then sugar coat
Dip rosemary, then sugar coat
Boil syrup and add citrus slices
Candy the citrus at a low boil in syrup
Reserve syrup for cocktails
It really is simple to whip up a pretty decoration.
Beyond desserts, I use these garnishes for cocktails and cheese boards, and any time I want to spruce up food presentation.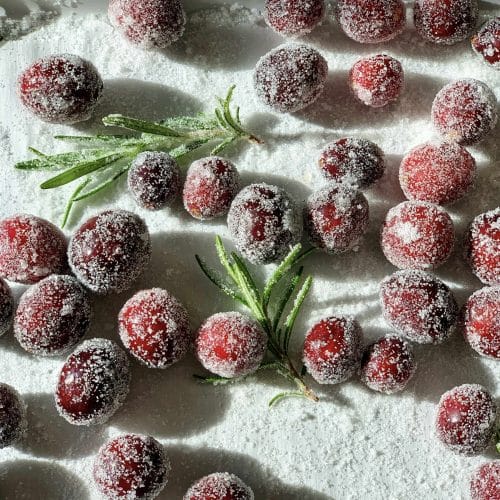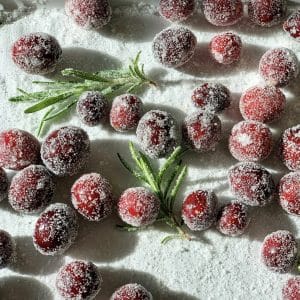 3-in-1: Sugared Cranberries, Rosemary & Citrus
A simple, one-pot method for three pretty dessert garnishes.
Print
Pin
Rate
Ingredients
1 1/4

cups

granulated sugar

plus 2 Tablespoons

2

cups

water

1

cup

fresh cranberries

4-5

sprigs

fresh rosemary

3

small citrus

clementine, lemon, mandarine etc
Instructions
Line two rimmed trays with parchment paper. Place a wire cooling rack on one.

In a medium pot, combine 1 cup sugar and the water and bring to a low boil. Boil gently for 3 minutes.

Remove the pot from heat and let cool for 5 minutes. Add the cranberries all at once. Stir, then remove with a slotted spoon, draining slightly. Place on a prepared tray.

Dip rosemary in the simple syrup, one sprig at a time. Shake off the excess syrup, then place the herb on the tray with the cranberries.

Let the cranberries and rosemary dry for 10 minutes. Then sprinkle with remaining sugar. Swirl the tray around to coat both garnishes completely. Allow to dry for about 20 minutes.

Meanwhile, thinly slice the citrus and add it to the simple syrup. It should float in one single layer. Bring the syrup up to a simmer. Cook citrus gently for 1hour.

Use a slotted spoon to remove the candied citrus from the syrup and place them on the wire rack. Cool completely. Dust with sugar if you want the sparkling look, otherwise allow them to dry as is, about 2 hours.

Use garnishes immediately or store in an airtight container in the refrigerator for up to 3 days. If the rosemary softens or the cranberries 'weep' just dust them with a bit more sugar.
Notes
Zero Waste Tip: Don't toss your simple syrup from the candied fruit and sugared rosemary. Reserve syrup for cocktails; you'll find it's orange scented and perfumed with rosemary. 
More Pretty Edible Garnishes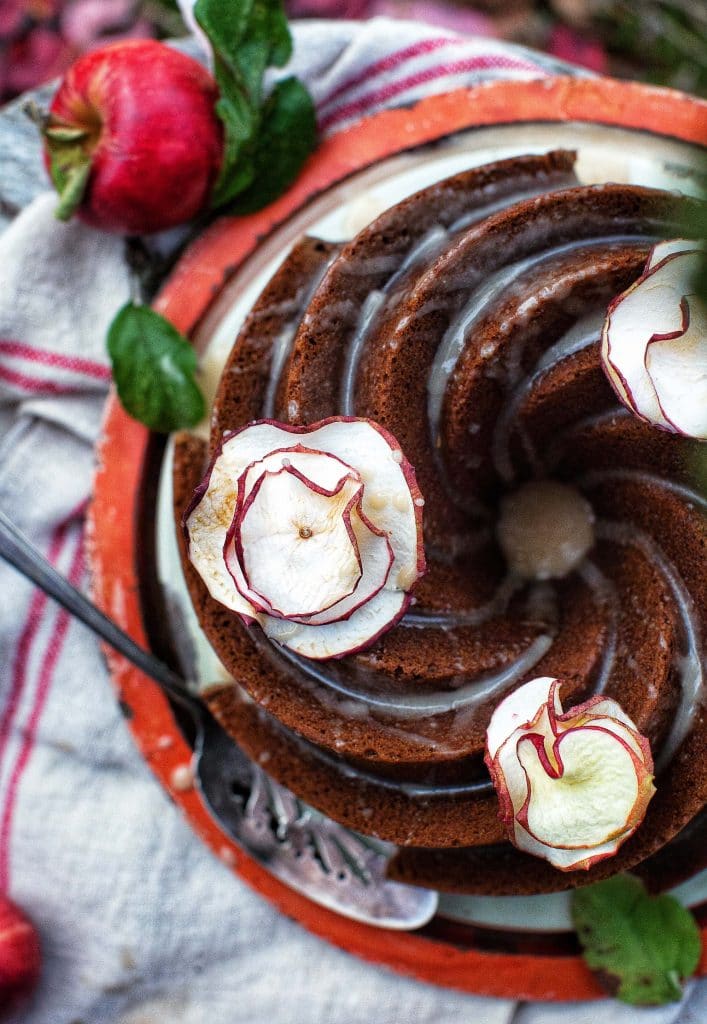 Dried Apple 'Roses"
Make a recipe for Maple Cinnamon Apple Chips, but without the cinnamon. Use red skinned apples, a variety of sizes. You can leave the cores intact or not.
Dry the apple slices as directed, being careful not to let them brown. Once cooled, nestle three or four of the chips into each other to form a 'rose'. Use a little powdered sugar and water icing to secure in place and place on desserts.
I use these dried apple roses on my Apple Cider Gingerbread Bundt Cake. They can keep in an airtight container for a few weeks. A great do-ahead garnish!
Cocoa Meringue Mushrooms
Make one recipe of Small Batch Chocolate Swirl Meringue Cookies, only add the cocoa directly to the whipped meringue. Pipe into equal amounts of 'caps' and 'stems' making them all sorts of sizes. Bake as directed in the recipe. Cool completely, then connect the caps and stems with melted chocolate or frosting.
These meringue mushrooms are my favourite garnish for icebox yule logs or my Chocolate Hazelnut Bûche de Noël. They can be made well in advance and frozen for up to 8 weeks.
Candied Kumquats
If I can get my hands on kumquats around the holidays, I will always candy a jar to have on hand. I use the method in the recipe above – simmering them in simple syrup, then drying.
They are delicious and oh-so-pretty on these Mini Lemon Poppyseed Tea Cakes and folded into Eton Mess.
Crumbled Meringues
Whether you use store bought or homemade, I love a meringue-topped dessert! I added them on top of my ice cream layer cake and crumble them onto pies and tarts, like this Cranberry Curd creation.
More Edible Decorations
Candied Citrus Peel | Dinner with Julie
Totally Doable Chocolate Shards | Food 52
Easy Pineapple Flowers | Reel by @Saltnpepperhere Sonia Wong
How will you use your fun and festive edible garnishes?