The Simple Bites kitchen presents a list of cookbook recommendations for both cooking and baking at home.
It's currently snowing – our first dusting! I've parked myself on the sofa under a heated blanket and surrounded myself with cookbooks. Is this my happy place, here by the twinkling Christmas tree? Most definitely.
I know you've been waiting for this post. My fall 2021 cookbook recommendations are based on hours of reading and days of cooking and baking (also my happy place).
These are the books that helped me get back into a preserving groove and opened up a whole new world of cookie baking. These books influenced my dinner plans, transformed my leftovers and gave me permission to do the bare minimum sometimes.
This post goes hand in hand with my 2021 Spring Cookbook Round-Up. Review both lists of cookbook recommendations before making your list for Santa!
Baking Cookbook Recommendations
Cookies: The New Classics by Jesse Szewczyk ~ Jesse blew my mind with this modern take on cookies. I've been baking non stop – Preserved Lemon Crinkles, Vanilla Bean and Sumac Sugar Cookies, Red Wine Brownie Cookies (!!)…I cannot put this book down. 10/10 highly recommend.
Life is What You Bake It by Vallery Lomas ~ Every serious baker needs this stunning cookbook from The Great American Baking Show winner, Vallery. I read it cover to cover – then walked into the kitchen to bake a loaf of pumpkin bread. Also bookmarked are Accordion Biscuits and One-Bowl Blueberry Buckle. There's something for every baker in the family.
One Tin Bakes Easy by Edd Kimber ~ I'm no longer dreading winter, because I have plans to bake my way through Edd's fun cookbook. Nothing is too complicated (this is the Easy edition!) and I know the kids will be finding lots of new favourites here, too.
Cannelle et Vanille Bakes Simple by Aran Goyoaga ~ Aran has created another bible for the gluten-free baker. This is undoubtably THE most beautiful book of 2021 and has a permanent place in my kitchen.
Jam Bake: Inspired Recipes for Creating and Baking with Preserves by Camilla Wynne ~ This book is the brainchild of a Master Preserver and pastry chef and is practically perfect in every way.
If I had to pick one favourite book for the year, it would be Jam Bake. I've made everything from mincemeat to muffins, with about two dozen more recipes bookmarked for the winter.
This gorgeous book deeply appealed to the homesteader in me. It inspired a flurry of both baking and preserving projects at a time when I was feeling just a tad over home canning. I'll go further and say that this book is original, creative and SO MUCH FUN. Buy it for the solid recipes, and enjoy the whimsy illustrations and beautiful photos as a bonus. (Get it in Canada)
General Cookbook Recommendations
Cook More, Waste Less: Zero-Waste Recipes to Use Up Groceries, Tackle Food Scraps, and Transform Leftovers by Christine Tizzard ~ My zero waste cookbook collection has grown over the last few years, but I can see myself cooking from Christine's book the most. The recipes are really flexible and encourage you to use what you have – practically my life motto!
My New Table: Everyday Inspiration for Eating + Living by Trish Magwood ~ This inviting book is full of seasonal inspiration. I love how everything looks beautiful and elegant, but the recipes are simple and approachable. Trish has a peanut butter-stuffed date that's dipped in chocolate and sprinkled with salt and I am apparently unable to survive without a stash in the fridge.
Vegetables: A Love Story: 92 Heartwarming Recipes from the Kitchen of Sweetsugarbean by Renée Kohlman ~ Not only did Renée give us a new favourite soup recipe with Hearty Kale and Sausage Soup (pictured below) but she rekindling our love of humble vegetables like cabbage, potatoes and carrots. This book is a love letter to vegetables that is tender and true.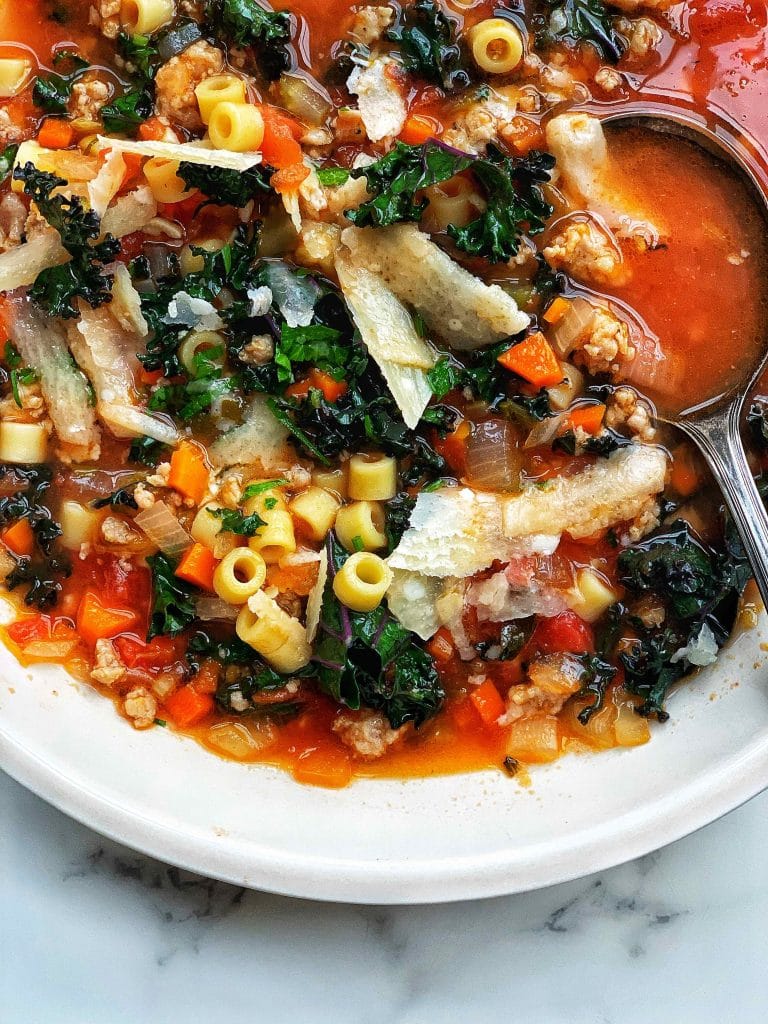 Well Seasoned: A Year's Worth of Delicious Recipes by Mary Berg ~ Cookbooks that follow the season are my favourite, and this latest publication from Canada's sweetheart is a delight. I want to cook every single recipe for Winter, starting with the rich and celebratory Beef Bourguignon.
Black Food: Stories, Art, and Recipes from Across the African Diaspora edited by Bryant Terry ~ Black Food is so much more than a cookbook! My suggestion is to shake up one of Toni's Whisky Sours (page 179), get comfortable, and read this masterpiece cover to cover. If you're like me, you'll bookmark half the recipes to make as soon as possible.
Bare Minimum Dinners: Recipes and Strategies for Doing Less in the Kitchen by Jenna Helwig ~ Jenna is the food professional I turn to for advice when I run out of steam for family dinner (it happens!). This handy book features everything from sheet pan suppers to super simple sides. It's absolutely beautiful to boot!
Homemade Basics: Simple Recipes, Made from Scratch by Yvette van Boven ~ That tagline speaks to me on a deep level because it's my favourite way to cook. This back-to-basics cookbook is for home cooks, young and old. As a bonus? I love the darling illustrations, sweeting photos of the English coast and the homesteading inspiration.
Ottolenghi Test Kitchen: Shelf Love: Recipes to Unlock the Secrets of Your Pantry, Fridge, and Freezer by Noor Murad & Yotam Ottolenghi ~ I'm so happy to have recipes like Hearty Cabbage and Potato Gratin with Gruyere and Ricotta to get me through the winter. Ottolenghi recipes continue to influence my dinner plans, book after book.
BONUS: Grains for Every Season: Rethinking Our Way with Grains by Joshua McFadden. This is the book I'll be hoping to find under the Christmas tree. I loved his first book, Six Seasons, and even featured it in my cookbook club. I'm excited for grains!
What was the best cookbook you used this year? Share recommendations in the comments below.
This post contains Amazon Affiliate links that help support this blogging platform.