The ultimate 2020 guide to Canadian-crafted food gifts that are ethical, unique and exceptionally delicious.
I've always said the food gifts are the best gifts. I still stand by that sentiment.
This year, however, I'm not crafting all my holiday presents by hand in the Simple Bites kitchen. Yes, I've championed homemade edible gifts for over a decade, but 2020 calls for a change.
We've spent countless hours in the kitchen just keeping everyone fed. And then there's been all the stress baking and home canning.
So should you also choose to put your feet up, this post is for your online, home shopping convenience.
An Edible Gift Guide: The Canadian Edition
I've sourced 24 food gifts from Canadian artisans to support this holiday season; the majority of which are from women and/or BIPOC-owned businesses.
There's no question that a lot of love goes into a handmade edible gift, but the same goes for the products I've selected for this guide.
The small Canadian producers who tap the maple trees, tend the bees and temper the chocolate for these exceptional products, do so with love and care.
Get ready to be blown away by the quality, craftsmanship and creativity in this line-up. (And then share your favourite foodie gifts in the comments!)
This food gift guide is by no means exhaustive or a "best in Canada" edition. However, I did my homework and take a bit of pride in curating it!
The guide features exquisite items from unique and diverse creators in every province, coast-to-coast. You're guaranteed to find a few items for that special foodie on your list.
Savoury Food Gifts
When Syrian refugees gather in the kitchen, there is hope – and incredibly delicious results. Shop their Montreal pantry and stock up on goodies like Pomegranate Molasses, Za'atar and more.
2. Gourmet Mustard | Smak Dab | Manitoba
A powerhouse of flavour packed into a jar and served up from the heart of Canada. I love the Cranberry Wine Mustard for the holiday season, while the White Wine Herb is a summer picnic staple.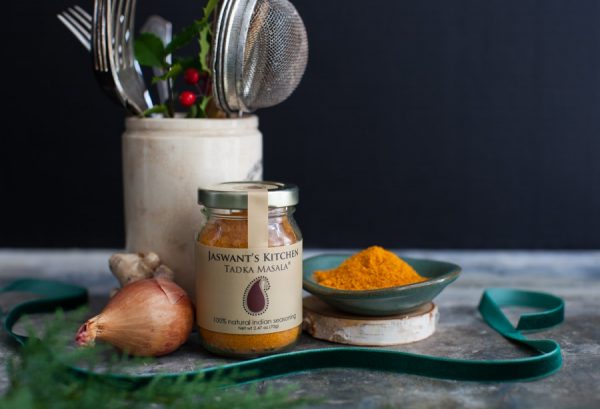 The lovely Jaswant is on a mission: to bring authentic Indian food into the homes of Canadians. Start with her simple and delicious seasoning pouches and move on to my favourite spice blend: Tadka Masala. It's a versatile blend that's great for meat curries, vegetable dishes, lentils, tofu and more.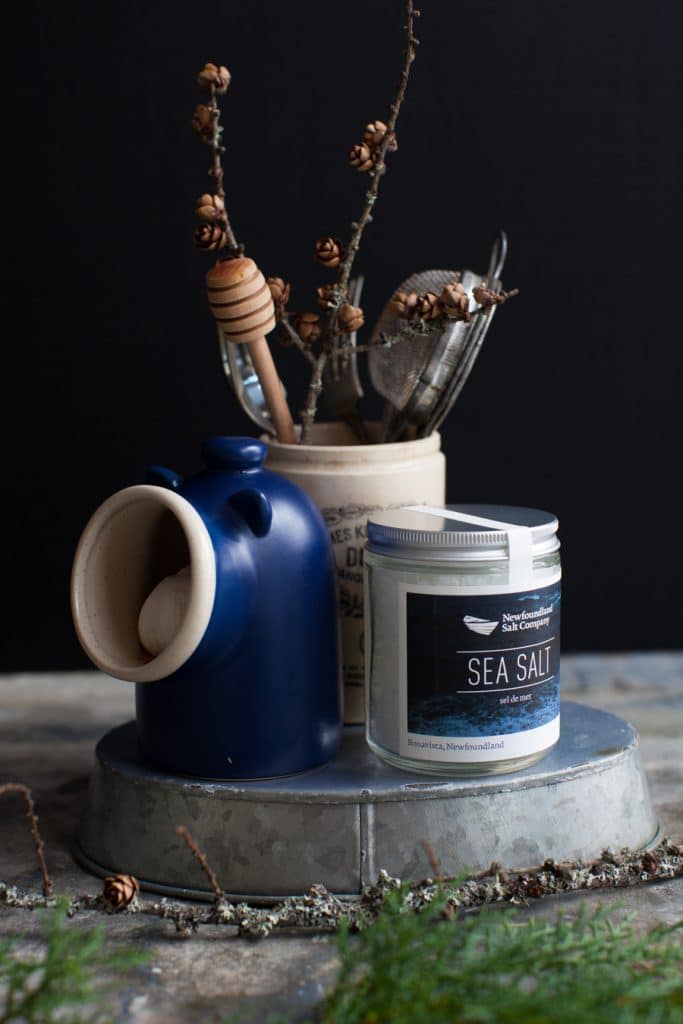 Finishing salt produced in small handcrafted batches from the clean waters of Trinity Bay in beautiful Bonavista, Newfoundland. Purity and outstanding flavour are just a few of the qualities in this exquisite Atlantic product.
5. Quality Spices | Épices de Cru |Québec
Épices de Cru (or Spice Trekkers) are the best spice merchants in Canada. Their high quality whole spices, authentic blends and luxury baking ingredients are a staple in the Simple Bites kitchen. Gift their spice kits to friends – and then stock up on essentials for your holiday cooking and baking.
6. Fermented Vegetables | Torshee | Nova Scotia
You have to start with Zhila's story to truly appreciate the business she has built here in Halifax. Her crunchy fermented vegetables have a permanent place in my fridge – and on nearly every power bowl I make. "Torshee" means "sour" in Farsi, but that is only the beginning of the flavour adventures that these products deliver.
7. Vegan Cheese | Fresh Start Fauxmage | Prince Edward Island
I'm not even vegan, but I've loved this PEI 'fauxmage' ever since I first sampled the Creamy Herb (inspired by Boursin). Now I find myself craving this "cheese" and have to have a stash in my deli drawer at all times!
8. Grass-Fed Bison Jerky | Meat Chops Snacks | Saskatchewan
This exquisite snack is pure protein. Owner Chelsey has an impressive meat mantra, too. Think free-range, 100% Canadian bison raised by land steward ranchers restoring the Prairies. Impressive.
A little taste of Mexico in the Great White North thanks to husband and wife team Sandra and Carlos Flores. We put this sauce on everything from eggs to nachos. Original Habanero is a favourite.
10. Jamaican Jerk Sauce | Hill's Jamaican |Nova Scotia
Paul Hill has been bringing the Jamaican heat to Halifax for a few decades now. Pick the level of heat you want and then slather his Jerk sauce on chicken, pork, tofu, or haddock – just like the locals!
11. Fresh Milled Flour + Grains | Flourist | British Columbia
The only source for 100% traceable grains, beans, and freshly milled flours. Staples in my kitchen include Golden Quinoa, French Lentils and Organic Sifted Spelt Flour.
Looking for even more savoury gifts? Try: Abokichi chili miso (ON) or Luv the Grub (BC).
Sweet Food Gifts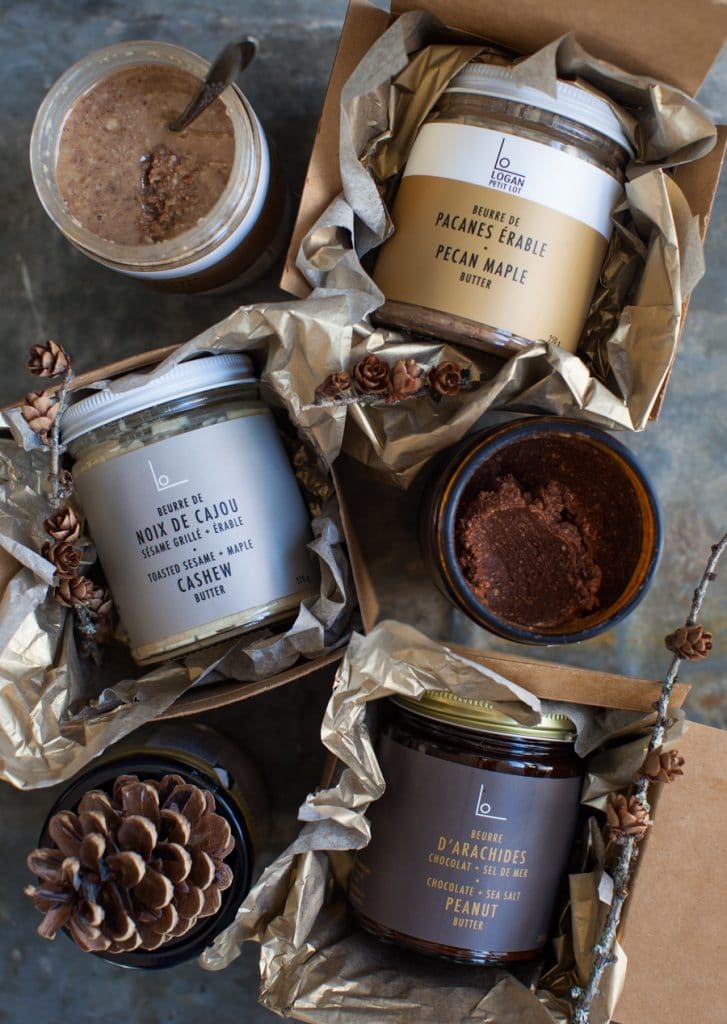 12. Gourmet Nut Butters | Logan Petit Lot | Québec
As stylishly packaged as they are delicious, these deluxe spreads will elevate any breakfast, brunch or lunch. Not just for toast, I love them stirred into oats, slathered on pancakes or simply scooped up with apple slices.
13. Bourbon Maple Syrup | Wabanaki Maple Syrup | New Brunswick
Small-batch authentic Indigenous Barrel Aged maple syrup from the forests of NB. Could this gift be any sweeter? Not possible.
14. Bean-to-Bar Ethical Chocolate | Kin + Pod | Alberta
Award-winning, small-batch chocolate with vegan and gluten-free options. I have to admit, I have her 2020 advent calendar stashed away as a food gift just for me. It's been quite the year; December 1st can't come soon enough.
The best online gourmet cookies, handmade, freshly-baked,
beautifully-packaged and delivered anywhere in Canada or the US. You'll definitely want to include the Bacon Fat Gingersnaps in your custom cookie box.
My 8yo daughter is all about the sprinkles, especially around the holidays. We absolutely adore all the magical sprinkles and fun accessories that Rosie dreams up. No cookie-baking party is complete without Sweetapolita.
17. Sweet & Spicy Mixed Nuts | The Zoe Ford Pantry | Québec
No need to choose between sweet and savoury with this spiced nuts snack from Top Chef Canada Alum Jo Notkin. Bring the pastry chef experience home by shopping her virtual pantry for treats like Jewelbox Brownies and Orange Scones.
18. Niagara Fruit-First Jams | Fox + Forage | Ontario
A jar of Niagara fruit preserves can only sweeten a Christmas morning brunch. These artisanal spreads from Provisions Food Company are made with local fruits, harvested in their prime. It's hard to pick a favourite from their unique and seasonal flavours, but the Montmorency Cherry & Merlot Wine Jam ranks high up on my list.
19. Mellinoix + Miel | Miels D'Anicet | Québec
Mellinoix is a decadent blend of honey, nuts and dried fruits, perfect for pairing with a cheese platter – or draped luxuriously over a baked Brie. It's just one of a dazzling array of luxury products from my favourite Québec honeybees.
When Anne-Virginie from Miels d'Anicet assured me that her Buckwheat Honey Spice Bread would be shipped out as soon as they had cooled, I could think of nothing else. Suggested pairings? Chocolate or fois gras. OUI!
Looking for more? Try Peace by Chocolate (NS) or Comeback Snacks (ON).
Unique Drink Gifts
This is by no means a comprehensive list of my all-time favourite drinks, wines, ciders, etc. Other than gin (an essential), I've left alcohol off this list.
Nope this is more of a "current obsessions" list, including a soothing tea and a calming golden mylk. These special sips are two little luxuries I've allowed myself in this year-of-all-years. I hope you love them too.
A warming latte mix made from a whole food blend of turmeric, cocoa, dates, coconut, vanilla, ashwagandha and black pepper. Made in small batches and free from any fillers and artificial ingredients. Also try the Reishi Hot Chocolate or the pretty Lavender Moon Mylk for a cup of comfort.
21. Coffee || Your local roaster
Coffee is deeply personal. Your local café probably roasts your favourite beans, because it's familiar, not to mention, fresh. Come December here in Nova Scotia we love the "Holiday Brew" from North Mountain Coffee.
22. Blooming Blueberry Tea |Lady Baker's Tea | PEI
A bright blend of organic ingredients including black tea, Rooibos, flower petals, hibiscus and Prince Edward Island blueberries. For a herbal blend try the calming "Abegweit Lullaby". Another favourite is "Pink Lady", an Early Grey blend with PEI rose petals.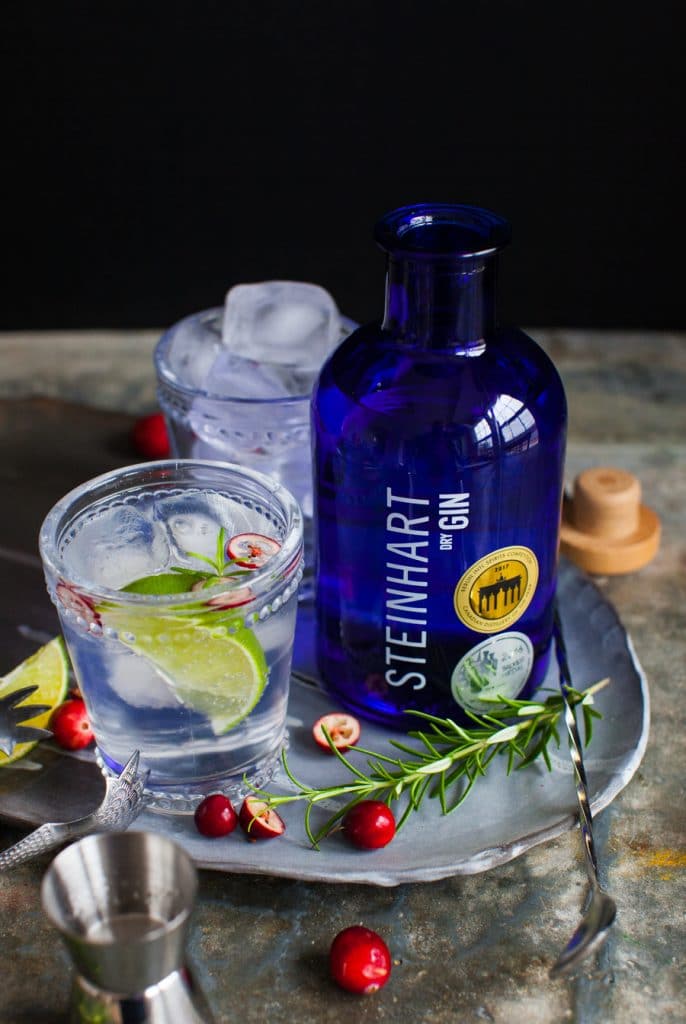 I may spritz all summer long, but the Gin & Tonic is my winter cocktail. Declared Best Canadian Gin at the World Gin awards, Steinhart is our gin of choice for the holidays and beyond.
24. Bonus! Support an Author
I still get asked all the time where people can buy my cookbooks. Thank you! So should you wish to support a Canadian author this Christmas, here are the links at Chapters/Indigo. You can also ask your neighbourhood independent bookstore to order them in for you – anywhere in North America. Thanks so much!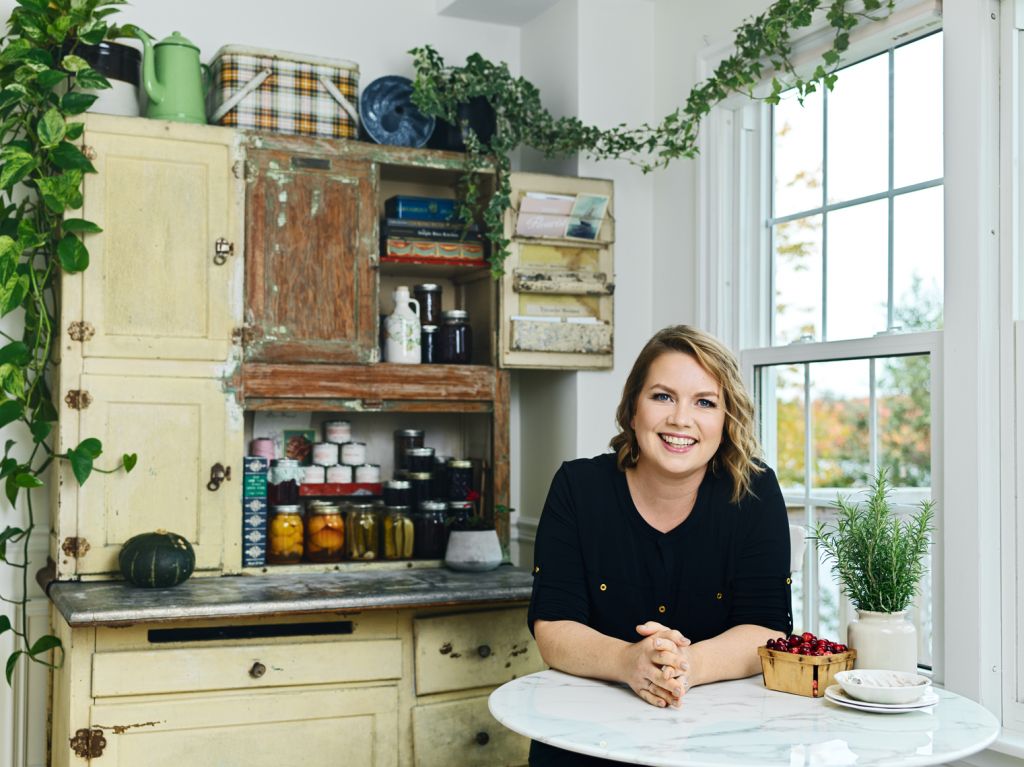 Buy Local
Inspired yet? Grab a pen and paper and make a gift list for your loved ones.
This year, I don't see the usual holiday craft markets happening. We certainly won't be cruising the malls, shopping for presents. This edible gift guide allows you to shop from the comfort and safety of your own home.
As much as possible, look for these products in your local shops before having them shipped. (Sometimes listed under "Stockists" on a website)
I recommend you use this list as a jumping off point to learn about and support artisans in your corner of Canada or North America. I hope it inspires you to shop local where ever you live and support small businesses this season.
Happy Holidays!
I did not receive any monetary compensation for this post. Some products were provided by the companies. Every item was personally selected and taste tested by me. I do not receive any compensation if you purchase these items.