Recipe ideas for easy salads that are great for the holiday season and beyond.
Happy December.
Over the weekend we ushered in the holidays by dragging a seven-foot pine tree through the front door and then sitting down to our first Tourtière of the season.
Like the tree-trimming-tourtière feast, most of our family traditions happen around the table at Christmastime. This year won't be any different, we'll merely be a few less people and throwing a few less parties.
Since it will be just us, I'm involving the kiddos in much of the meal planning. If someone wants a lasagne on the 24th, so be it. We're not bound by tradition. So lists are being made of our holiday baking projects and I'm stocking the pantry.
Included in the planning is a solid round-up of fantastic salads for the holiday season. A balanced diet is so important, especially this time of year.
7 Fantastic Salads for the Holiday Season
December requires me to be extra intentional about eating fresh vegetables. If I'm not careful, we can default to a steady diet of comfort food, carbs and cookies.
Vegetable don't sneak their way into our diets the way sugar and fats tend to do. All winter I roast up big batches of root vegetables and keep them on hand for adding to salads, wraps and frittatas.
Fortunately, the base ingredients for the salads listed can keep for weeks in the crisper. Pears, carrots, kale, citrus, cabbage and the occasional pomegranate – you need only stock up once or twice to enjoy them all month long.
Apples and pears marry in this delightfully crunchy and refreshing salad. Together with pomegranate seeds, toasted pine nuts and a dollop of yogourt, it's a festive dish!
This colourful salad is perfect for a brunch, lunch or even a light fruit dessert at the end of a big meal.
What started as an Easter brunch staple, morphed into a Christmas morning essential. Oranges, grapefruit, pomelo or clementines – you can use whatever citrus fruits you have on hand.
I top it with crunchy pomegranate seeds and fresh torn mint. I've also used sliced fresh cranberries or kumquats. All are delicious!
Here's a hearty and nutritious salad that can quite easily morph into the main dish. As with most of my recipes, you can use this formula as a springboard for your own creations, using whatever you have on hand.
It would be delicious with a crisp, sweet apple in place of the pear and shaved parmesan instead of the goat cheese. If you're a nuts-free home, top the salad with toasted, salted pumpkin seeds.
This salad is essential for using up leftovers. You can heap everything from cold turkey to bits of cheese on top and call it a meal. Clean out the fridge, waste less food and make dinner in the process.
This warm winter salad makes a perfect pairing with rich comfort foods such as baked macaroni & cheese or a chicken pot pie.
Cabbage has to be one of my favourite greens to go under the broiler; it takes on a sweetness without a trace of bitterness. I use two varieties for the salad, but you can just use what you have on hand.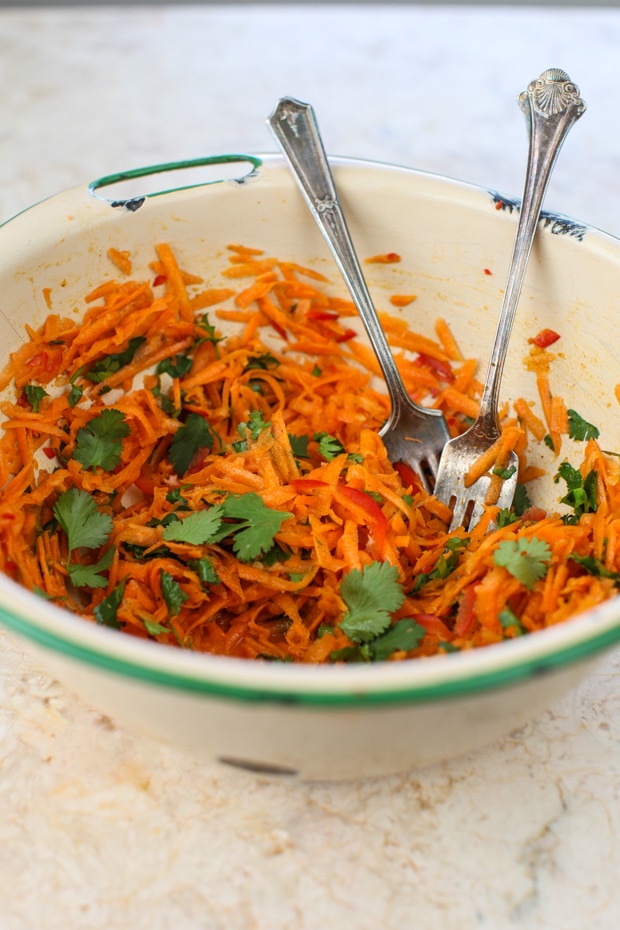 What makes a simple carrot salad Christmasy? For me it's the cinnamon; a revelation in a carrot slaw.
Crunchy and sweet, the carrots are livened up with the gentle heat of a fresh jalepeno, a kiss of cinnamon, and a generous handful of fresh cilantro.
Use this salad to liven up power bowls or as a simple side dish to Slow Cooker Cider Ham.
If all you're up for is slicing vegetables and throwing them on a plate…then let's go ahead and call this a salad too. Now, you're off the hook for making a dressing.
This crudité is my go-to appetizer for the holiday season. It's loved by all and always elicits a reaction, thanks to the lime zest and kick of chilies. So delicious!
What is a crunchy winter salad that keeps your diet balanced all through the holidays?