This morning I gathered a jar of lentils, a few carrots, and a leek for the beginning of an autumn soup.
I rummaged in the freezer for a jar of dark chicken stock, and snipped a few sprigs of thyme from the garden. The boys have the day off of school and we'll enjoy a simple French lentil soup for lunch.
It certainly is the perfect season for summering a soup. If you've never made soup from scratch, there's no better time than the fall, when all the root vegetables come into play, the garlic is firm and young and ingredients like corn, tomatoes and zucchini are still in abundance.
The body craves this nourishing bowl of vegetables, simmered in a savoury broth, and accompanied by favourite side such as skillet cornbread or whole wheat buttermilk rolls. In fact, I think I better go mix up a batch of those rolls right now.
Here are some of my favourite recipes to get you started.
1. Sausage, Bean & Pasta Soup with Spinach
This hearty soup features beans, pasta and greens with a little sausage to round it out. It comes together in under 20 minutes, just the ticket for family week-night meals. The ingredients for this rustic soup are simple, but if you can pull it off using items like homemade chicken stock and fresh basil, and cook your own beans instead of opening a can, you will elevate it into a truly satisfying and memorable soup.
2. Coconut Curried Green Lentil Soup
This soup is on regular rotation for our lunches, especially now that the cooler weather has arrived. I love it because all of the ingredients are pantry staples, so if the fridge shelves are looking bare, I know I always have a warm, nourishing meal to fall back on with this soup.
3. Butternut Squash and Apple Soup
Winter squash is often a great source of fiber as well as vitamin A and vitamin C, which are helpful during cold and flu season. This recipe pairs Butternut squash with tart apples and sweet leeks in a creamy pureed soup.
4. Cream of Potato-Leek Soup with Bacon
Five minutes and five ingredients are all you need to get this soup simmering. Then puree it until it is silky smooth and add fresh cream for richness. You'll want to eat several bowls – especially if you have some garlic croutons to top it with. This soup also freezes well. Just omit the cream and instead add it in when you re-heat the soup.
Roasted red peppers add depth to this smooth and bright soup, kissed with parsley and a bit of cream; it is ideal for dunking bits of bread or sandwiches.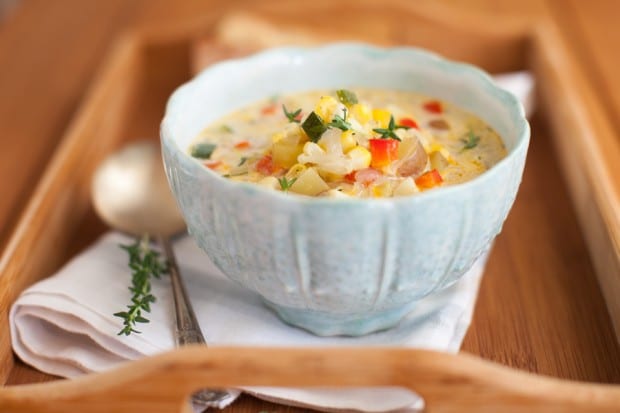 A corn stock makes the rich base of this soup, though vegetable or chicken stock can be used as well. Bulk up the chowder with corn, zucchini, potatoes and red peppers, then add a splash of cream and a sprig of herbs finished off the dish.
7. Roasted Carrot and Cilantro Soup
The fresh taste of the cilantro brings a nice rounded taste to this smooth soup and it is hearty enough to be its own meal or be paired with a nice light salad for a quick dinner. It also freezes quite well in small batches and can last up to three months in a deep freeze.
What is a favourite soup to simmer in your home?