My simple and easily customizable recipe for stretching spiced taco beef with nourishing pantry staples.
This post could alternatively be titled: How to Feed a Family with One Pound of Ground Beef. Over the years, my spiced taco beef has evolved to include black beans and golden quinoa. It's a quick and easy recipe that comes fully endorsed by two teens and a tween.
So, we're a family of flexitarians who use the planetary health diet as a guide. What does that mean? We have a repertoire of plant-based meals and most nights sit down to a vegetarian dinner. However, we also consume animal products in moderation, as long as they are ethically sourced.
My kids love to chow down on beef tacos as much as the next person. This recipe for spiced taco beef with beans and quinoa as my flexitarian compromise.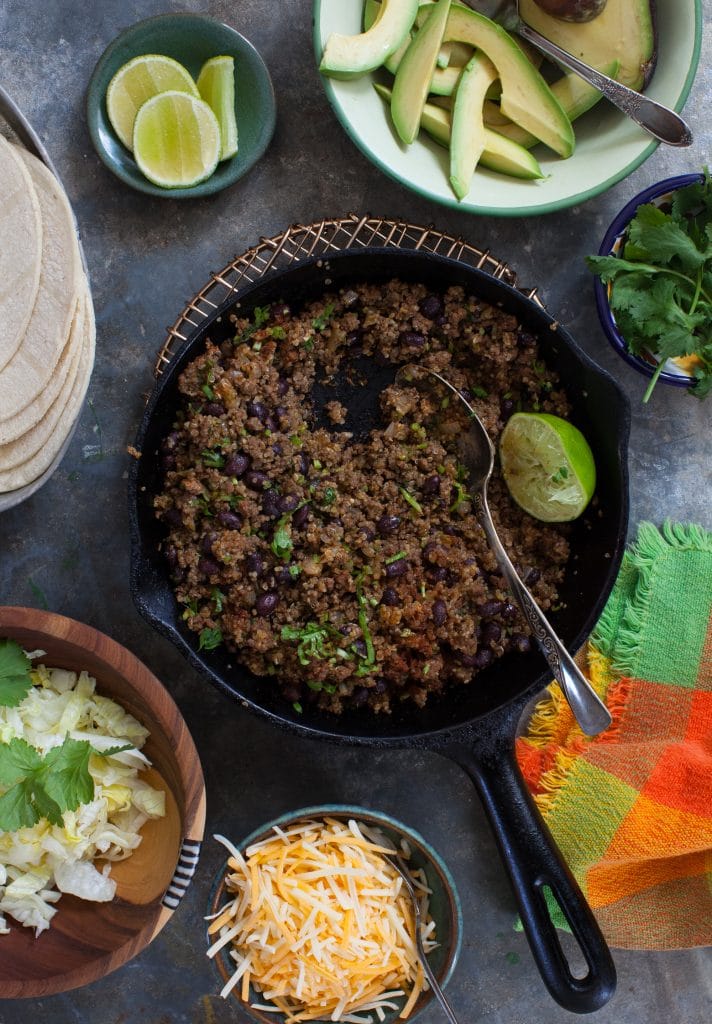 Why choose Quinoa for Spiced Taco Beef?
Quinoa is a gluten-free plant-based protein and grown right here in Canada. It's a teeny tiny seed that is also loaded with magnesium, iron and calcium.
Most of the quinoa we find in stores in North America comes from the high Andes of Bolivia/Peru. But did you know? Canadian prairie farmers have been cultivating the grain for decades. I buy mine through Flourist, which is premium quinoa and 100% traceable back to the farmer in Iron Springs, Alberta.
Quinoa takes on the flavour of the dishes you pair it with. This makes quinoa an ideal add-in in for chili, stews and taco beef.
Why add quinoa at all? Well, as mentioned above, I'm feeding a small army of kids and they eat a ton of tacos. With a planetary diet in mind, we're always trying to reduce the amount of meat we consume.
Why not make it all vegetarian? Most days I do. We eat a lot of bean and cheese burritos and tacos using this recipe for Frijoles Rancheros. We also rotate in our delicious Sheet Pan Fish Tacos whenever I get my hands on fresh local haddock.
Then there are other days when I make it to my butcher for grass-fed, local beef. And I know I'm all set for Taco Tuesday.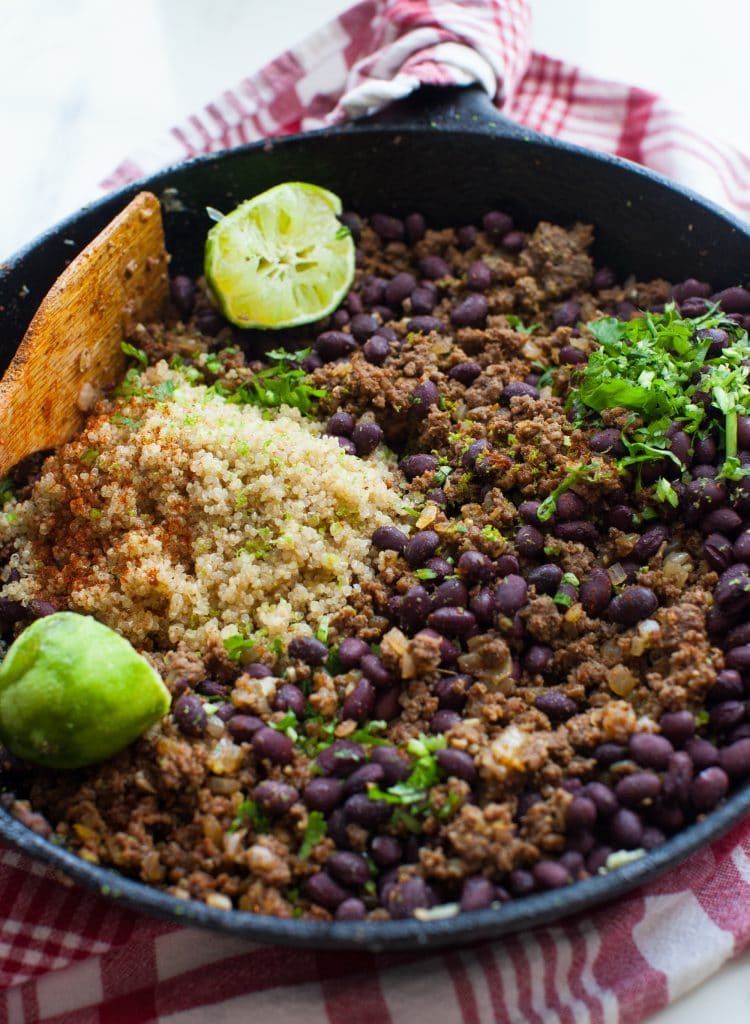 Do-Ahead Suggestions
Quinoa is great for batch cooking! I frequently freeze grains like quinoa, farro and brown rice pilaf in small, 1 or 2 cup portions so I have have them for a mid-day salad or side without having to turn on the stove or babysit a pot.
Beans can also be cooked in advance and frozen. While I typically just open a can of black beans for this recipe, there are other days (usually in winter) when I simmer a pot of pinto beans on the stove.
Once prepared and cooled, this spiced taco beef with beans and quinoa can also be frozen. It's great to have a stash in the freezer for a quick weeknight batch of burritos.
I also use this taco filling for our Campfire Toasted Burritos for our summer camping trips. They get wrapped in tin foil and baked in the ashes until toasty. They can also be heated over coals on the barbecue for a similar smoky flavour.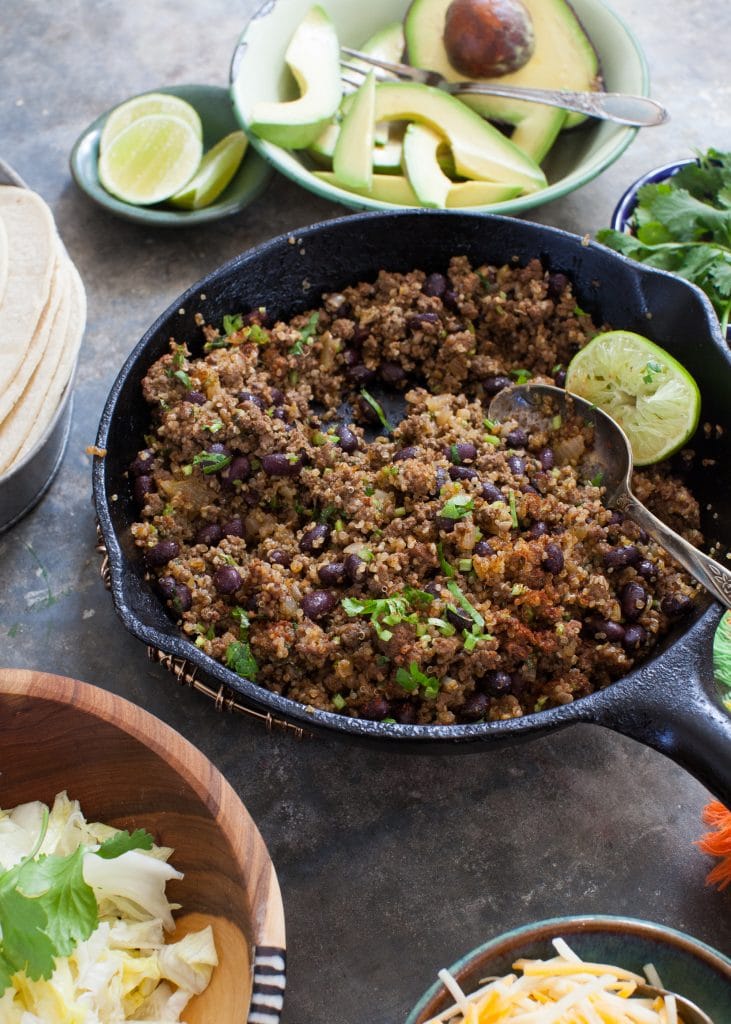 This spiced taco beef filling is designed to be very versatile. Some days I will add two can of beans and no quinoa. Other days I double up on the quinoa. Any way you cook it up, you're getting a nourishing protein-rich meal. Taste as you go and make sure it it well seasoned.
Make it quick: Prepare this recipe with 3 tablespoons of Easy Fajita Spice Mix from fish tacos. I keep a jar of the blend in my freezer for dishes like this one.
Make it even quicker: Prepare the beef, beans, onion, and quinoa with store-bought taco seasoning. Dress it up with lie juice and chopped cilantro. Feed your family. Repeat.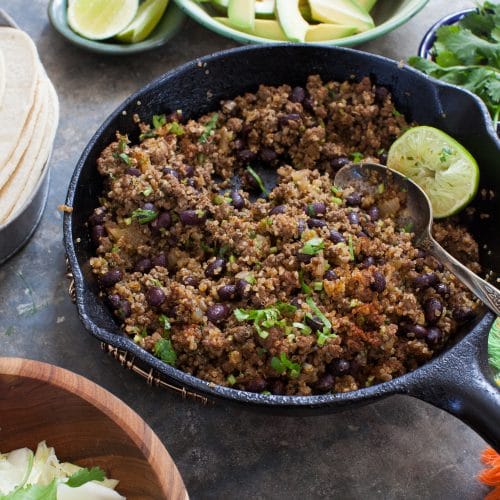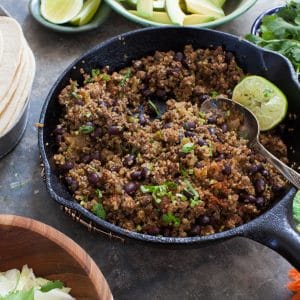 Spiced Taco Beef with Beans and Quinoa
My simple and easily customizable recipe for stretching spiced taco beef with nourishing pantry staples.
Print
Pin
Rate
Ingredients
1

tablespoon

olive oil

1

lb

organic lean ground beef

1

small

onion

finely diced

1

14 oz can

black beans

drained and rinsed

2

cloves

garlic

minced

1

teaspoon

ground cumin

1

teaspoon

chipotle chili powder

or to taste

1/2

teaspoon

dried oregano

1

teaspoon

fine sea salt

1

teaspoon

freshly ground black pepper

1 1/2

cups

cooked quinoa

1

lime

1/4

cup

minced cilantro stems
Instructions
Preheat a large cast iron skillet and add the olive oil. Sear the beef over high heat, breaking the meat apart with a wooden spoon, for about five minutes or until the meat is grey and crumbed apart. Drain off excess fat or liquid.

Add the onion. Cook over medium low heat for another five minutes until onions are soft. Add the beans to the beef.

Sprinkle in the garlic, cumin, chili powder, oregano, salt and pepper to the pan. Stir to combine. Cook the taco meat for five minutes over medium heat, stirring occasionally.

Stir in the cooked quinoa to the beef and bean mix. Zest a lime over the top, then cut in half and juice the lime into the pan. Sprinkle over the chopped cilantro stems and stir everything together.

Cook the taco filling on low for another few minutes. Taste and adjust seasonings accordingly. You may wish to add more salt or chili powder.

Serve at once with taco fixings. Alternately, cool completely, transfer to an airtight container and freeze for up to three months.
Notes
I make this taco seasoning medium spiced for our family but you can spice them up (or down) as much as you like with additional chili powder or crushed red chilies.
You can use cilantro leaves, too. But I usually serve the leaves as a taco garnish and chop up the stems to soften in the taco meat. Zero waste!
Nutrition
Calories:
193
kcal
|
Carbohydrates:
13
g
|
Protein:
19
g
|
Fat:
7
g
|
Saturated Fat:
2
g
|
Polyunsaturated Fat:
1
g
|
Monounsaturated Fat:
4
g
|
Trans Fat:
1
g
|
Cholesterol:
47
mg
|
Sodium:
448
mg
|
Potassium:
397
mg
|
Fiber:
2
g
|
Sugar:
1
g
|
Vitamin A:
161
IU
|
Vitamin C:
5
mg
|
Calcium:
32
mg
|
Iron:
3
mg
One more thing….regarding the Planetary Healthy Diet….should I write a full post on this? Would that be something you as a reader would be interested in? Let me know it the comments. Thanks!