November First is always the day I buy my pumpkins to roast and preserve for winter.
There's a farm up the road that displays them proudly all October, right through to the 31st, and then as soon as the calendar turns, they are tossed into the back of trucks and carted away. If I am there early enough in the morning, I can save a bunch from the rubbish heap – and save a pretty penny in the process.
Tomorrow, I'll fill my trunk with pie pumpkins (also called sugar pumpkins) and dedicate a portion of my day to scooping seeds, roasting the squash and turning it into puree. Here's a step-by-step tutorial of what that looks like, in case this is new kitchen territory for you.
I'll season the pumpkin seeds with bold ingredients such as sriracha and maple syrup, toss them with salt and toast them up in the oven for snacking on all winter long. Yes, they do freeze well, just make sure they are completely dried out in the oven and keep them airtight in the freezer. I love to sprinkle them on my Autumn Apple and Kale Salad or add them to homemade trail mix.
Since I've got all this pumpkin around, I'll probably make a triple batch of Pumpkin Spice Blend, too. This duo of freshly roasted quash and freshly ground spices provides fodder for a wide assortment of cooking and baking projects, all which fall quite nicely into the autumn comfort food niche. This fragrant start to November makes the month a little more tolerable.
For years now, I've frozen the puree in 1 cup portions and stashed a few dozen little jars away in the freezer. The vibrant orange puree makes a great gift, and a few jars usually come with me when I'm dropping in on a friend for tea.
Once I've got an ample supply of homemade pumpkin puree, the kitchen projects can begin. I've rounded up all of my pumpkin recipes from the blog archives – and what a list it is! Let's just jump right in. Not everything is made with puree, I should note, but pumpkin stars in every recipe from start to finish
Pumpkin Breakfast Recipes
Pumpkin Spice Granola ~ A simple, unprocesed granola that is still our autumn go-to recipe.
Pumpkin Pancakes ~ A grain-free (paleo) pancake that is great when I'm craving pancakes but don't want a heavy breakfast.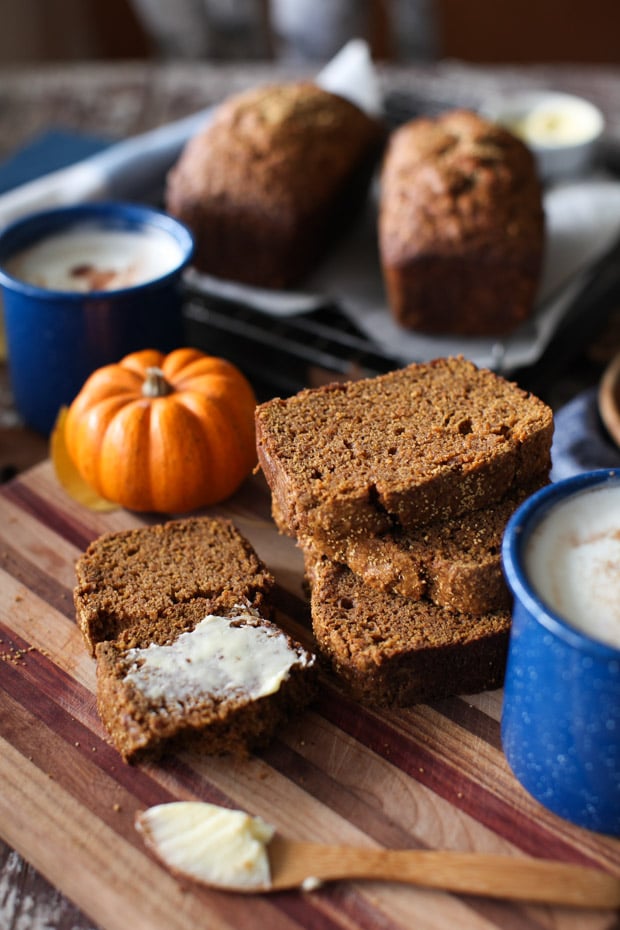 Pumpkin Olive Oil Bread ~ The ultimate accompaniment for afternoon tea or after school hot cocoa.
Pumpkin Challah ~ A light and fluffy loaf that toasts up beautifully.
Maple Sweetened Pumpkin Butter ~ To go with that pumpkin challah toast!
Baked Pull-Apart Pumpkin French Toast ~ This overnight breakfast recipe is a real crowd-pleaser. Weekend brunch, anyone?
Savoury Pumpkin Recipes
Coconut Curried Pumpkin with Cinnamon Rice ~ Vegan comfort food that is as pretty as it is tasty.
Simple Lentil, Pumpkin and Kale Soup ~ Another vegan favourite; a simple soup that's perfect for weeknight dinner.
Sweet Pumpkin Recipe
Oatmeal Pumpkin Bundt Cake with Caramel Sauce ~ A showstopper if there ever was one!
Simple Chilled Pumpkin Cheesecake ~ I will always say yes to pumpkin cheesecake, especially this extra easy version.
Black Bottom Maple Pumpkin Pie ~ A super creative twist on a classic dessert.
Pumpkin Seed Cocoa Brownies ~ A vegan brownie that is as decadent as they come.
Pumpkin Spice Snaps ~ A healthier autumn cookie, perfect for the lunchbox.
Spiced Pumpkin Cheesecake Brownies ~ A gluten-free brownie with a secret ingredient!
Maple Pumpkin Spice Pie ~ Our go-to pumpkin pie; a simple classic and loved by all.
Dark Chocolate Pumpkin Baked Doughnuts A dairy-free doughnut I developed for Jamie O, again with a secret ingredient.
And if you have extra pumpkin puree try ay of these ideas:
23 Ways to Use Up Leftover Pumpkin Purée
Now I'd love to hear: what is your favourite pumpkin recipe?