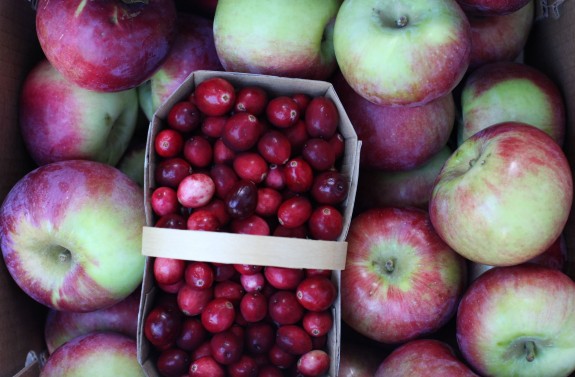 My scribbled list for the long weekend ahead holds a healthy mix of work and play, in fact, most To-Do items overlap in an enjoyable blend of domestic duties and favorite fall pastimes.
There are Cortland apples to be picked and later sauced with cranberries; I've got a canning swap on the calendar ahead and need a few dozen jars of fruit butter to exchange. So we've penciled in an orchard outing with friends and there will be a hay ride and apple pie too, of course. It's Thanksgiving weekend after all.
The 'coons have been in my beet patch, enough of a prompt to get the rest of the root vegetables harvested. Autumn is my ideal time to garden, with scarlet leaves under my feet, an invigorating wind blowing, and the whispers of winter haunting the earth with patches of early morning hoarfrost. The chill in the air is the perfect excuse to light a campfire and warm hands that have been burrowing in the damp soil to bury tulip bulbs.
My trusty black canning pot sits on the floor of the kitchen where Clara can crawl over at least five or six times a day and beat her hand on its lid like a drum. This weekend, however, it will be simmering on the stove, ready to welcome a few dozen jars of preserves. I have a case of tomatoes threatening to spoil if I don't roast them into a sauce rightthisminute, a spiced pear & ginger chutney to jar up, and the aforementioned cran-apple butter to set in motion. It's going to smell exceedingly good in my kitchen.
Photo by Shaina Olmanson
Finally, there are sugar pumpkins to roast and turn into an unprocessed version of this black-bottomed pumpkin pie. I've been delegated to contribute to the dessert course of our convivial 45-person family Thanksgiving dinner on Sunday, and pies must be made and enjoyed.
I have ambitious plans for three pies, actually: this maple-sweetened apple, a rustic maple pecan pie, and the pumpkin pie. Each will be served up with mounds of honey-sweetened whipped cream. My Rich Pie Crust will be the base for all three pies; if made with organic, unbleached white flour, no sugar, and sea salt, the pastry can pass the 'kitchen test' for our October Unprocessed challenge.
So, Happy Thanksgiving to my Canadian readers! Today I bring you no turkey dinner spread, but my archives are packed with good menu ideas for this holiday. If you're looking for something specific – mashed potato add-ins, pie love, vegetable sides – leave a comment on this post and I'll try to answer you as best as I can.
For starters, here are a few links:
Be sure to stop by on Monday for an excellent Dark Chocolate Beet cake recipe. It passes the Unprocessed test  – and my tummy test, too!
What are your weekend plans? Are you getting in the kitchen?