This week has been a busy blur of Christmas preparations, wrapping up projects, getting greeting cards out and a hundred other small tasks. Each day I packed lunches and got Danny and Noah out the door to work and school before starting on my own day, which inevitably went too fast. And on top of everything, I developed a cold. Again.
We're ready for a break, a long one, and it starts this afternoon when Danny wraps up work for two weeks and Noah has holidays to match. We've planned a quiet Christmas, (no back-to-back parties, thank you very much) and I am looking forward to putting my feet up with my knitting project and a plate of cookies.
Today's post doesn't offer any last minute appetizers, turkey tips, entertaining pointers, or menu suggestions. I figured you had probably had enough of those! Instead, I'm sharing a little peek into our home this Christmas. Welcome!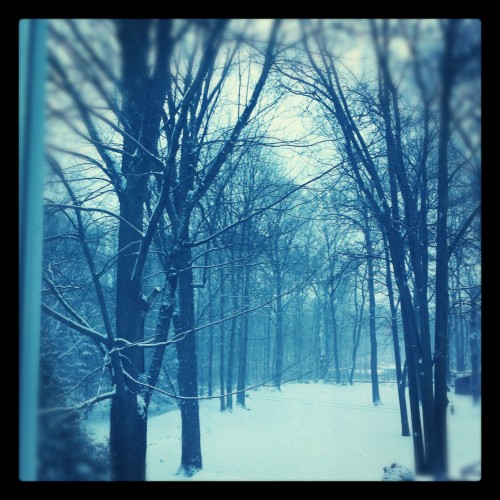 In most ways, we are ready for Christmas; surprisingly, all we're missing is snow.
We've had a sugary dusting here and there, but it lasts long enough for me to snap a photo, before it dissolves into little rivers and disappears among the leaves.
The boys are most disgruntled with the weather, yet the lack of snow hasn't stopped them from requesting hot cocoa, delivered to their play house.
With the weather outside gray and raining (frightful!), we've lost no time baking cookies. Even though I hosted a cookie swap, and attended another, I still had a few recipes tucked away that I've been wanting to try. What better way to warm up the kitchen than with gingerbread, shortbread, and jam thumbprints.
We dressed 18 little ginger-gentlemen and sent them to school with Noah for his class. There was much discussion in the process about it being better to give than to receive; a holiday message that is particularly difficult for a certain six-year-old to wrap his head around.
Speaking of giving, meet Coco, our Christmas kitty, to whom we recently welcomed to our home.
We rescued her from a majorly overcrowded shelter where she was facing euthanasia. It has been easy to make room in our home for this little wisp of white fluff. She's so grateful to be part of the family and is one of the most affectionate kitty cats I have ever met.
It's obviously Coco's first Christmas. All our gifts and the tree are at the mercy of her curiosity and claws.
With regard to gifts, we are very minimalistic when it comes to buying for the boys. Each receive one toy (this year is Lego for Noah and a 300 piece puzzle for Mateo, who is obsessed with puzzles at 3 years old), one new book, Christmas candy, and a clothing item such as pajamas. It's enough.
For now, gifts are wrapped and stashed under our twig tree, and the stockings hung on the banister, waiting to hold clementines and candy canes on Christmas morning.
Before you think I got crafty with felt, let me share that the stockings were bought on Etsy, and are a nod to our pair of friendly cardinals that frequent the bird feeder every day.
I've got a bit of a thing for felt this year, and was happy to find these adorable heart tree ornaments at Ikea. Who says hearts are just for February, anyway? And what did I ever do before Pinterest for simple, affordable home decorating ideas?
I've never been one to sit and flip through magazines for home decor inspiration, but I did have plenty of fun putting together My Christmas Party pinboard, not to mention one on Brunch, and, of course, holiday baking.
Pinterest, I heart you.
I need to snap a photo of my pregnant self at 6 months and will try to have someone shoot a family portrait for us as well! For now, here's Mateo giving me morning kisses.
Here's wishing a very Merry Christmas to you and yours from all of us here at Simple Bites!