The temperatures dipped once again yesterday and we chose indoor activities over snow games.
I tipped a tin of whole cloves into bowls, set out oranges and the boys and I made spiced orange pomander balls while listening to an audio book. This was a craft I can remember making as a child, sitting next to the wood fire, and deeply engrossed with a story tape on cassette.
Making spiced orange pomander balls is simple enough to do and yields both a pretty centerpiece and a natural air freshener. Best of all, it's an all natural decoration and can be made with items around the house.
Let's get started.
You will need:
Firm, fresh citrus fruit. If it is too shriveled or too mushy, it will be harder to poke with cloves.
A few toothpicks. A nail works well, too.
A jar of whole cloves.
A citrus zester or a sharp vegetable peeler.
An elastic or two.
Kitchen twine, if you decide to hang any pomanders.
Now put on some Christmas music, an audio book or your favorite Homefries podcast and let's craft!
How to make spiced orange pomander balls
Use a corner of the citrus zester to make a few designs in the skin of the orange. A peeler works too, but will make wider strips.
Poke a row of holes in the orange with a tooth pick and push the cloves into the pre-made holes. You may not find this necessary, but if you are crafting with small children, as I was, the cloves hurt their fingers without the pre-made holes.
You can really make any design you like on the oranges. The ones we did are more time consuming, but we had lots of helping hands.
Martha Stewart places a rubber band around the citrus and uses it to make a perfect circle around the orange. She also gets out the glue gun, but I like to keep it simple.
If you like, you can finish by rolling the pomanders in ground spices for extra fragrance. Ground cinnamon, ginger, nutmeg, cardamom, and of course, cloves, would all be nice.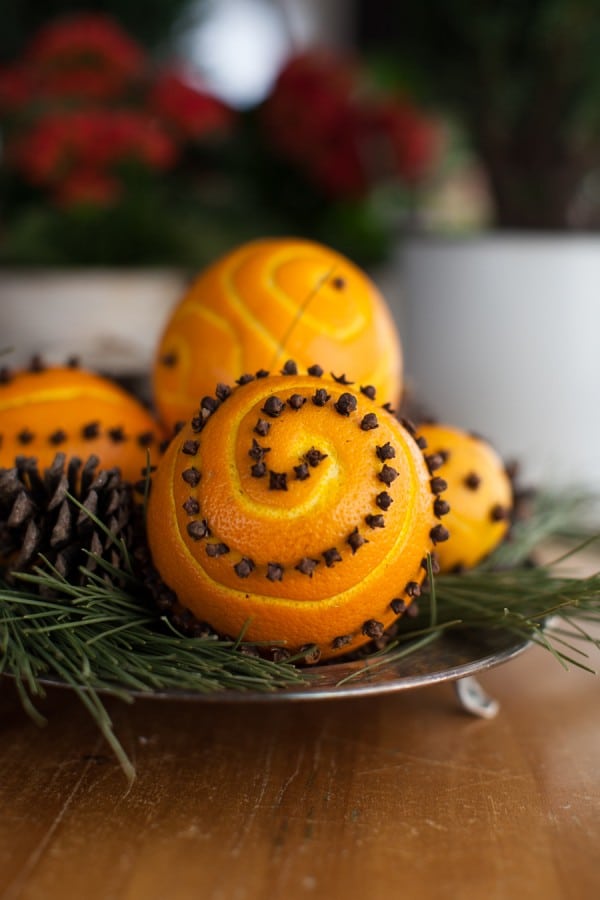 Now that you have your assorted pomanders – what can you do with them? Here are a few ideas.
Hang the smaller pomanders as fragrant ornaments on your Christmas tree.
Hang a few of the larger pomanders in a window.
Arrange them as a centerpiece, as I have done here.
Place them in bowls and set them around the house as natural air fresheners.
Give a few away in a cellophane bag as a festive gift.
To hang your citrus pomander, thread a large needle with string and run it through the orange; make a knot at the bottom and a loop at the top. Simple!
And if you fall in love with the smell of citrus and spice, Marisa's created a jam based on her memories of making pomanders as a child.
Storage:
I know you want to keep your pomanders on display, but first there are a few tricks to note for keeping them from getting moldy.
Display them in a bowl or on a plate for 3-4 days. After that you probably will see some mold.
Display them during the day, but tuck them into the fridge at night. This with lengthen their life by a few days.
Some spice shops sell orrisroot powder, which you can dust on the pomander as a preserving agent.
Suspend them with kitchen twine and hang them in a cool, dark place to try for about week. Then display them, just in time for Christmas. The dried pomanders are even more fragrant than the fresh ones!
I'm going to enjoy mine fresh for a day or two, then hang them to dry. Happy holidays and if you've found this tutorial helpful, please share it around. Thank you.
Did you make pomanders as a child at Christmas time?