If the beginning of fall has made you concede the end of outdoor entertaining, think again. This is the best time to move the party outside.
Think about it. The bugs are gone, the heat waves have passed. The fall air feels invigorating and bushels of autumnal produce are here to inspire you to cook. Are you with me yet? I hope so, because I'm kicking off a six-part series on fresh air feasts right now.
Last month we had the honour of hosting a casual wedding reception for my younger sister, Miranda, and Danny's brother, Mike (fondly referred to as M&M from henceforth). My good friend and incomparable Montreal photographer, Tim Chin, was here to document the event – and how!
I'll take you into the heart of my biggest party of all times and share my best tips for making it happen. Let's get started with a drink at the bar, shall we?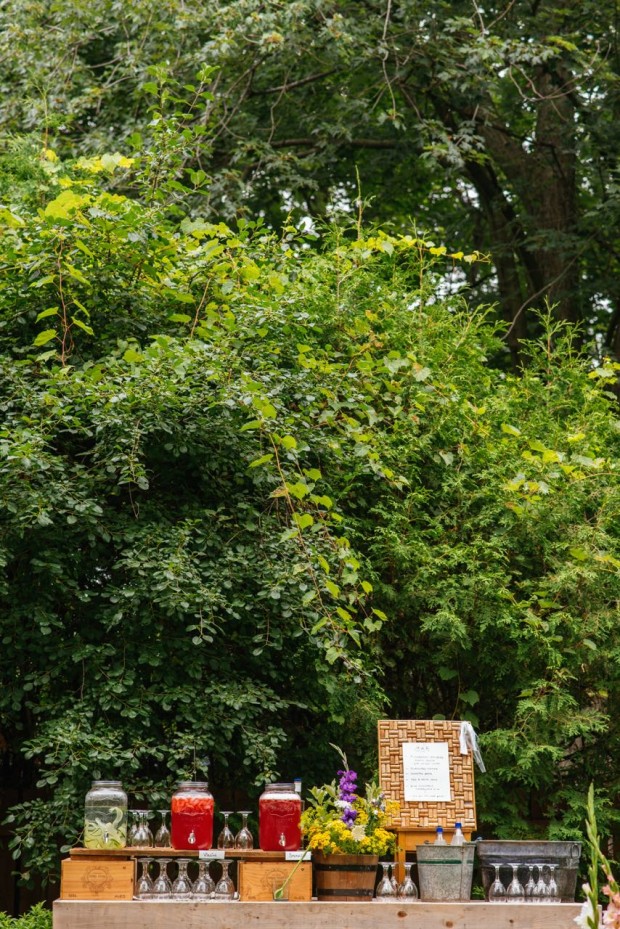 Tip: If there is one take-away from this post, let it be this: set up your bar early and have it ready to go at least 15 minutes before guests arrive. 30 minutes is even better. Then, have a small drink yourself.
Here's why it's important to be ready. Guest can (and will) show up early and you want them to feel instantly welcomed into your event. Even if you are still far from ready, greet them and show them to the bar. As soon as they have a glass in their hand, they will feel more relaxed – and you can finish up your last minute preparations.
We had several people coming to our house for the first time for this reception and they arrived early. Never having made the drive, and not wanting to be late, they gave themselves extra time. That is a very considerate guest, and I am glad we could welcome them with a glass of punch.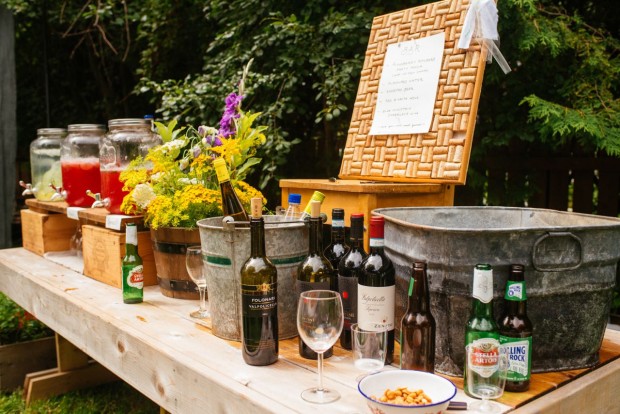 We were serving drinks to nearly 60 adults and 24 kids. Our set-up was first and foremost a functional outdoor bar, which to me means roomy, sturdy and self-sufficient. All the drinks went out 30 minutes before the party started and I didn't have to think about the bar until we were three hours into the party and I topped up the ice all around.
Tip: Choose your sturdiest table for the outdoor bar. We all have an old rickety picnic table of questionable dependability. It's best to relegate that one to another task (we threw a tablecloth over ours and set the guestbook on it).  We utilized a galvanized tub for beer and a bucket for the wine; both were half filled with ice, and that gets heavy. Make sure your table is up for the task, or else store the heavy stuff directly on the ground.
Tip: Rent the stemware. Well, I say that, but it really depends on the event. Perhaps if no one is getting married or engaged, and you're not aiming for an elegant harvest dinner-type party, plastic is fine. For a casual gathering, there's no need for real stemware.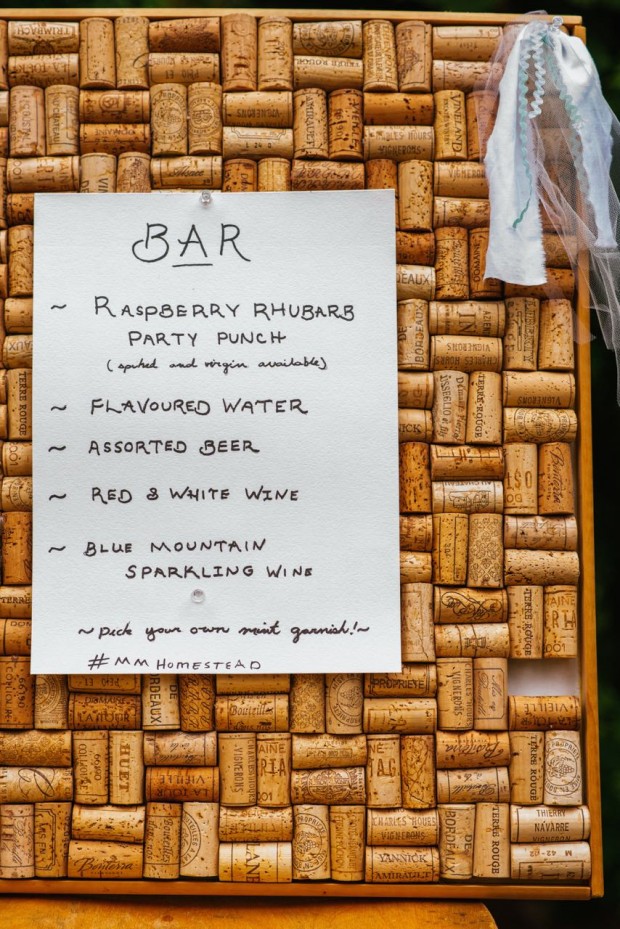 Tip: Serve beer, wine – and choose punch over mixed drinks. Professional drinker David Wondrich is the author of Punch
and says that offering no choice is the best hosting strategy. I completely agree, in the cocktail department, at least (beer and wine are a given). Why? Read his entire philosophy over on Saveur – I utterly adore this article.
Not only does it keep things simple, but sticking to punch is also the best plan when it comes to serving eighty people at once without hiring a professional bartender. It also helps to know your crowd; and my crowd loves punch.
Tip: Ensure water is available and plentiful (and forget the bottled stuff, that's just bad for the environment and really not cool.) It was a scorching hot day for our event, so I also offered a drink dispenser of flavoured water. Ice cold and infused with lemon and homegrown cucumbers, it was a welcome balance to the boozier beverages.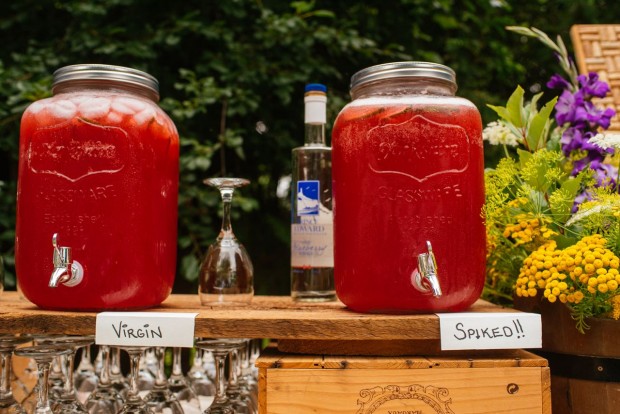 Our bar menu above included a virgin and a spiked version of my Raspberry Rhubarb Party Punch, spiked with vodka instead of gin (vodka is the popular choice with my crowd). I decided on this punch because I grow all the rhubarb I need and my neighbour gives me access to his sprawling raspberry patch in summer. This blush punch was as frugal as it was seasonal.
Tip: Prepare large quantities of punch base or a flavoured simple syrup in advance and freeze for party day. I stewed the fruit and squeezed the limes a month earlier and froze everything. All I had to do on the big day was add sparkling water and an ice block.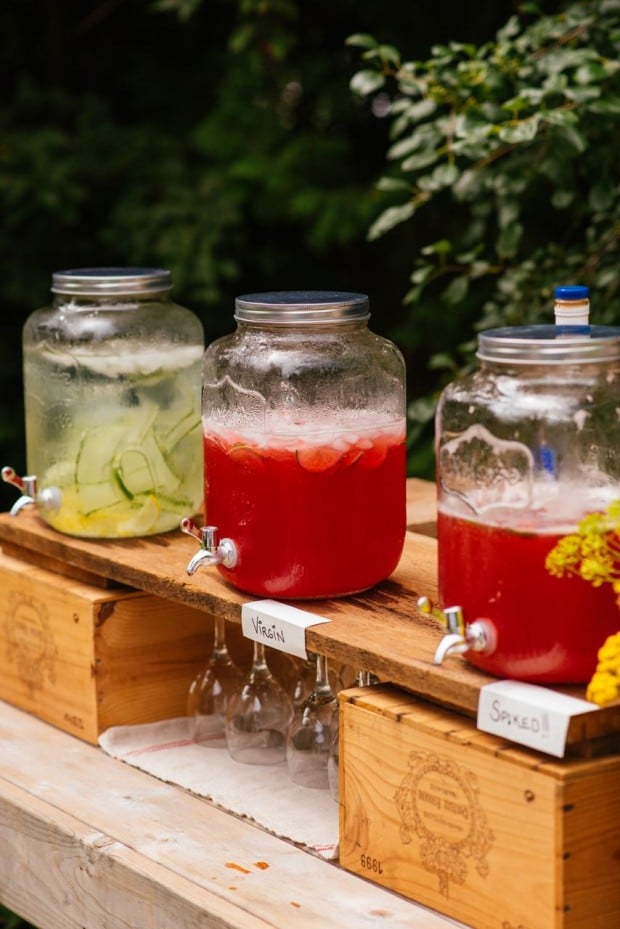 This was my first time to use a drink dispenser and I have to say, I am a fan. They are hugely practical and aesthetically attractive; basically a win-win. These cute Mason jar drink dispensers were from Indigo and hold 2 gallons. I like how their lid is large enough to add big blocks of ice, which is key to keeping punch cold for several hours.
Oh, and they are really great for a self-serve bar, as children can easily help themselves instead of lifting a heavy drink pitcher.
Lastly, make a place for trash. Store boxes for empty bottles and cans under or behind the table. Keep a garbage nearby as well for everything else.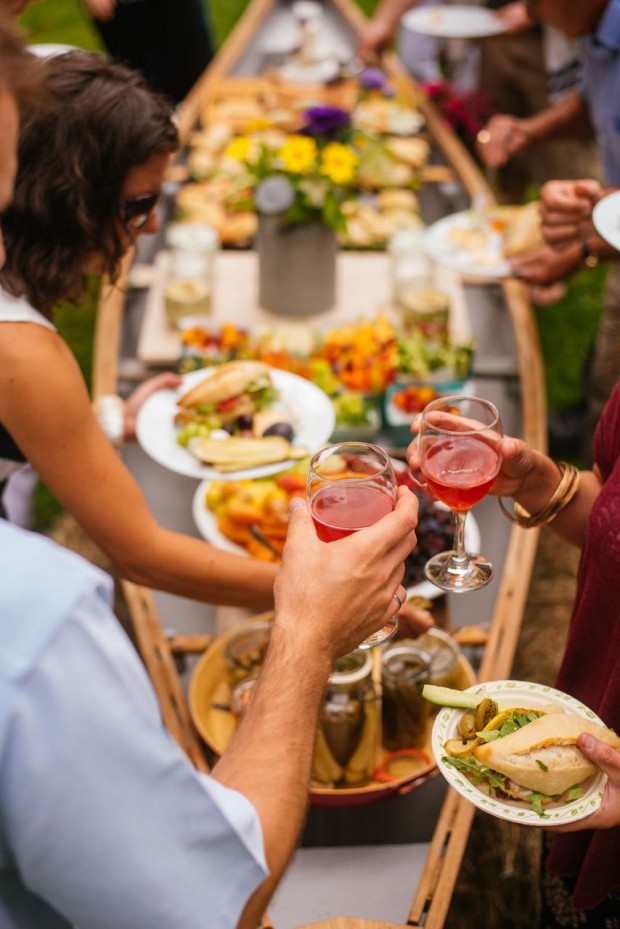 Cheers! Stay tuned for many more party details coming this week, including the pie social and the canoe buffet pictured above. Oh yes, it was great fun.
Missed the other posts in this series? Find them here:
How to build a tiered cheese wheel 'cake'.
Outdoor entertaining and keeping the kids happy.
How to set up an outdoor buffet in a canoe
How to host an old fashioned pie social.
Photographs copyright TIMCHIN Photography, used with permission. Please do not republish these photos on any platform without explicit permission. Thank you!