This week, I'm running a little series on outdoor entertaining, and a big part of a successful party is accommodating all of your guests, right down to the little chubby-kneed toddlers.
Danny and I are at that stage of life where most of our friends and cousins have two or three children each and those little darlings add up fast at gatherings! At our recent backyard wedding reception, the under-12 count came in at an even two dozen. 24 kids.
Here's how we came alongside the parents and helped keep the bambinos fed, watered and having a good time.
Make a space just for kids
I've long been a fan of setting up a kids snacking station, a place where they can come and go, graze when hungry, and otherwise be free to run around. For this event, I supplied water and juice, with kid's cups. There was vegetables and dip, fruit and cheese, and all the peanut butter and jelly sandwiches anyone could want.
Did you know peanut butter sandwiches can be made in advance, cut, and frozen until party day? It's easy: spread a thin layer of peanut butter on both sides of the bread. This keeps the bread from getting soggy. Spread the jelly on one side on top of the peanut butter. Close the sandwich, cut off the crusts, cut on the diagonal and place in an airtight container. Pack sandwiches in close together, then seal and freeze for up to one month. Thaw at room temperature for about 4 hours.
Bring indoor toys outdoors: LEGO Station
Even though the kids have all the food they could want (of course the adults buffet is available, too) they mostly just play the entire time. It's as if they know how fleeting summer is, and indeed, youth itself!
We had the idea to fill a plastic kiddie pool on the deck with all the LEGO in the house, because, really, is there any other toy that matters?  Most of this LEGO dates back to when Danny was a boy, and it's still getting plenty of use.
Noah and Mateo had the idea for a creative LEGO contest, in which the bride and groom would pick a winner in a blind judging. It was a friendly competition, kept a handful of kids busy, and a winner in each of the categories (3-7yo and 8-12yo) went home with a gift card to the local LEGO store.
You can never go wrong with bubbles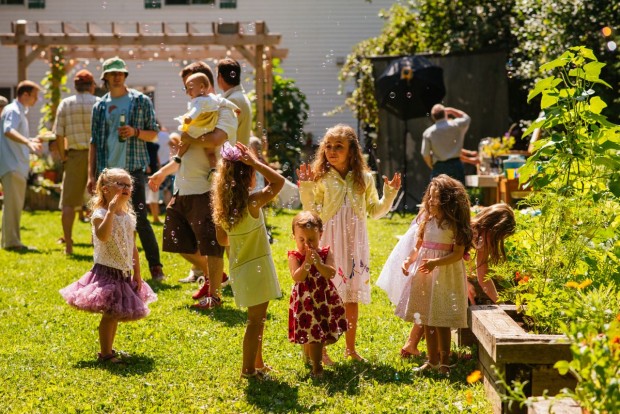 There's something about bubbles on a summer day that captures the attention of our little ones. My sister rented a bubble machine that blew out an endless stream of tiny bubbles out by the garden.
They twinkled and glistened in the afternoon sun, much to the delight of every single girl in a party dress.
Let kids be kids, even if it means getting dirty
For the most part, the children ran in packs around the garden and the yard. Occasionally they explored into the edges of the forest, as part of their made-up games. We didn't worry about them too much.
Summer fun is piling as many boys on a tire swing as possible and then trying not to fall off.
Missed the first posts in this series? Find them here:
How to set up a functional outdoor bar.
How to build a tiered cheese wheel 'cake'.
How to set up an outdoor buffet in a canoe.
How to host an old fashioned pie social.
Photographs copyright TIMCHIN Photography, used with permission. Please do not republish these photos on any platform without explicit permission. Thank you!