Today's post shows one more example of how to work with what you have when entertaining. Not only is this practical and frugal, but it can be fun to exercise a bit of creativity and think outside the box.
So we were short a table for our recent backyard wedding reception; the outdoor bar occupied our patio table and over a dozen handmade pies camped out on the dining room table, moved out of doors for the occasion. Sure we could have rented something, but I had an idea I wanted to try using our canoe and a few hay bales.
Danny refurbished a beautiful old canoe this summer and to me, it made perfect sense to turn it into our buffet for 80.
Stay with me on this one…it all worked out in the end.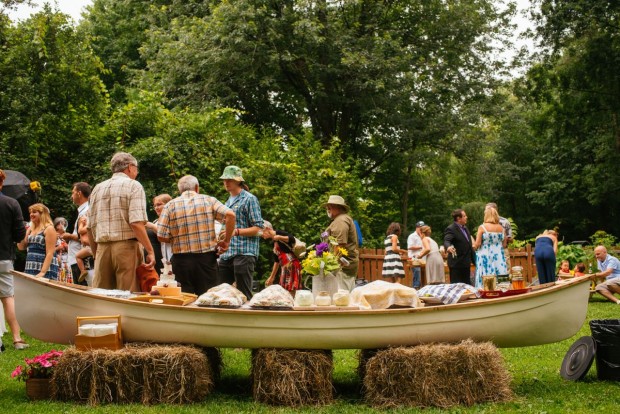 It wasn't hard to convince my little sister, the bride, to get on board (haha!) with the canoe idea; if you remember, I served her engagement party buffet on a wooden toboggan. No, my biggest concern was stability. So I left that up to Danny, the engineer. He tried the hay bales a few different ways, jumped on them a bit, and decided 5 bales in the configuration shown in the images would work best.
Above, the buffet is set up, but not yet opened, as signified by the tea towels covering the food. Napkins at the bow, along with a stack of plates (inside) and a garbage at the stern – both are essential!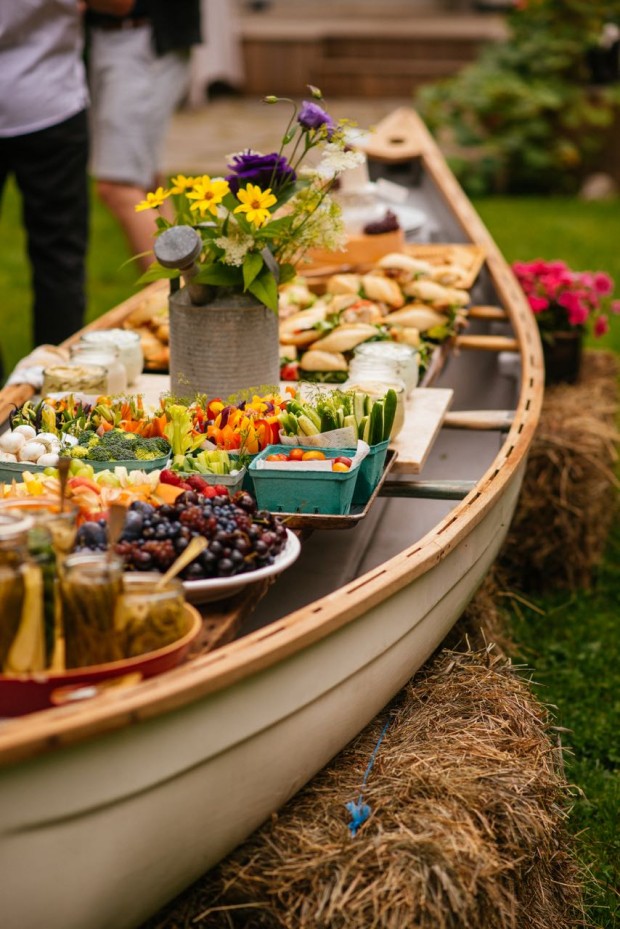 Presenting…an outdoor buffet for eighty people served up between the gunwales of a canoe. It was actually a lot more stable than it looks and we had just enough space for the simple lunch menu.
So if you are familiar with canoe anatomy, the interior holds – in order – a bow seat, a yoke, a thwart, and a stern seat. These run crosswise in the canoe and acted as my supports.
Essentially, I laid sturdy planks lengthwise on these supports and then set a collection of trays and sheet pans on the planks from bow to stern.
The menu was – in order: a tiered cheese wheel 'cake' with crackers, assorted sandwiches – porchetta, chicken, roasted vegetables & ham, seasonal vegetables and assorted dips, fresh fruit, and assorted homemade pickles.
[Side note: yep, while most of the food came from my kitchen, the sandwiches were catered from my butcher, because, goodness, that is a lot of work. Also, sandwiches are not exactly a do-ahead menu item. Soggy bread and wilted lettuce? No thank you.]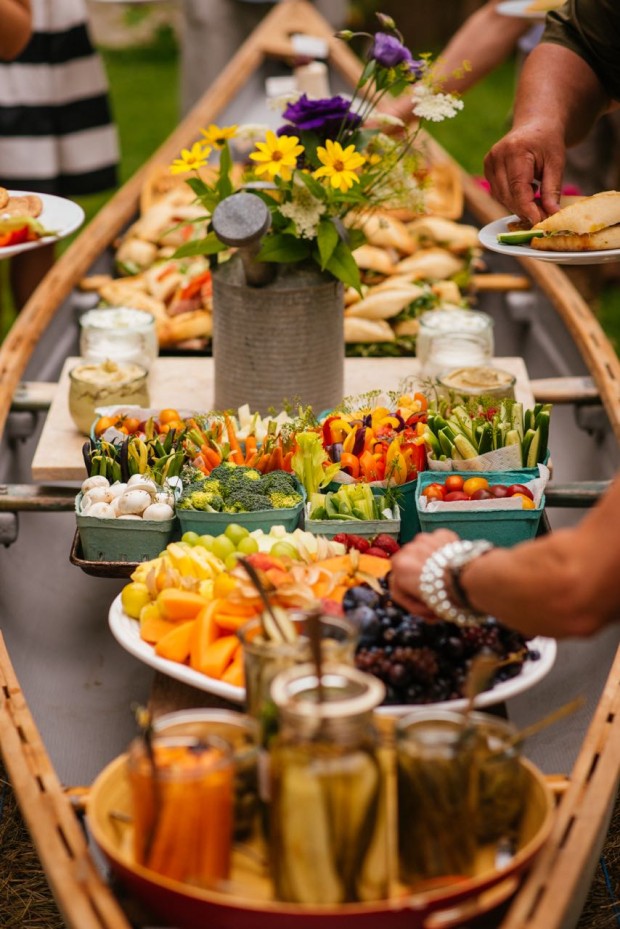 The night before the party I was out on the lawn, measuring my trays and fitting them in like a puzzle along the planks. The canoe obviously gets more narrow at each end, so the food had to taper to fit. But it worked!
I love how the pickle tray wedged snugly in the stern; it was obviously meant to be.
The canoe ultimately served two functions: a buffet and an enormous conversation piece. Some folks thought the canoe was very 'Canadiana'.  It certainly fit in with the laid-back, garden party vibe we were going for.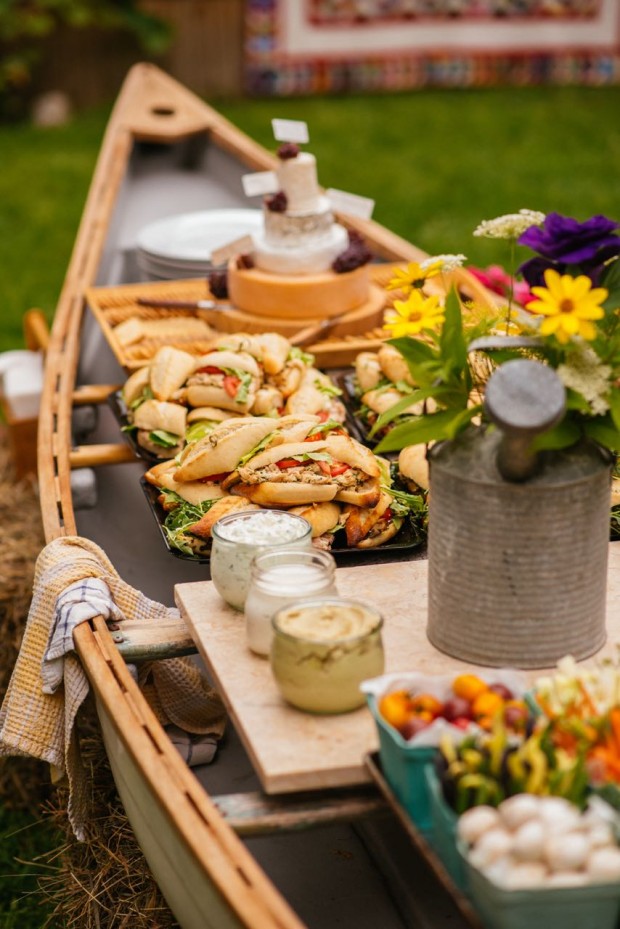 I set a bouquet of wildflowers midships to give the presentation some height. Yes, midships is the technical term for the middle of a canoe, and yes, I did use a canoe terminology cheat sheet for this post!
And there you have it! How to set up an outdoor buffet in a canoe. But really, I encourage you look around and use what you have when entertaining, especially out of doors. You may surprise yourself and have a lot of fun along the way.
Now I have an important question for you. If the engagement nibbles were served on a wooden toboggan…the wedding sandwiches displayed in a vintage canoe…what am I going to do for the baby shower? Oh yes, my sweet sister and brother in law have a baby on the way! Stay tuned for more party planning.
Missed the first posts in this series? Find them here:
How to set up a functional outdoor bar.
How to build a tiered cheese wheel 'cake'.
How to host an old fashioned pie social.
Outdoor entertaining and keeping the kids happy.
Photographs copyright TIMCHIN Photography, used with permission. Please do not republish these photos on any platform without explicit permission. Thank you!