Now that the holidays are over, don't give up entirely on bestowing homemade edible gifts. You never know when the simple gesture might make someone's day and there is nearly always a need in communities for sympathy meals.
A jar or two of homemade waffle mix is a great gift, complete with instructions for preparation on a tag. Better yet, make a big batch of waffles yourself, freeze them, and deliver them in person.
Today I'm bringing a virtual box of these homemade buttermilk waffles over to Jamie of My Baking Addiction, who is expecting a wee little addition to the family very soon. Post-partum hunger is fierce, and these waffles make the perfect grab and go snack, breakfast, or midnight nibble. I like to have them on hand in the freezer for after school treats and lazy weekend brunches. Or, ahem, Mother's Day breakfast in bed served up by my children.
Read on for my best tips on batch cooking and freezing waffles (works for pancakes, too) and a round-up of delicious baby shower treats from a stellar group of girls.
Make those waffles!
So, say you made a waffle dry mix, as per Danny's instructions, and perhaps it is stored in your freezer right now. I know I've got some in there somewhere.
Now we're going to use 4 cups of that mix to make a double batch of these Whole Wheat Waffles (again, Danny's tutorial, the second recipe). It yields about 12 large Belgian-style waffles, definitely enough for brunch and for extra to freeze. We use the fabulous Waffle Baker from Kitchen Aid, which makes two large waffles at a time.
In case you were wondering, you can use a double or triple batch of your own favourite waffle recipe, too.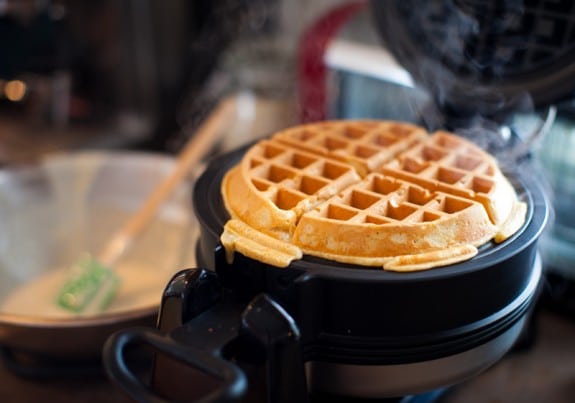 How to freeze a big batch of homemade waffles
First, cool the waffles on wire racks as soon as they come off the griddle. It takes tremendous will power not to break of a quarter and nibble its crispy edges, but it much be done.
Line a baking sheet with a sheet of parchment paper and place it in your freezer. We're going to freeze them first, them package them, or they will harden into deformed lumps that are not conducive to being reheated in the toaster.
Place a layer of (completely cooled) waffles on the baking sheet, leaving a little space in between each.
Cover with another sheet of parchment and place a second layer of waffles. If you still have more waffles to freeze, prepare a second baking sheet. Waffles are delicate and you wouldn't want to squish them.
Freeze waffles for at least 6 hours, or until solid.
Remove tray from freezer. Working quickly, transfer whole waffles to freezer quality resealable bags. If you plan to enjoy them one at a time, freeze them individually.
Seal bags nearly completely, but inset a plastic straw in the corner. Exhale deeply, then suck out the air in the bag through the straw until you see the it collapse around the waffles. Quickly pull out the straw and seal the rest of the bag. Yep, you just partially vacuum sealed your frozen waffles with a quick kitchen hack.
Label the bags with the date, then  place the waffles in the freezer and store for up to three months.
How to reheat and crisp waffles
Reheated waffles from frozen can be every bit as good as waffles straight off the griddle. If I am planning to snack on just one, smothered in jam to accompany my tea, I'll use my toaster to crisp the waffle. It's wide enough to accommodate my chubby waffles and has a 'defrost' button, to boot.
If we're a pajama-clad family of hungry waffle-eaters on a lazy Sunday morning, I'll preheat the oven to 350F, place the waffles on a wire baking rack (so the air can circulate around them) and bake them for about 10 minutes. Then, voila, instant hot and crispy waffles for everyone.
Ovens may vary, so check your waffles after about 8 minutes. You'll have to break off a corner to see if it is heated through.
Now that you are all set for a waffle feast, why not make one of these simple, natural, homemade pancake syrups?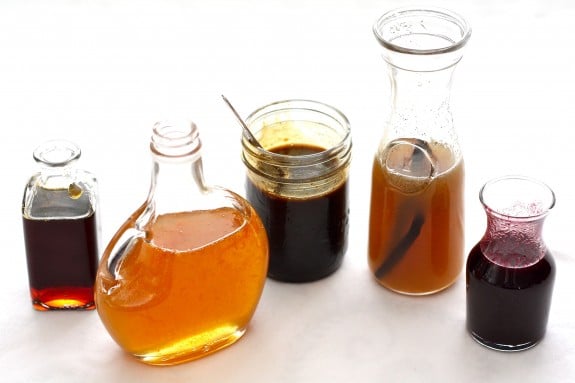 A Shower for Jamie
Amber and I had the idea to host a virtual baby shower for our friend Jamie, but I have to be perfectly honest and tell you that Amber did all the leg work. And by leg work I mean all the important co-ordinating stuff – and every detail, really. She's a good friend to us both.
Jamie, I'm so excited for you as you count down the days to meet your little one! She is sure to be an angel and every bit as sweet as the beautiful confections you are famous for. Congratulations!
Be sure to read the rest of the posts from our virtual shower for Jamie:
January is an ideal month for batch cooking. Are you stocking up?