Written by Danny.
Let's face it: Mom's are special, and deserve extra special attention and effort.  Our family typically eschews  most "commercial" holidays, such as Valentine's and Festivus, but Mother's day is a commercial reminder that is more than appropriate to celebrate.
So skip the chocolates and flowers: mothers just want time out of the kitchen.  Even Aimée, believe it or not.  The solution for so many is to pick a great restaurant and treat Mom.  And that is a good way to do it, of course, but then great restaurants probably cost a great deal, and you may spend more time with mom waiting in line to get a table than sharing a meal together.  So do it at home!
If you've been a reader of Simple Bites for some time, or any of the other SLM sites, you won't find many recommendations to get gift certificates or other "big-box" standard fare.  Instead, SLM (and this author) believe that handmade gifts and just plain-old time spent together is one of the best gifts that you can give a person.  (One of my Christmas presents this year was a big latte bowl, some special coffee, a book and 2 certificates allowing me a sleep-in while Aimee got the kids up and fed.  Amazing.)
And so for Mother's day, I'll be doing breakfast in bed for Aimee with the kids and will be visiting my mom later that day – and bringing food.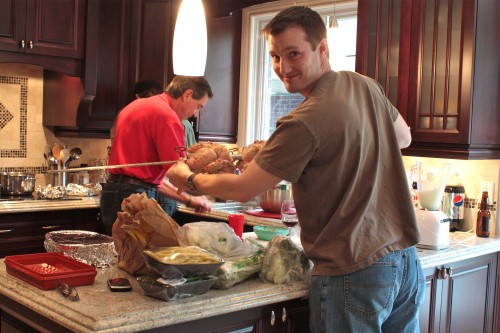 With my 7 brothers (yep, that's seven), we typically do some sort of potluck or meal every year, and I've learned a few things along the way.  Important things.  Like if you're making bacon-wrapped asparagus, it is better to roll them on the counter than swing the bacon around the asparagus like a streamer on a Maypole (bacon grease can "fling" onto babies).  Also, make sure the bacon doesn't catch fire (cranky baby/mother and burned bacon).  Here are a few other tips to help you out.
Plan
Duh – but with 8 of us, we have to coordinate to ensure that all the guys don't bring hummus.  Especially if coordinating for a large reunion, ensure that you have at least one appetizer, main, salad, dessert, and you should be fine.
Remember to keep it simple, especially if you are not used to being the home cook: now is probably not the time to experiment with a new recipe.  Make something that you've done before – maybe a family favorite – or if you want to try something new, make sure that it is dead simple, like Aimee's Simplest Scalloped Potatoes.
Prep
You want to be spending time with your mother, not spending the whole time in the kitchen.  To ensure you're not spending all of your time in the kitchen so you can actually visit, plan dishes that you can do ahead and bring pre-done, or at least, prep stuff like your cut veggies or fruit platters.
This year, Aimée has requested these honey, whole-wheat strawberry shortcakes. The biscuits can be made ahead of time and frozen, leaving only assembly and the whipping cream for the morning of. (Note: this year I will be the one who pre-makes them, as last year, I took the wrong scones out of the freezer.  I wasn't smiling after I found this out.)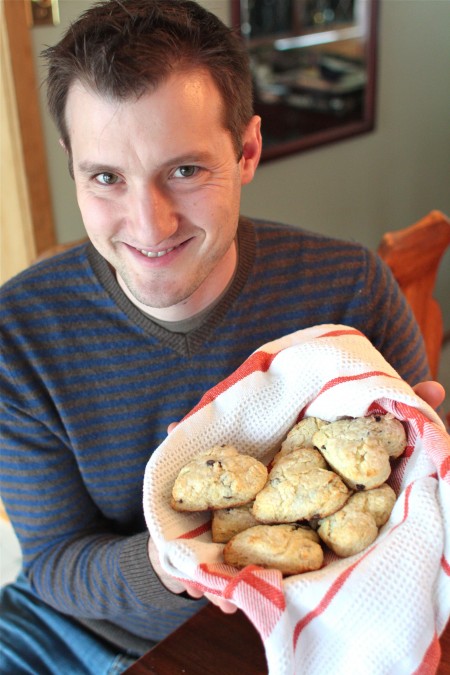 Clean Up
Please immediately rebuff the "don't worry about those, I'll take care of them later" comments – especially if they are coming from your mother. Use "clean as you go" techniques, and solicit help from the men or other siblings.  If you did stuff ahead of time, you also will have less to clean up.
It really is the thought that counts, so unless you make something completely inedible, remember that the most important part of Mother's Day is to enjoy your families and honor your mothers.
What are you or your "other" planning for Mother's day? Eating in or dining out?