I get asked a lot of questions from readers about ingredients, techniques, and tools of the trade, but Weck jars make the top of the list for the most inquiries.
Made in Germany and distributed in North America by WeckJars.com, these pretty vessels are used in a dozen different ways in my kitchen. They are frequently featured in my Instagram feed and on the blog, which usually results in a flurry of questions about sourcing the jars.
Today I'm very excited to offer a giveaway sponsored by WeckJars.com. The winner will receive two of every single Weck jar available! That's a total of 52 beautiful jars, in every shape and size.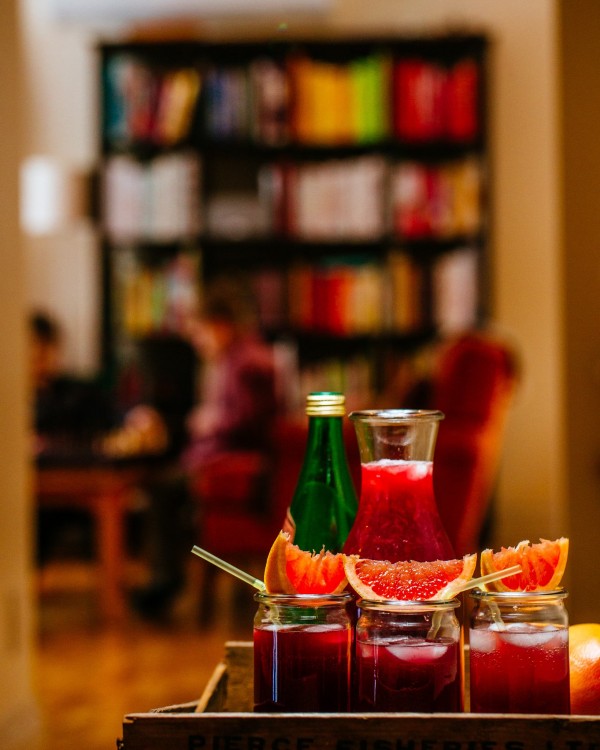 Now one can hardly write a cookbook titled Brown Eggs and Jam Jars
without obsessing somewhat over jars. I own hundreds, vintage and new, and they are used daily in my kitchen.
I can jams and jellies with Weck jars, stuff them with pickles and store my pantry ingredients in them, too. Salads to go? Weck's 3/4 L Mold jars come in very handy for layered salads.
Today's post showcases a handful of recipes from my cookbook that feature Weck jars. If you've already bought the book, you can bookmark these recipes to make, perhaps with a few jars of your own.
Above? My Rosy Grapefruit and Pomegranate Spritzers, presented in the oh-so-versatile 1/4 L Cylindrical jar, served out of the 1L juice jar.
My refrigerator occasionally shows up in my Instagram feed and even has its own hashtag, #simplebitesrefrigerator. It seemed only right to include a fridge shot in the cookbook too!
This image is from the chapter on Pantry Staples and features my Homestead Homemade Yogourt in Weck's Mold jars. Also pictured, Strawberry Honey Jam and Quick Marinated Golden Beets, both in beautiful Tulip jars.
When one has access to fresh eggs as I do most of the year, homemade mayonnaise is a must for sandwiches, dips, and creamy salad dressings. I store mine in Weck jars of all sizes; above is the 1/2 L Tulip jar.
All Weck jars can also be accessorized with plastic Keep Fresh Covers for refrigerator storage. They are handy for easy access to pickles, applesauce and condiments like the mayo above.
But Weck jars are truly best for are canning all that is fresh and delicious in summer! I like their wide mouth jars that are easy to fill, and I stuff them with stone fruits like my Peaches Preserved in Honey Syrup.
WeckJars.com has a whole section of canning notes that are helpful for beginners. Be prepared to fall in love with their selection of canning jars.
Giveaway!
Thank to my friends at WeckJars.com, I have a whole bunch of jars to give away.
One lucky winner will take home TWO of EACH kind of Weck Jar available. That's a total of 52 jars, friends. Is there a home in your kitchen for these?
TO ENTER:: Visit the online shop at WeckJars.com and then leave a comment on this post telling me your favourite shape of Weck! My favourites are the 1/5 L mini Tulip jelly jars. Oh, they are so cute and I can use them in a dozen different ways, including water glasses for a pretty tablescape.
**THIS GIVEAWAY HAS ENDED. 
Congratulations to Susie Ming of California who will take home the big prize.
A BIG thank you to all who entered. You really love jars, and I wish I could award each of you a prize. Put a few Weck jars on your birthday wish list this year, okay? xo. A
**
ONE entry per person, please. Only comments on this post are considered an entry.
Giveaway ends Tuesday, February 24, 2015 at 11:59 PM. Winners will be announced here on this post and on the Simple Bites Facebook page (be sure to click Like for updates!). Good luck to all.
This post and giveaway is sponsored by WeckJars.com. All opinions are my own. Jars rule!