On Tuesday evening this week, I pushed back my chair and closed my laptop with a sigh after putting the first two thousand words of the cookbook down on virtual paper.
I was ravenous; there is something about transferring a small part of yourself into writing that leaves one feeling mentally drained. Satisfied, but peculiarly empty.
I thought of the quickest snack possible and tipped a quarter cup of popcorn kernels into a paper sandwich bag. I slid it into the microwave and exactly two minutes later was wolfing down popcorn. A sprinkling of Parmesan cheese and a drizzle of melted butter was all I needed to transform it into a gourmet treat.
With a glass of apple cider and my popcorn, I tiptoed upstairs, past the rooms housing three sleeping children, and to our loft, where Danny was still awake.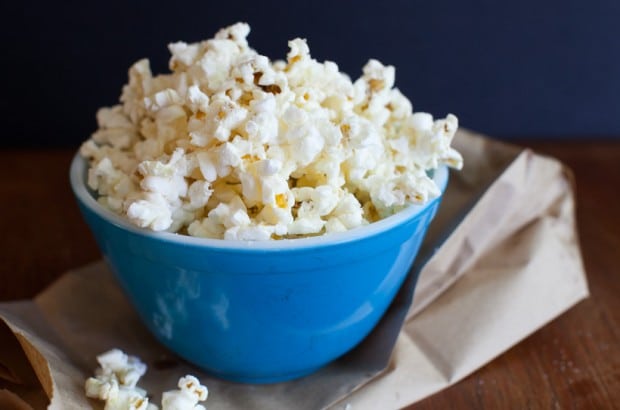 "Two thousand words", I said, as I sank onto the bed with a groan. "Do you know what this means? I've started."
Through mouthfuls of popcorn, I offered every cliche I could think of related to beginning. I'm out of the gate. I'm off and away. I've set sail.
Danny didn't seem quite as struck as I was with the magnitude of my commencement, but he hadn't witnessed my internal sluggishness leading up to this point. I have been busy, ohmyyes, but busy with everything except writing a cookbook.
The pantry has had a rigorous clean out and restocking. My kitchen stove has been deemed slightly above useless and a replacement has been researched. I've taken a roll call of the pots, pans and casseroles in my kitchen and made a list of missing members. A kitchen timer has been procured, as well as two thermometers – meat and candy. One must be precise when recipe testing for a cookbook.
I've even ordered a quilted table runner from New Zealand, for goodness sake, although that -maybe, just maybe- was a random Etsy impulse buy. It's as though I've been nesting – only this baby is words, photos and recipes.
In retrospect, I see now that it all had to be done (except for the table runner, perhaps) before I could start the book in earnest. Like decluttering an old work desk before sitting down to compose a new piece of writing, I've been organizing both my thoughts and my kitchen.
Here's hoping the gears are sufficiently oiled and all the moving parts will function as a whole as I embark on this project.
For now, I offer a bowl of popcorn, easily made, free of preservatives, and popped in your microwave.
[Read more…]