Last weekend, we hosted our annual pie social and over sixty of our friends showed up on a rainy Saturday afternoon.
Guests who love to bake came bearing pies of all kinds, until my table was filled with fifteen homemade creations. Some were bursting with local fruits such as blueberries, apples, pears and raspberries, as well as rhubarb. Others featured nuts like pecans or coconut, and a towering Banoffee pie held sliced bananas under a mountain of whipped cream.
We had classic pumpkin pie, too, as well as a huge pot of hot spiced apple cider to accompany the desserts. It was an afternoon to remember.
Surveying the spread, one thing was apparent: my friends are as excited for fall baking as I am.
Maybe we're psyched about baking because we can turn the oven on without heating up the whole house, or perhaps it is because we've finally settled into a fall routine. My recent flurry of baking was brought on by a string of rainy, grey days that inspired pumpkin spice muffins, chewy oatmeal cookies and apple pie. You know, the classics.
Whether you are a pie maker, cookie shaper or cake baker, there's something about this time of year that urges us to pull out the butter, spices, sugar and flour and get to work. And while a mountain of dirty dishes can't be helped, there is one kitchen workhorse that helps make fall baking much easier: the KitchenAid stand mixer.
The KitchenAid Artisan Series 5-Quart Tilt-Head Stand Mixer has a 5-qt Stainless Steel bowl with handle and 10 different speeds, which means whipping cream to stiff peaks and smashing butter and sugar into fluffy mounds is just the beginning of the mixer's prowess. I mix up all my pie crusts with the paddle attachment (here's the tutorial) and knead the dough for my whole wheat buttermilk dinner rolls with the dough hook.
When I prepare my Winter Fruits Pavlova, the egg whites are carefully whipped to perfection with the whisk attachment. And the After School Gingerbread Project would be a chore without the mixer to beat our Royal icing into peaks.
I hope you are feeling lucky, because my friends at KitchenAid Canada wish to gift one of my Canadian readers with their very own Artisan® Series Tilt-Head Stand Mixer!
(American readers, I do apologize that this is a Canadian exclusive, but I must remind you that my last giveaway was also a KA stand mixer, and it excluded Canadians. So it's only fair! )
And that's not all! Because I just launched a cookbook, because you are the best readers on the planet, we're also giving away the KitchenAid ® Ice Cream Maker Attachment! Homemade ice cream to accompany all that pie? Yes please.
I love to use this awesome attachment for my homemade ice cream and sorbet. It makes up to 2 quarts of fresh ice cream, sorbet and other frozen desserts in 20-30 minutes. It's super easy to clean and I love that I don't have to store a whole other small appliance.
Fall baking recipes
Before we get to the giveaway, let me give you a few ideas of what you could bake up this fall. Here's a sampling of seasonal sweets that are beloved by all and guaranteed to make your home smell incredible.
That's a good start, I think, don't you?
GIVEAWAY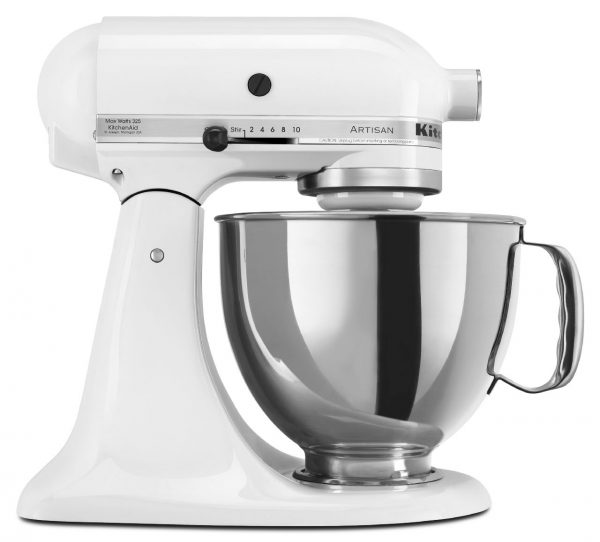 One winner will receive a KitchenAid® Artisan® Series Tilt-Head Stand Mixer! This beautiful mixer has 10 speeds, a 5-quart mixing bowl, and will be in White, as pictured above. (MSRP: $599.99)
BONUS PRIZE! The KitchenAid ® Ice Cream Maker Attachment.  (MSRP: $159.99)
Total giveaway value today? $760. 
KitchenAid Canada will ship both the stand mixer and the ice cream maker attachment to the winner's front door. Please note that this giveaway is exclusively for my Canadian readers.
To Enter the giveaway: Leave a comment on this post and answer the following question: "What is your favourite thing to bake in fall?"
Giveaway ends Sunday, October 15 at 11:59PM EST.
Good luck to all and Happy Baking!
** This giveaway has ended. Big congratulations to Tricia of Calgary who had this to say about fall baking: "I love to bake bread and muffins…anything with the fall spices..apples ..pumpkins..squash!!! YUM!" **
Tricia, your fall baking just got a whole lot more fun.
KitchenAid has generously provided the stand mixer and attachment for this giveaway, but all opinions are my own and based on a decade of working with KitchenAid appliances in my kitchen.