Today is our wedding anniversary, hence the cake.
It's a light, lemony creation, which I'm serving up with a dollop of ricotta and maple-roasted rhubarb that was picked straight from my garden. Spring, long weekends, anniversaries – there is much to celebrate these May days and cake is just the ticket.
In addition to the recipe for Lemon Ricotta Pound Cake with Roasted Rhubarb, I'm sharing about the cookbook that has been living on my kitchen counter: Make It Easy: 120 Mix-and-Match Recipes to Cook from Scratch–with Smart Store-Bought Shortcuts When You Need Them. Oh, you're going to love it.
And since we're celebrating, our friends at KitchenAid want to give one lucky Simple Bites reader a brand new stand mixer! This post is packed, so let's jump right into the fun.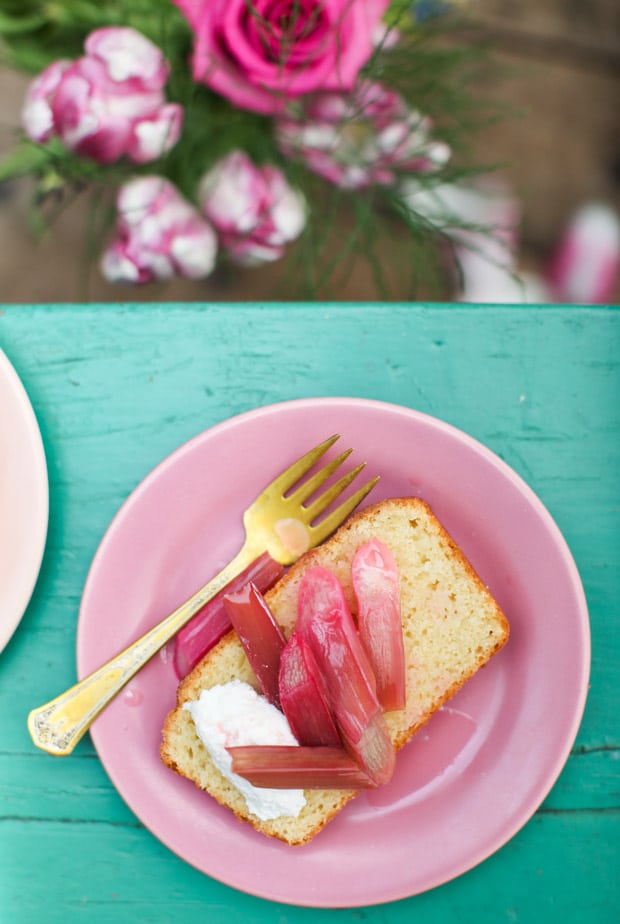 A little over a year ago, I dined with my friend Stacie in a jam-packed bistro in Cobble Hill, Brooklyn and she told me about a cookbook she was writing.
As a working mother of two committed to wholesome family meals, she had figured out a solution to reclaim scratch cooking for busy, modern parents. I listened, nodding, as Stacie described how her book would give home cooks a laid-back and flexible approach to family meals by using healthy store-bought shortcuts for maximum flexibility and full control.
I instantly knew this book would be a success because Stacie was writing what she knew. For years, she's been sharing her common sense approach to eating on her popular blog, One Hungry Mama and Cool Mom Eats, honing her skills for a book.
Fast forward to today, and Stacie's beautiful cookbook Make It Easy is on bookstore shelves everywhere and on my kitchen counter. I was fortunate to receive an advance copy and I've been cooking and baking my way through the chapters for over a month now. It's fantastic; no surprise there.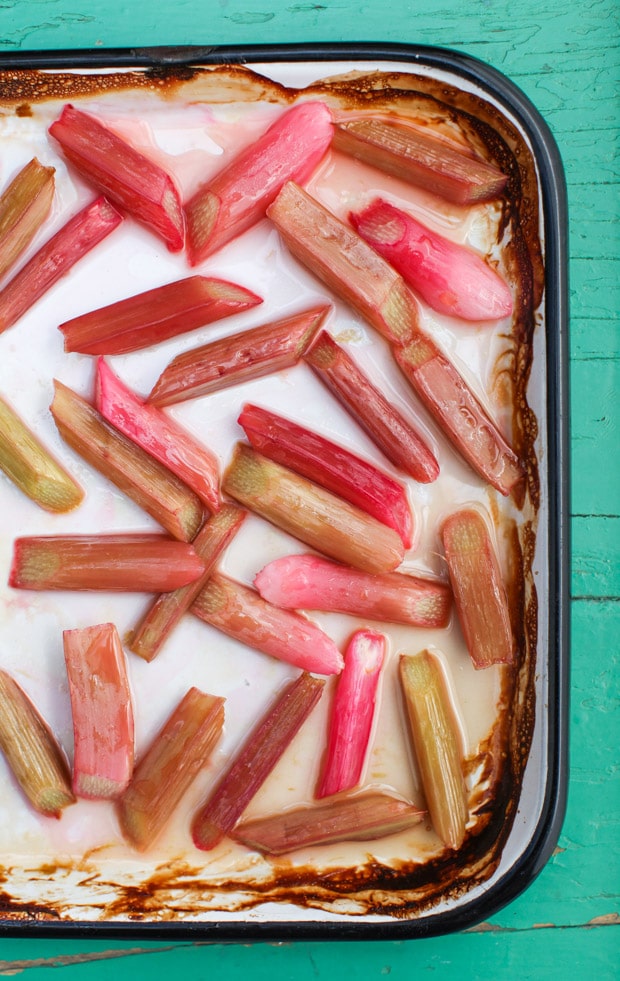 Before I continue, I want to say that I take my cookbook recommendations very, very seriously here on the blog. Sure, I have previous connections with Stacie, but I always set aside the personal stuff when I am testing a new book. It is always about the recipes. Always.
I had an experience last month with another cookbook, a hot new release that I had been eagerly anticipating for a while. Design-wise, it was a stunner. The photos were gorgeous; the layout very reader-friendly. But the recipes were seriously flawed. I made a total of seven recipes from start to finish, with mostly disastrous results. Expensive ingredients went in the garbage. Others were salvaged only because I applied practical cooking knowledge and overruled the recipes. It was a disappointment, and I scrapped the post I had planned. I didn't want to waste another second of my time – or yours.
Sometimes that's how it goes. Since writing my own, I am a fierce judge of cookbook content. It has to be so much more than a pretty package – yes, even though I'm a sucker for visuals and story.
Make It Easy cookbook
But let's talk about a cookbook that works! Make It Easy is one of the most relatable cookbooks to come out in a while. (Perhaps the last one was The Homemade Kitchen, another favourite). It's full of real talk from Stacie that is instantly applicable, because she's been there, in the kitchen, day after day. She knows what it's like to have kids with selective palates and stubborn routines.
The recipes are solid; very clear and well-written. They are simple enough for beginner cooks (hey, we all were beginners once) and yet exciting enough to spark the interest of the advanced home cook. Best of all, Stacie's philosophy is served up without an ounce of guilt. How refreshing!
Here's a handful of recipes from Make It Easy that we absolutely loved and will be adding to our family's meal rotation.
Everyday Waffles – Fast, fluffy and favoured by all.
Yogourt Chia Breakfast Pudding – Brilliant combination.
Sweet and Salty Granola Cereal – Great for weekday mornings (and snacking anytime)
Country-Style Greek Salad – new fast picnic fare, bulked up with chickpeas.
Curried Cauliflower and Red Lentil Soup – So delicious, and freezes well, too.
Paprika Chicken – Quick, easy and yummy.
One-Bowl Lemon Ricotta Pound Cake (pictured above) – Totally genius recipe.
For my Canadian readers, I should note that the Supermarket Guide in the back of the cookbook is mostly American brands. I recognized a few names that we can find up here, such as Eden Organics, Kashi and Nature's Path, but for us this isn't the most helpful part of the book.
I can see how this guide is invaluable for my US readers, however! Stacie is extremely thorough and explains her choices, rather than just rattling off a bunch of lists.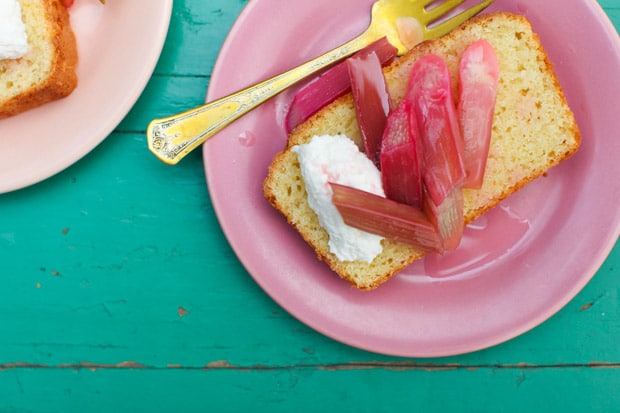 One-Bowl Lemon Ricotta Pound Cake with Roasted Rhubarb
If the photos haven't yet convinced you, let me encourage you to add this recipe to your weekend baking. You could pair it with fruit salad for brunch with friends, wrap it up as snack cake for a picnic in the park, or dress it up with whipped cream as dessert for a lazy, al fresco dinner.
I've been sending it in my boy's lunchboxes and carving myself slivers every afternoon at tea time. A loaf never lasts more than a day or two, so it's a good thing the cake is simple to make. And yes, I took the suggested shortcut and used store-bought ricotta, although you could certainly make your own.
My rhubarb patch is thriving, and so I roasted up a tray with a drizzle of maple syrup to adorn the pound cake. Lemon and rhubarb are a classic spring pairing; don't you agree?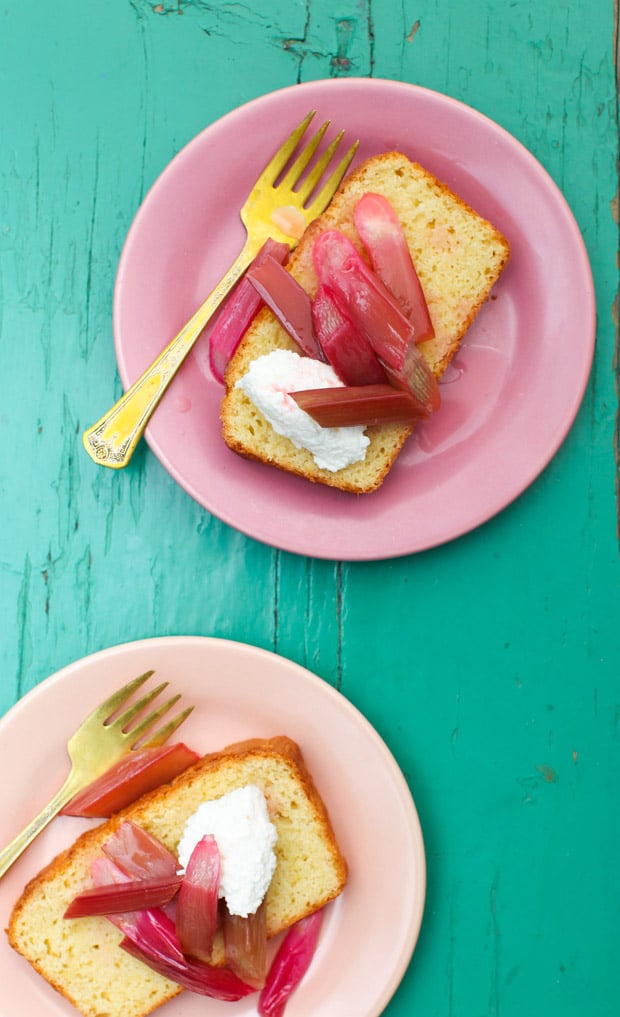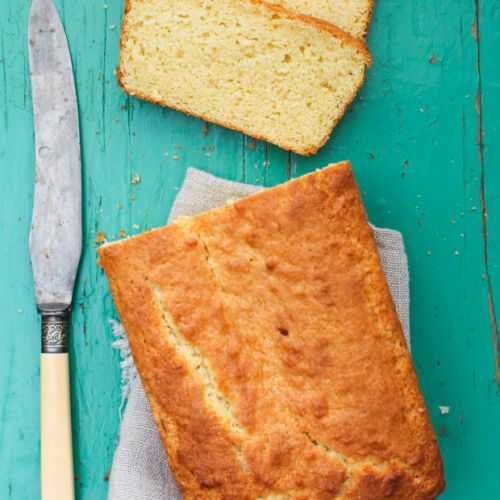 One-Bowl Lemon Ricotta Pound Cake with Roasted Rhubarb
Recipe slightly adapted and published with permission from 'Make It Easy' by Stacie Billis. I like to serve the cake with a little extra ricotta cheese or whipped cream. A dollop of crème fraiche is delicious, too.
Print
Pin
Rate
Ingredients
8

Tablespoons

unsalted butter

at room temperature, plus more for pan

1

cup

raw cane sugar

1/2

cup

ricotta cheese

store-bought or homemade (plus more for serving, if desired)

1

teaspoon

lemon zest

from about 1 lemon

4

Tablespoons

freshly squeezed lemon juice

from about 2 juicy lemons

1

teaspoon

pure vanilla extract

1/2

teaspoon

fine sea salt

4

large eggs

ideally at room temperature

2

cups

all-purpose flour

3/4

teaspoon

baking powder

1/2

teaspoon

baking soda

1

pound

young rhubarb stalks

3

Tablespoons

pure maple syrup
Instructions
Preheat the oven to 350F. Butter a 9 x 5-inch loaf pan and line with parchment paper; set aside.

In a large bowl that works well with a hand mixer or in the bowl of a stand mixer fitted with the whisk attachment, combine the butter, sugar, ricotta, lemon zest, lemon juice, vanilla, and salt on low speed until just combined.

Mix in the eggs, one at a time, making sure to fully incorporate each egg before adding the next.

Add the flour, baking powder, and baking soda to the same bowl. Use a wooden spoon or silicone spatula to mix until just incorporated.

Pour the batter into the prepared loaf pan and smooth out the top. Bake for about 60 minutes, or until a toothpick inserted into the center comes out clean.

Meanwhile, cut the rhubarb into 2-inch lengths and toss with the maple syrup. Arrange on a rimmed baking sheet and roast alongside the cake for 10-15 minutes. Time will vary with the tenderness and freshness of the rhubarb. When the rhubarb has softened, remove pan and cool completely.

Remove the cake from the oven and allow to cool in the pan for 5 minutes before removing from the pan to finish cooling on a wire rack.

To serve, slice cake and arrange on plates. Top with roasted rhubarb and a little extra ricotta. Serve warm or at room temperature.

If you are using the cake later, wrap it tightly all around in plastic wrap and store on the counter for 2 to 3 days, or in the freezer for up to 3 months.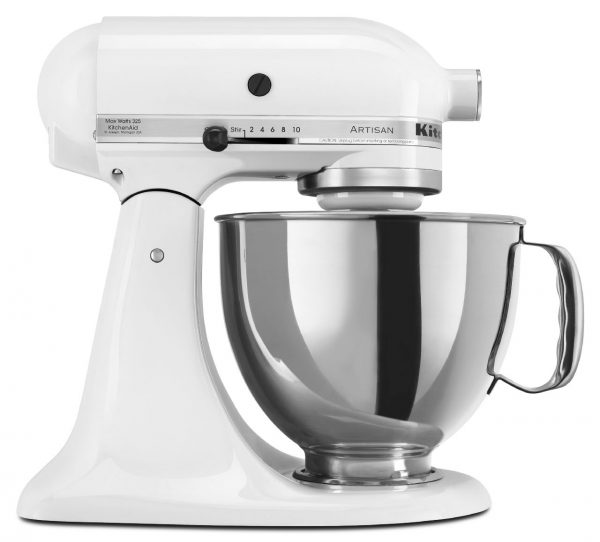 Grand Prize Giveaway!
**This giveaway has ended.**
I'm delighted to partner with De Capo Press and KitchenAid USA for a very special giveaway.
One winner will receive a copy of Make It Easy by Stacie Billis and a KitchenAid® Artisan® Series Tilt-Head Stand Mixer! This beautiful mixer has 10 speeds, a 5-quart mixing bowl, and over 20 colours to pick from. Yes, the winner may pick any colour they choose and KitchenAid will ship the mixer to their front door.
Please note that this giveaway is exclusively for my lovely American readers, just this once! But don't fret Canadian friends; I am cooking up another very special KitchenAid giveaway just for you shortly.
To Enter the giveaway: Leave a comment on this post and answer the following question: "What is a typical 'make it easy' dinner in your house?" Giveaway is open to United States residents only.
** This giveaway has ended. Congratulations to the winner Karen Rust of Cherry Valley, IL!! A BIG thank you to all who entered.**
KitchenAid has provided the stand mixer for this giveaway, but all opinions are my own and based on a decade of working with KitchenAid appliances in my kitchen.
Winner will be announced here on this post, as well as directly via email. Good luck to all!