The first time I met our elderly neighbour, Oskar, he was leaning on his shovel on the edge of his sprawling corner plot of land.
I can't remember who nodded hello first, but we hit it off at once in a discussion about his garden. It was a beautiful, well-maintained plot, surrounded by a low rock wall, which my three children scrambled up in mere moments. He didn't bat an eye at their antics, as they skipped up and down the ledge, probably because his children used to do the very same thing.
Over the years, and many visits across the rock wall, I came to learn that Oskar was a true homesteader. His wife had passed away shortly after delivering his sixth child, and Oskar raised the family himself. He had an impressive garden – the raspberry patch itself could supply his large family with berries galore. But alas, they had all grown up and moved away, save for one.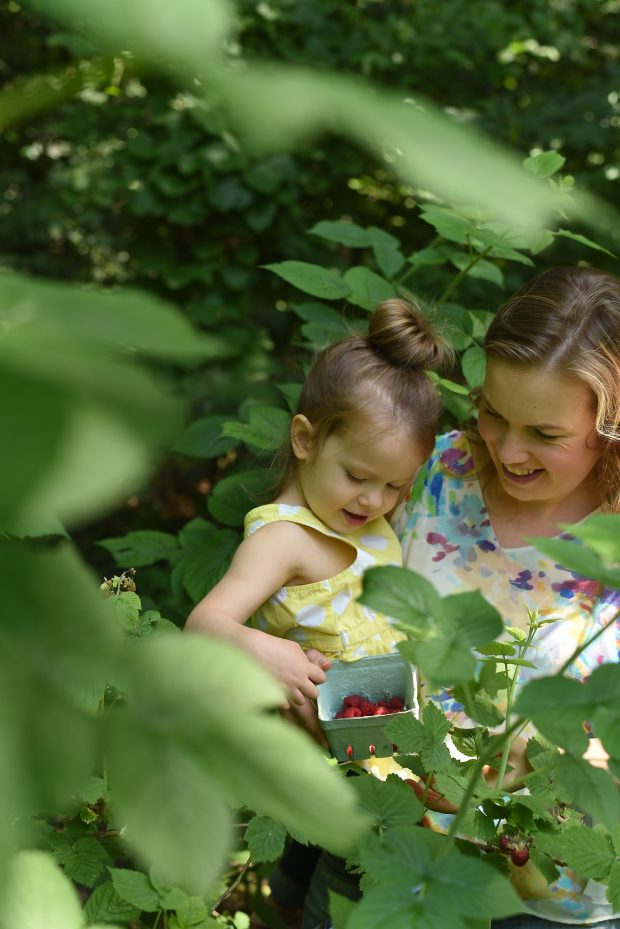 Photo by Tim Chin
In his thick Eastern European accent, Oskar (not his real name)  invited us to come pick berries anytime, as well as offered up any rhubarb we wanted. We were frequent visitors to his lush backyard and I showed my thanks with return gifts of fresh eggs and jars of pickles.
On the day we learned that Oskar had joined his wife in a better place, I baked a chocolate beet bundt cake and walked it down the car-lined lane, and up the stone steps to the house. I murmured our condolences to his son, Dan, and then turned and took the path past the garden on my way home.
Oskar's garden lay fallow that summer, but the raspberries burst forth in fruit anyway, just one small part of the legacy he had left behind to flourish. We picked a few pints of berries, but the place felt oddly silent without our friend leaning on his shovel.
Photo by Tim Chin
Then, last fall, Dan walked over with two large pails of raspberry canes. He had transplanted much of the pot to border the rock wall, and brought me the rest. "They're yours." he said, as I stood there gaping, then dashed indoors to raid the preserves pantry. I handed him a jar of pickles and a few jars of jam as a thank you, but knowing full well that I received the better end of the swap.
That fall, our whole family dug up a section of lawn along our fence, heaped in earth and compost, and planted the canes. Winter arrived shortly afterward and by Christmas, the snow had buried the short sticks in drifts.
Spring was an anxious time, as it seemed like everything in our yard was bursting into leaves, except for those dry brown canes. Would they take to their new habitat or would they only flourish for Oskar?
Photo by Tim Chin
In early May, the first buds appeared, and an unusually warm month brought forth bright green leaves soon after. Now, Clara skips over to the plot a few times a day and closely inspects for ripe berries. She is a new generation, growing up in the garden with a close awareness of the seasons. She has seen firsthand how dead-looking sticks can flourish with the sun and eventually, produce her favourite summer berry.
Our homestead now has a thriving raspberry patch, and another small homestead dream of mine is realized. Being neighbourly has its benefits, but our friendship with Oskar turned into a perennial blessing for our family.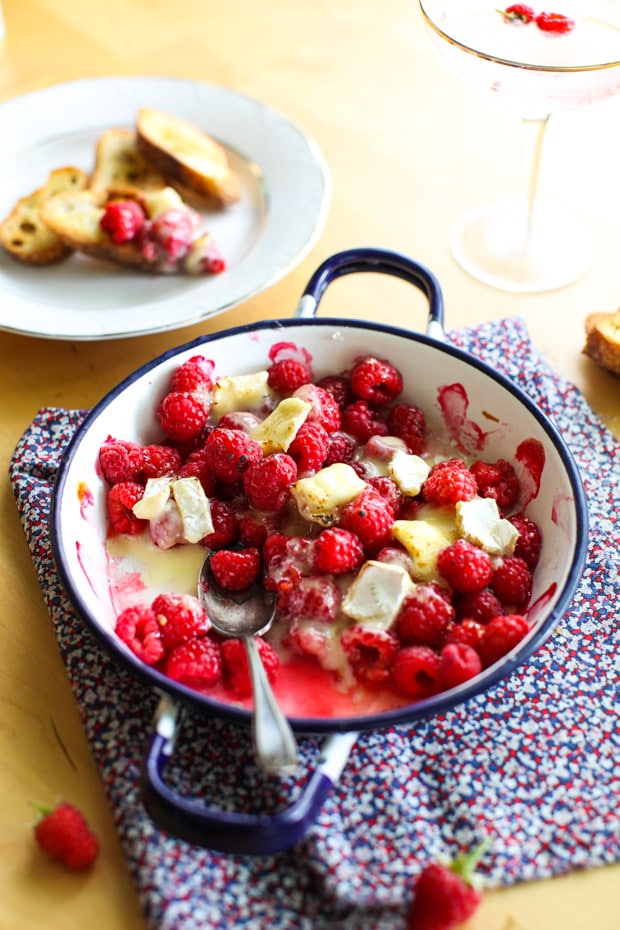 Honey-Drizzled Raspberry Brie Brûlée
Most of our homegrown raspberries don't even make it in the house, but occasionally I'll slip outside once the children are in bed and still be able to gather a few handfuls for Danny and I share.
On a recent Friday evening, after a particularly long and exhausting week, we poured ourselves a drink and I experimented on a little late-night nibble for the two of us. A simple wedge of cheese paired with fruit and baguette is our standard, simple 'date night in' fare, especially in summer, when the fruit is local and at its peak.
Remembering our mutual love of a classic baked Brie cheese with a fruit compote, but also thinking about Tracy's recent raspberry and mascarpone brûlée, I preheated the oven to Broil.
I scattered cubes of brie and raspberries in a small baking dish and generously drizzled it with a thyme-infused honey I keep on hand for sweetening iced tea. I popped it under the broiled, along with thin slices of baguette, and two minutes later, we were dipping warm rounds of toast into a delicious tangle of warm cheese and honey-brûléed raspberries.
For a dish with as little effort as this one requires, the result is highly rewarding. A honey-drizzled raspberry brie brûlée works for both a nibble for two on a date night in or an entertaining appetizer for four. Danny and I also enjoyed it as a finish to a meal, combining both the fruit and the cheese course into one – and forgetting entirely about dessert.
The gooey brie and raspberries berries are well matched and plenty of honey balances out the tangy fruit. Similar to how a drizzle honey complements apricots or figs, the sweetener rounds out the dish. In truth, a classic brûlée calls for a sprinkling of sugar, but don't do that to brie. And speaking of the cheese, try and buy the best you can afford, so that it melts properly.
I like the contrasting crunch that the crostini provides against the soft berries, but you could also serve this snack with crackers, such as a homemade Wheat Thin or sliced baguette. And of you have a warm grill, toss the bread on their first to warm it.
Whatever you do, don't let this berry season pass you by without sharing a dish of honey-drizzled raspberry brie brûlée. And now finally, here's the recipe.
.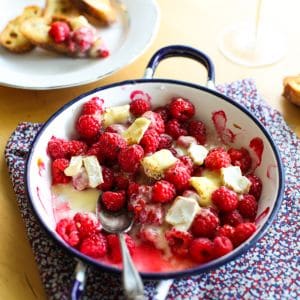 Raspberry Brie Brûlée with Thyme-Infused Honey
A summery appetizer that is simple to make and irresistibly good. it features just a few ingredients, which allows the gorgeous berries to shine. Dip warm rounds of toast into a delicious tangle of warm cheese and honey-brûléed raspberries and live happily ever after.
Print
Pin
Rate
Ingredients
2

Tablespoons

mild liquid honey

2

branches

fresh thyme

1

baguette

sliced thin

1 1/4

cups

fresh raspberries

4

oz

best quality brie cheese
Instructions
Warm honey in a small sauce pot until very hot and runny. Add the thyme and cover the pot. Let stand until cool.

Preheat oven to 400F and move the baking rack to the highest position, right under the broiler.

Place baguette slices on a rimmed baking tray. Bake for 5-6 minutes or until golden brown. Be carful not to let them burn! Remove from oven and cool.

Preheat oven to Broil. Arrange half of the raspberries in a small baking dish. Cut the brie into 1-inch cubes and tuck around the berries. Add the remaining raspberries around the cheese.

Drizzle the berries with all of the honey. Place the pan under the broiler and broil for 2 minutes. Ovens may vary, so keep an eye on the dish. Remove when the cheese is half melted.

Serve at once with toasts. Use a small spoon to scoop the soft cheese and berries onto the toasts and enjoy warm.
Notes
You could also prepare this in 4 ramekins and make individual portions.
More recipes for brûléed raspberries: