Originally, I thought I'd keep this post short and sweet. It's egg salad, after all. How much could I say on the subject?
Quite a bit, as it turns out. As I was working with each ingredient, I thought about why I prepared them the way I did, and how the sum of their parts all add up to a sublime sandwich that has everything going for it: taste and texture, crunch and creaminess.
These Herbed Avocado Egg Salad Tea Sandwiches recently graced the tiered serving plates of an afternoon tea baby shower I had the pleasure of hosting. A few guests asked for the recipe, and since Mother's Day is coming up soon, as well as picnics and other spring parties, I decided to share my method here.
We've also just picked up six spring chickens from a nearby farm and are already getting our first brown eggs from the pullets. Also, my chives are starting to take off in the garden. So you see, eggs and herbs are always the first harvest from our urban homestead, and these delicate tea sandwiches are a perfectly appropriate way to celebrate.
Let's get cracking (pardon the pun) and see how they are made.
A decent egg salad requires a variety of textures, although I should note that this is a matter of personal preference. Maybe you like big chunks of pickles in your mix (I prefer mine on the side) or prefer larger pieces of boiled egg (I don't). In fact, I start by grating my chilled, hard boiled eggs on the large side of a box grater which gives me an almost fluffy result that is perfectly uniform.
Then I begin layering the textures and flavours. The smashed, seasoned avocado is key for binding the ingredients together. It also keeps the filling moist in place of mayonnaise. Why no mayonnaise? Again, personal preference – I don't love the taste of mayo – but also for health reasons. I'd rather go with a natural ingredient then a processed one. And yep, you can make your own mayonnaise (and in peak tomato season, I sure do!) but this is also supposed to be fairly quick and simple sandwich.
Next up, finely diced celery for crunch as well as nostalgia. I always make sure the celery is washed and well dried, so it doesn't contribute any added moisture to the sandwich.
Then, a dollop of crème fraîche adds the necessary creaminess. You could also add sour cream, but I always have crème fraîche on hand, homemade or purchased. (I'm currently loving the little jars from Riviera)
I add herbs next, then I add chopped chives for a little allium (onion family) that is mild enough to complement the egg instead of overpower it. I've also found that raw onion tends to weep when it is mixed with the salt and makes for a runny filling. No thanks. If you can't get chives, try the tops of green onion or ramps. 'Tis the season, after all.
Lastly, parsley, chopped very fine indeed, so there is no mistaking it for grass. You know what I mean; those strands that get stuck in your teeth: No thanks!
A well-balanced and delicious tea sandwich requires some crafting. Make it too wet and the bread becomes soggy; too dry and guests will have to choke them down between sips of tea. Too much filling and everything falls apart; too little filling comes across as just plain stodginess on your part.
I opt for sliced whole wheat bread with plenty of grains and plenty of flavour. Homemade is best, as long as it is fresh and not too crumbly. Soft, salted butter is essential too, spread on both sides of the sandwich to keep the bread from getting soggy as well as help adhere the sandwich. I add about half a cup of filling for each sandwich and spread it evenly around.
Instead of lettuce, I prefer to use peppery onion sprouts as an addition. They are easy enough to find in grocery stores or you can sprout your own. The sprouts add a little extra punch to the sandwich and give it a springlike feel. Wild dandelion greens would also be peppery and delicious. They are young and tender now, and you'll find they are not too bitter.
If you have any flavoured salts on hand – such as lemon salt or herbed salt – sprinkle a little on when you are making the sandwiches and enhance the flavours even more.
I cut the crusts off, so there is no need to bring the filling right to the edges of the bread, as pictured. I press gently to adhere the ingredients, trim the edges, and cut each sandwich into four fingers.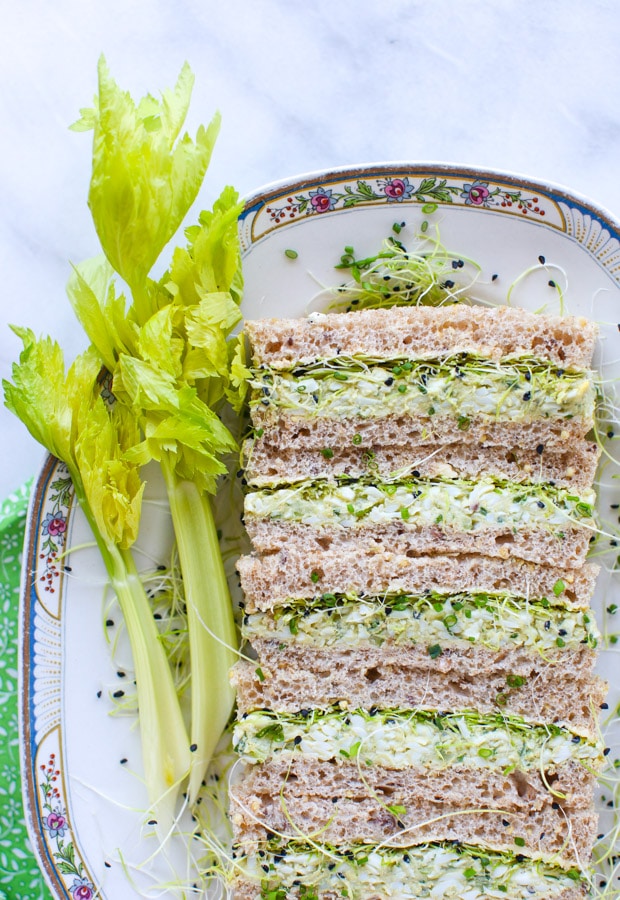 Serve your Herbed Avocado Egg Salad Tea Sandwiches with a jar of homemade spring pickles and a pot of tea.
You don't need to wait for an occasion to mix up a bowl of herbed egg salad, although I think these sandwiches would make for a simple yet elegant Mother's Day tea. Perhaps paired with Triple Berry Scones and a blush pink Raspberry Rhubarb Punch?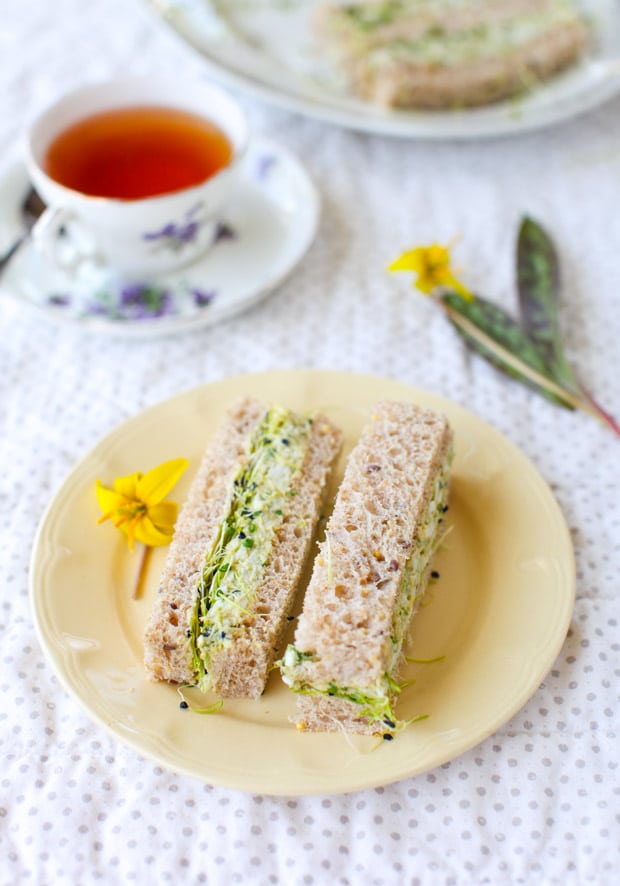 Herbed Avocado Egg Salad Tea Sandwiches
Creamy and crunchy, this egg salad is simple, yet sophisticated. Make a batch of sandwiches for a spring picnic or a fancy afternoon tea party.
Print
Pin
Rate
Servings:
20
small tea sandwiches
Ingredients
7

medium eggs

2

stalks

celery

2

Tablespoons

crème fraîche

or sour cream

2

Tablespoons

finely chopped chives

2

teaspoons

minced parsley

1

medium ripe avocado

2

teaspoons

freshly squeezed lemon juice

1/2

teaspoon

fine sea salt

1/4

teaspoon

freshly ground black pepper

2

Tablespoons

salted butter

softened

10

slices

whole wheat bread

25

grams

onion sprouts
Instructions
Place the eggs in a large saucepan and cover with one inch of water. Place over high heat and bring to a rolling boil. Boil hard for one minute.

Turn off the burner. Cover the pot with a lid and let stand for 10 minutes. Prepare an ice water bath.

Drain the eggs and plunge into the ice bath. Cool for at least 15 minutes. Peel and dry eggs.

In a large bowl, grate the eggs on the large side of a box grater. Finely dice the celery and add around 1/4 of a cup. Add crème fraîche and then sprinkle the herbs on top.

Halve the avocado, remove pit and scoop the flesh into a separate bowl. Mash the avocado, lemon juice, salt and pepper together until quite smooth. Add the mashed avocado to the grated egg.

Fold all of the sandwich ingredients together gently until well combined. Taste and add more salt if needed.

Lay out the slices of bread and butter them generously. Divide the egg salad between five slices and spread it around evenly. Dab a small nest of onion sprouts on the opposite piece of bread. Sandwich the two sides together and press down firmly.

Cut off the crusts with a serrated knife and cut the sandwiches into four fingers each. Arrange on a platter and serve at once.

Sandwiches will keep, well wrapped in plastic, for up to four hours in the refrigerator.
Notes
Peeling eggs is a great kitchen task for young hands. Let your little ones pull up a chair and help out.
I've been swapping smashed avocado for mayonnaise for a while now. Let's see, there is another sandwich in the archives, a Cobb Salad Sandwich with bacon, ham, tomatoes…and a creamy avocado spread. I keep that recipe in my back pocket for using up leftover chicken and turkey, too.
Another favourite lunch bite are my Avocado Egg Salad Lettuce Wraps, which are topped with crispy bacon and are completely dairy-free. And gosh, how could I not mention Guacamole Deviled Eggs? Another winning recipe that marries eggs and avocado.