1. Decide to throw a party. If it happens to be your little sister's twenty-fifth birthday, so be it.
2. Invite friends who like pizza. (Warning: pretty much everyone does, so plan for a houseful.)

3. Make a big bowl of Honey Pizza Dough. OK, make that a GINORMOUS bowl. Don't worry, you can always freeze the leftovers. (I think I did 8 batches)
4. Roast a several pounds of Roma tomatoes for Roasted Tomato & Garlic Pizza Sauce. This stuff is so good, you almost don't need any pizza toppings. Almost.
5. Rock as many or as few pizza toppings as you like. (See suggestions below. I went with 'many', as you'll see.)

6. Set up a station for roll/tossing/stretching pizza dough. Find all the pie pans in the house. Provide parchment paper, scissors, olive oil and a rolling pin or two.

7. Preheat the oven to crazy-hot. Like 450 degrees. Invite guests to shape their pizzas.
8. Snap some photos. Sigh. Wish you were twenty-five again. Pour a glass of wine.

9. Set out the prepared pizza toppings. Pictured above: diced sauteed bacon, sliced grilled chicken breast, baby shrimp, broccoli, pepperoni.
Toppings II: sauteed zucchini, diced feta, sauteed leeks, cherry tomatoes, sliced Vidalia onions.

And more toppings…diced colored peppers, Capicola, diced tomatoes, artichoke hearts, black olives, mushrooms, apples, pears, Gouda, oven-roasted tomatoes.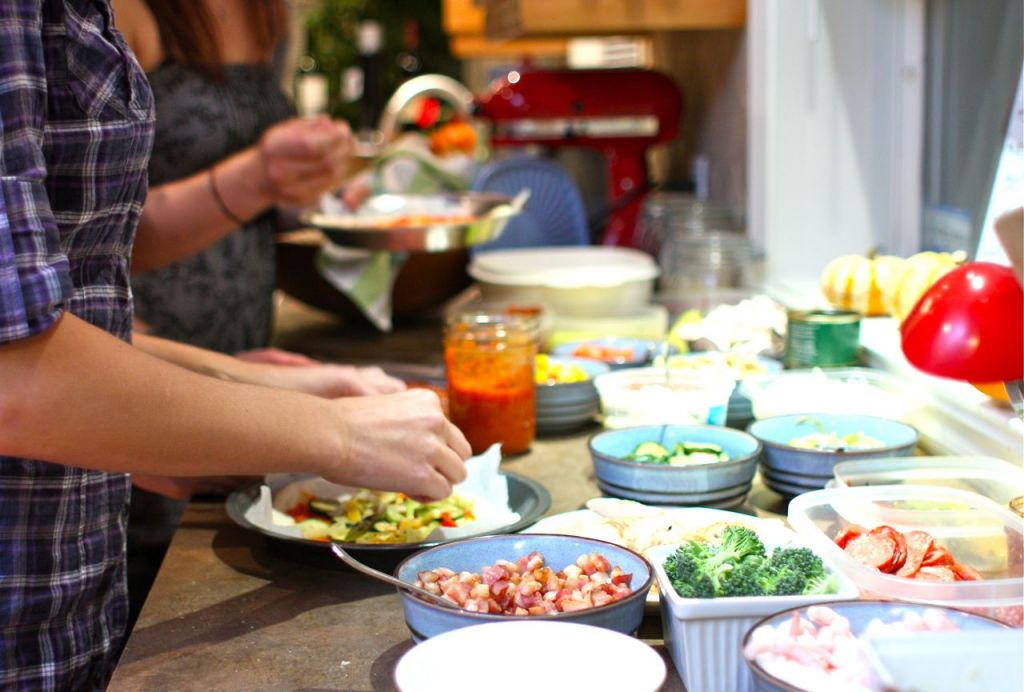 10. Encourage guests to create their own pizzas.

11. Get creative. Half pesto, half roasted tomato sauce…

…finished with shrimp, red onion, mozzarella and colored peppers on the pesto, and sauteed leeks, apples and Gouda on the tomato sauce. A.Ma.Zing.

12. Do not laugh at 'stuffed crust' attempts. Even if you think that looks like a lot of crust.

13. OK, go ahead and laugh.

14. Eat pizza, pour more wine. Laugh a lot.

15. Berate your friends for not eating more. Attempt to make up for it with another slice or three.