I'm in that post-vacation slump, an in-between state of leisure and productivity where I stall at work because there is too much to do and not enough time.
Eventually I'll get the laundry put away, the fridge restocked and the emails answered, but today I spooned wild Newfoundland berry jam onto vanilla ice cream, ate it up and joined the kids for a water fight. It takes a day or two to ease into gear and until then, I'm going to fondly reflect back on our time in Canada's most eastern province.
This is the story of a hike that turned into a berry foraging adventure and the rental kitchen project that happened as a result.
Like most days in Newfoundland, the morning started off on the chilly side. It was too brisk for the beach, so we dressed in layers, packed a picnic in our VRBO kitchen and then pointed the car North in search of adventure. We were traveling the Baccalieu Trail, on the Avalon Peninsula, and I was eager to visit the remote community of Bay de Verde, at the very top of the peninsula.
The sun burst through the clouds as we rolled down into the tiny town nestled between two coves and guarded by two steep hills. The harbour looked charming, with its colourful fishing boats, but the rugged slope high above the saltbox houses was calling to us. Always game for a good view, we parked and headed for the hills in the photo above.
As we climbed, the grass gave way  to spongy lichen, patched of rock and carpets of tiny wild berries. When we paused for a bit of picnic lunch, Clara and I sat down in a patch and started picking pink crowberries. She's a dedicated forager, and needs little encouragement to harvest anything at her fingertips. Once we had identified all the edible berries on the sunny slope, she set to work, the town of Bay de Verde far below and blue skies above.
And my, was there ever an expanse of edible berries on those alpine-like slopes: both black and pink crowberries, tiny low bush blueberries, bunchberries and a few cranberries. We found a resealable bag among our picnic items and began picking in earnest, slowly winding our way up the slope. Danny and Mateo joined in, while Noah explored further afield.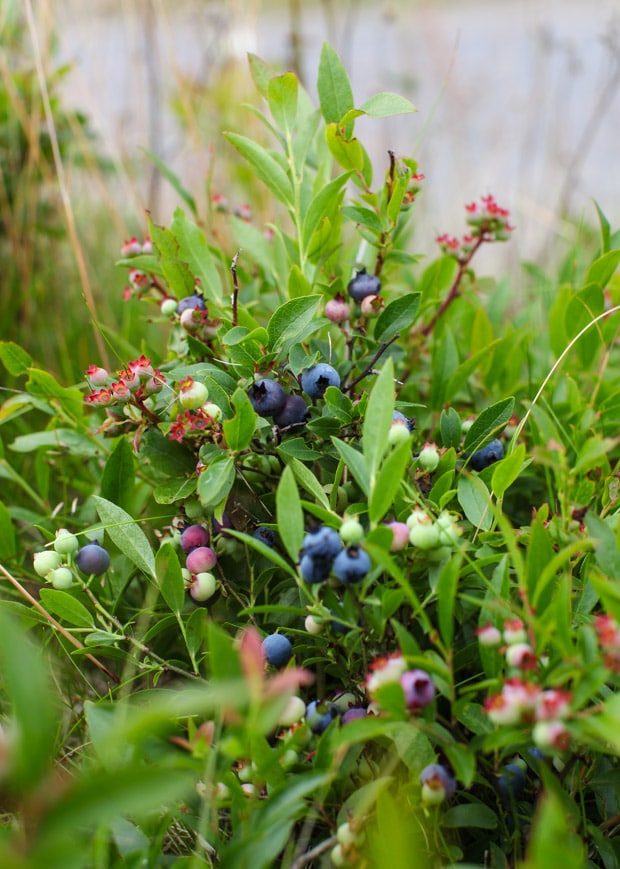 Although blueberries like the ones above grow wild all over Newfoundland, we only found a few patches on the windy slopes that day. We did make another discovery, however, that greatly contributed to our haul: Cloudberries or Bakeapples. Similar in appearance to a large soft raspberry and bright orange in colour, cloudberries taste like a slightly sour apricot with a hint of cranberry.
In his explorations, Noah came across these rare and wonderful berries in a small, wet dip in the hillside. They tend to grow in the bogs of Newfoundland, and as far as we know, this is the only place in North America where they can be found. I may have been slightly giddy as we helped ourselves to the patch with its wide views of Conception Bay.
By the time our lazy hike was over we had foraged a pretty little haul of berries. Certainly enough to make a batch of jam, or so was my idea. These beautiful wild berries from a remote Newfoundland hillside inspired me; what a treat to be able to work with such an exquisite array of fruits.
I figured if I could make a wedding cake in a rental kitchen, I could easily simmer a pot of jam and preserve it to bring home. We picked up 125mL jars at a local grocer's on the way home and back in the kitchen, I dug out the largest pot to sterilize them.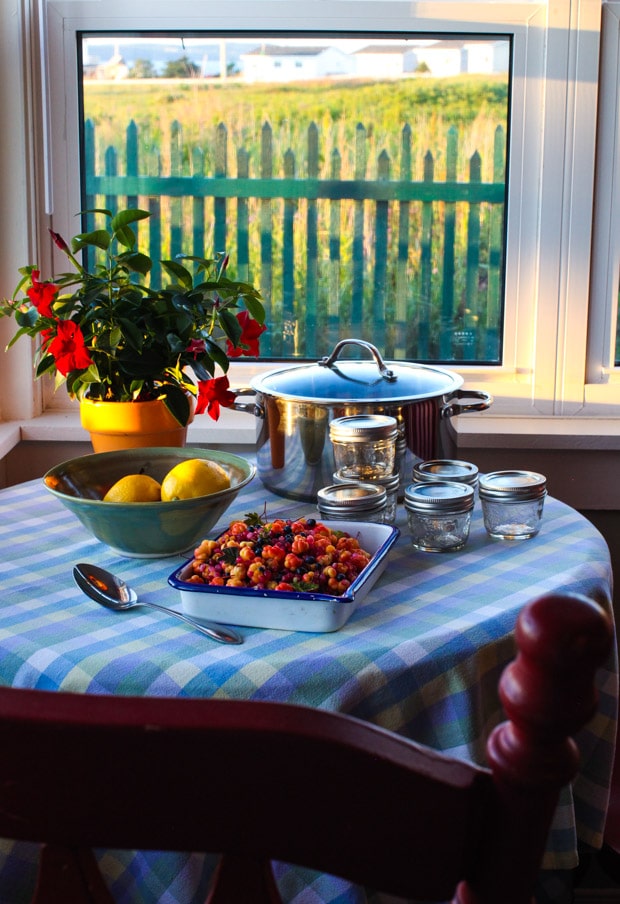 The evening sun slanted through the low windows of our small cottage kitchen as I began to crush the berries with sugar for jam. Standing at the stove, I could see past the field of wild roses to the ocean beyond.  Worn out from the fresh air and exercise, the children had already fallen asleep in the rooms above me. All was quiet, save for the the whispers of wind around the place.
Before long, I was ladling a glossy red jam into jars and topping them with lids. While they processed on the stove, I finished my book by the fireplace. Shortly after, when I climbed the stairs to bed, the jars were already setting off popping noises as they cooled and sealed.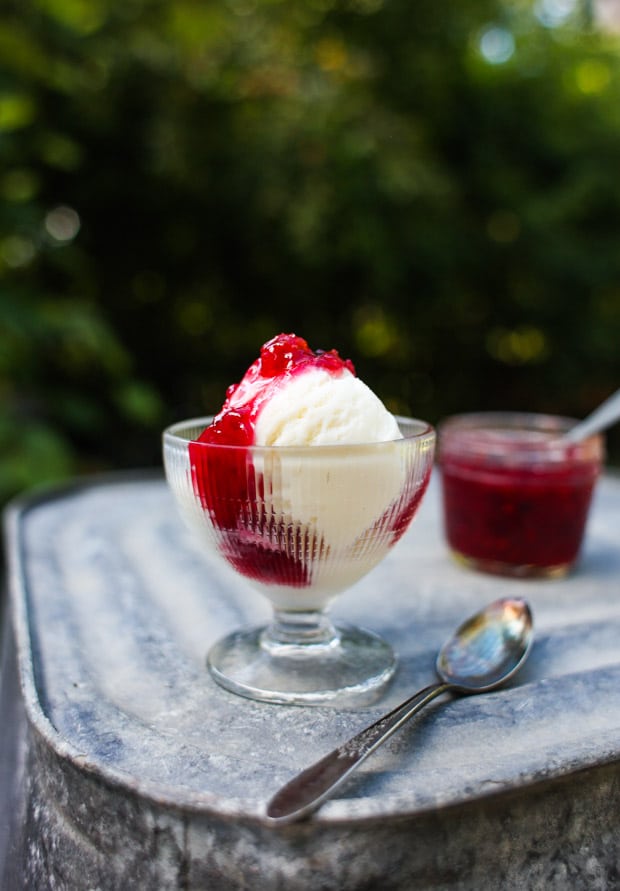 I doubt I'll ever forget our visit to Bay de Verde, nor the sweeping ocean panorama from high above the tiny town. I certainly will always remember foraging for wild berries and unwinding in our cottage kitchen over a bubbling pot of jam afterward. Some adventures you can never plan out in detail, but if you are open to go wherever the road takes you, there is no end to the wonderful experiences that await.
Bay de Verde Mixed Wild Berry Jam
This recipe is a rough estimate of what I simmered together that day in my rental kitchen. Depending on the berries, it could probably be made with less sugar (the cloudberries are very tart) and no pectin. Experiment with the recipe and make it your own.
Print
Pin
Rate
Ingredients
4 1/4

cups

wild mixed berries

hulled if needed

4

cups

granulated sugar

2

Tablespoons

fresh lemon juice

1

pouch liquid pectin
Instructions
Prepare a large pot for hot water canning according to this post on

Canning Basics

. Sterilize ten 125 mL jars and lids in boiling water or the dishwasher on the hottest cycle.

In a large, heavy bottomed pot, crush the berries with a potato masher. Add the sugar and the lemon juice.

Bring the mixture to a boil over medium high heat, stirring frequently. Boil rapidly for 5-6 minutes, until glossy and slightly thicker.

Remove from heat and slowly stir in the pouch of liquid pectin. Let the pot stand off the heat for 5 minutes to cool slightly and thicken so that the berries are suspended in the jam. Stir occasionally.

Ladle hot jam into clean jars and top with a lid. Process jam for 20 minutes in a boiling water bath, according to these

canning directions

.

Remove from canner and set on a clean tea towel. Leave undisturbed for 24 hours, then label with the recipe and date. Store jam in a cool, dark place for up to one year.
Nutrition
Calories:
344
kcal
|
Carbohydrates:
88
g
|
Protein:
1
g
|
Fat:
1
g
|
Saturated Fat:
1
g
|
Sodium:
1
mg
|
Potassium:
36
mg
|
Fiber:
2
g
|
Sugar:
85
g
|
Vitamin A:
30
IU
|
Vitamin C:
3
mg
|
Calcium:
5
mg
|
Iron:
1
mg