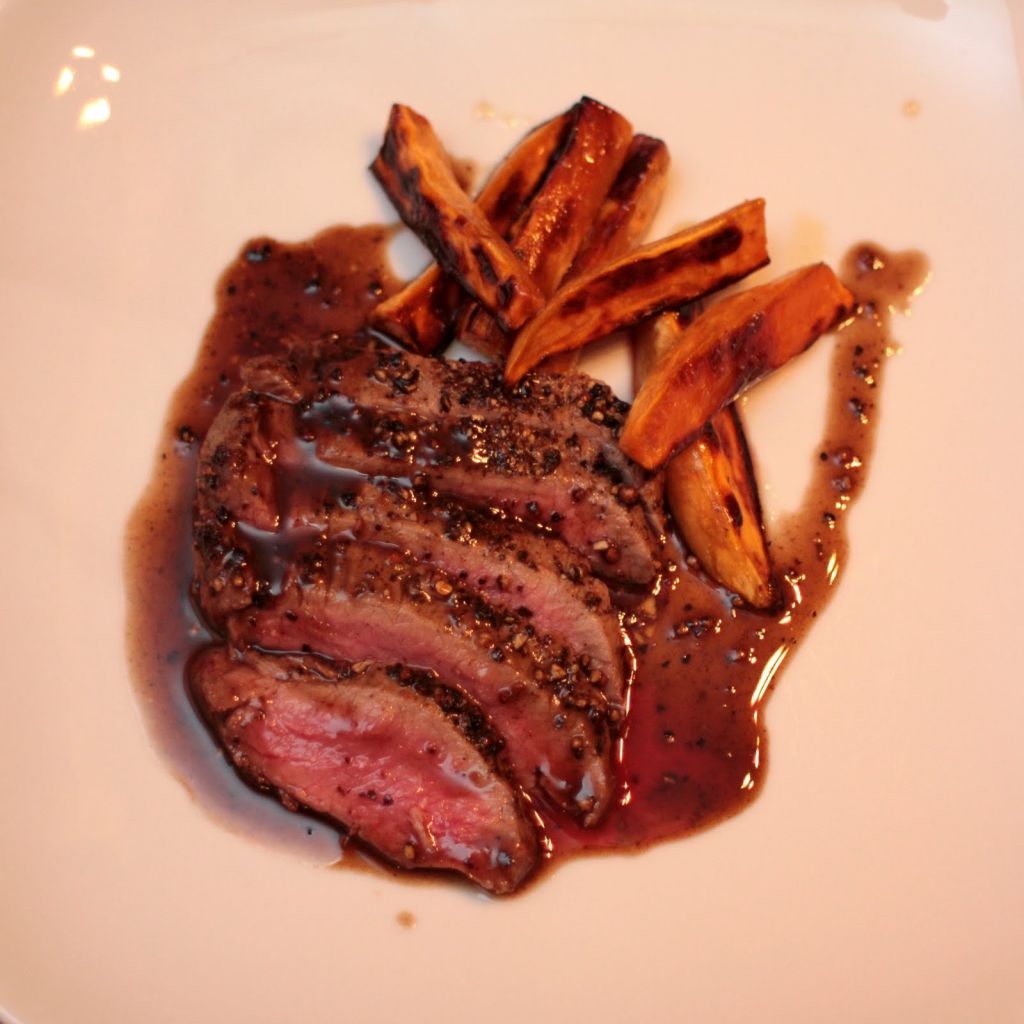 Now that we are in our new home, every meal feels like a celebration: the dreaded move is over, Christmas is coming and we feel very blessed with where we find ourselves. We have so much to be thankful for! Practically speaking, I'm grateful we have an actual dining room now. No longer do I have to share my kitchen with the family table, the new workspace is all mine. We can now enjoy meals in a dining room where the view out the patio doors shows snow falling on our Narnia-like forest.
Said forest has already been the source of much adventure for the boys. The very first morning after the move, Noah was out slaying invisible dragons amidst the trees with his sword and shortly after, we were watching ducks from the nearby river bank. Growing up rurally myself, nothing gives me greater joy than to nurture that love of nature in my own children.

With such a regal view from where we are seated for dinner and elbow room around the table for a change, it's no wonder there is cause for celebration every time we break bread.This 'Steak au Poivre' or Pepper Steak, is the perfect fare for such occasions.
Perhaps Pepper Steak feels special because it is reminiscent of a restaurant dish. I've spotted it on menus countless times, yet this was my first attempt to recreate it at home. Thanks to the Beef Chronicles and the various cuts of steak in my freezer, I challenged myself to try something new and thanks to the clear (if not a tad wry) directions from Anthony Bourdain, the dish was a hit.
The sauce for Steak au Poivre is killer, there is no messing around with peppercorns and make no mistake – it's HOT. Fortunately I paired the steak with some oven roasted sweet potato fries, and their sweetness was the perfect complement to the heat.
You may want to hold the sauce for the kiddos and don' be surprised if they request ketchup with their sweet potato fries, they are kids after all.
Anthony Bourdain's Steak au Poivre
Recipe (and all extra comments) courtesy of Anthony Bourdain's Les Halles Cookbook, Bloomsbury
Serves 4
INGREDIENTS 4 8-ounce steaks of your choice. (I, Aimee, used flank steak)
2 ounces olive oil
2 ounces freshly cracked peppercorns (crushed but not ground to powder!)
4 ounces sweet butter
1 ounce good Cognac
4 ounces strong, dark veal stock (something to keep in your freezer)
Salt and pepper
EQUIPMENT Heavy skillet, Kitchen tongs, Wooden spoon, Serving platter.
DIRECTIONS FOR STEAK
1. Preheat the oven to 425ºF. Moisten the meat very slightly with oil, then dredge each of the steaks in the crushed peppercorns to thoroughly coat. Don't be shy with the pepper.
2. Heat the remaining oil in the skillet over high heat. Once the oil is hot, add 2 ounces, which is half of the butter. Place the steaks in the pan and brown on all sides, about 5 minutes per side.
3. Transfer the pan to the oven and cook until desired doneness, about 5 to 7 minutes for rare, 10 minutes for medium rare, and so on. Remove from the oven and remove the steaks from the pan to rest. Have I told you yet to always rest your meat after cooking? I've told you now.
DIRECTIONS FOR SAUCE
1. Return the skillet to the stovetop and carefully stir in the Cognac. As much fun as it is to create a column of flame as you add flammable material to an incredibly hot pan, it's not really desirable or necessary — especially in a home kitchen. Unless you're a pyromaniac, I recommend carefully adding the Cognac to the still-hot pan off the flame, stirring and scraping with the wooden spoon to get every scrap, every peppercorn, every rumor of flavor clinging to the bottom of the pan.
2. Now place the pan on the flame again and cook it down a bit, by about half. Stir in the veal stock and reduce over medium heat until thick enough to coat the back of a spoon. Whisk in the remaining butter and season with salt and pepper. Serve immediately with French fries or sautéed potatoes. Note on searing: With any recipe that calls for searing meat and then using the pan to make a sauce, be careful to avoid blackening the pan; your sauce will taste burnt. Avoid by adjusting the heat to, say, medium high, so it will still sear the meat but not scorch the pan juices. But stoves and pans vary, so pay attention.
Maple-Glazed Sweet Potato Home Fries
Adapted from"Barefoot Contessa: Back to Basics"
Serves 2
2 medium sweet potatoes, peeled
2 tablespoons good olive oil
1 tablespoon pure maple syrup
1/2 teaspoon kosher salt, plus extra for sprinkling
1/2 teaspoon freshly ground black pepper
Preheat the oven to 450 degrees. Halve the sweet potatoes lengthwise and cut each half into 3 long spears. Place them on a sheet pan and toss with the olive oil. Spread the potatoes in one layer. Combine the maple syrup, salt, and pepper and sprinkle on the potatoes. Bake for 15 minutes and then turn with a spatula. Bake for another 5 to 10 minutes, until lightly browned. Sprinkle lightly with salt and serve hot.
More Beef Chronicles:
Rib Steak With Red-Wine Butter
Rosemary-Garlic Marinated T-Bone
Classic Roast Beef & Yorkshire Pudding