It's not easy to get away in the spring, but last weekend Danny and I put our garden plans and yard work on hold while we jetted South to Atlanta for four days. The occasion? Our ninth wedding anniversary. The event? Blogher Food '11.
Now, I know that's not exactly a romantic getaway and most men would run at the thought of crashing a party of 400 or so women, but my husband is not your typical guy and we made the most of the weekend. In the mornings we scoured the city for the best coffee  (Octane (sadly now closed), if anyone is wondering), during the day he golfed with friends while I attended BHF, and in the evenings I had a hot escort to the parties. Yep, we hit 'em all.
It was the best and I can highly recommend attending these notoriously draining conferences with someone who can make you laugh, rub your tired shoulders at 5pm – and even iron your blouse in a pinch. After nine years married, Danny still does that and much more.
But this is supposed to be my BHF recap. Yes, I'm straying away from recipes today to give you a glimpse of what goes on at a food blogger's conference. Grab your Macbook, iPhone, iPad, Canon 5D, Venti Starbucks and let's go!
Just kidding, you don't need any of that stuff. Just wear a smile, and don't be shy to introduce yourself.
On the eve before heading to Atlanta, I was chatting with a few friends on Skype (and avoiding packing) and they offered a few nuggets of advice on making the most of the conference. "Be yourself and don't sweat the small stuff" were the tidbits that stuck out to me.
On that note, I decided to pack my extra thick skin, brush my smile bright, and leave my shyness at home. Here's how I see it: if the conference is taking me away from my children, I better make the most of the event. And OK, so I'm not really that shy.
The result? I had a completely fantastic time. Did I ever feel outright snubbed? No. Overlooked? At times, yes. Invisible? Definitely. Would I go again? Absolutely.
There's been tons of talk about cliques, snobbery, and conference anxiety, but honestly, I think what you bring to a major conference is what you take away. I introduced myself to at least thirty people (probably more), but only two or three people approached me in a similar manner.  Not a fantastic ratio.
Terrible photo, but fantastic women. L-R: Me, Olga, Faith, Kelsey, and Stacie.
The people really make the conference, to point out an obvious fact. I mean, what else would? The swag? Naw, I already have enough kitchen tools. The food? Omygosh, not this time. The 'destination getaway'? Forget it. We were in transit for 16 hours to get home and then our luggage didn't even make it.
Having a maid make the bed and change the towels is pretty sweet, but, let's face it, rubbing shoulders with the rockstar attendees is an experience of a lifetime. And I mean that.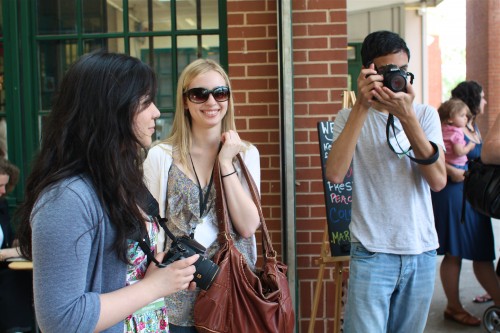 At the Sweet Auburn Curb Market with friends from The Kitchen Generation.
Just a few of the 'pinch-me-please' moments of the conference that I'm going to remember for a long, long time:
Did I mention rockstars? We had an epic dinner out at Atlanta farm-to-table hotspot on Saturday night. Alice & her husband Rob, Sandy, Carrie, Amanda, Tara, Jenny, Lori, Shaina, Danny and I invaded the small-ish Empire State South and ordered half the menu. Which was heaven for a foodie like me. What? Dinner out with no kids? All the blog talk I want? Sweet!
It was super fun to hang with so many food bloggers that I respect and admire.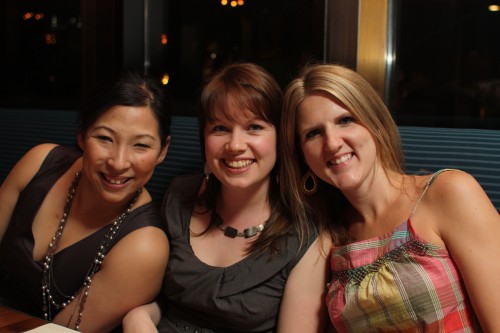 Anticipating dinner with Alice and Amanda.
My final tip for future conference attendees? Look up from the smart phone more often and smile at the people around you. Anything could happen after that.
Photos! Here's the full set of BHF'11 photos on Flickr if anyone is interested…
I honestly met too many beautiful people at BHF to name them all, but I hope you know that if I shook your hand and said 'Great to meet you!' I truly meant it.