Homemade edible gifts for my children's teachers are a sure thing to leave my kitchen come school's end. I feel like it is the least I can do after the educators have poured their energy into my children all year.
The goodies are our way of expressing our thanks and vary from year to year from chai spiced granola to honey whole wheat chocolate chip cookies. Now before you read on, please understand that I am playing to my strengths here. I'm not trying to make myself out to be some kind of perfectly pinteresting supermom. Making and assembling edible gifts is easy and fun for me, so I run with it whenever the opportunity arises. I couldn't be crafty like my friend Amy if I tried and I don't enjoy shopping, so I head to the kitchen and dream up something delicious.
It's important to me to have the boys get involved in making the gifts to teach them to give back and to show appreciation in a tangible way. This year I had thought about canning something, perhaps strawberry rhubarb jam or strawberry caramel sauce, but I tend to do most of my canning on my own, without three kids 'helping'. They are pretty proactive in the kitchen, but that vat of boiling water still makes me nervous.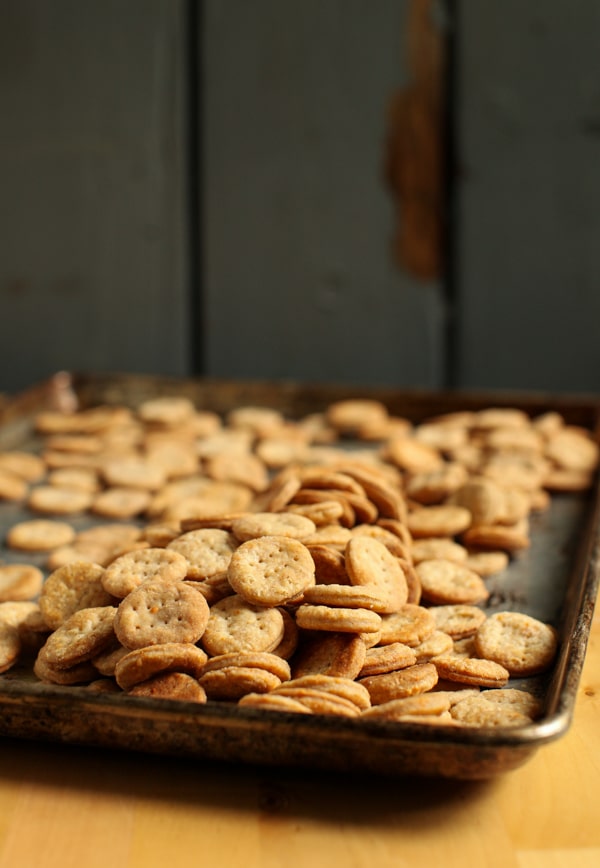 We settled on homemade crackers, a project I expected to be loads of work but well worth the effort. It turns out I was half right. Many hands made light work and we flew through the task, ending up with about 20 dozen absolutely delicious crackers. I even had time to snap a few photos as I knew I had to share both recipes here with you.
If you're into homemade pantry staples, then read on for two recipes: Everyday Wheat Thins and White Pepper Parmesan Coins. [Read more…]