Last weekend our family packed a picnic and escaped to the country for our annual visit to a fall fair. We go every year as a family for many reasons – corn dogs, arcades and cotton candy not among them – rather we use the fair as an opportunity to further our family food culture.
Since we know that the connection between source and food is integral to encouraging good eating habits, we make an effort to visit local farms, but a trip to the local country fair is another way to make that link between field and fork.
The fall fair is so much more than fair rides and chicken-fried bacon; in fact, we find that when the line-ups to the arcades and canteens stretch for yards, the barns are always cool, quiet and spacious. Perfect for resting on a bale of hay and watching the milking process on some of the prettiest cows you've ever seen.
The weather couldn't have been more perfect for our outing and I kept the camera handy to capture the day's events. Today's post is going to be a little different, almost like a photo essay showing highlights from our day. I hope these six reasons inspire you to seek out a country fair in your area!
Note: My apologies in advance for the photos. Trying to capture children and animals together is quite a challenge!
Real, Live Farm Animals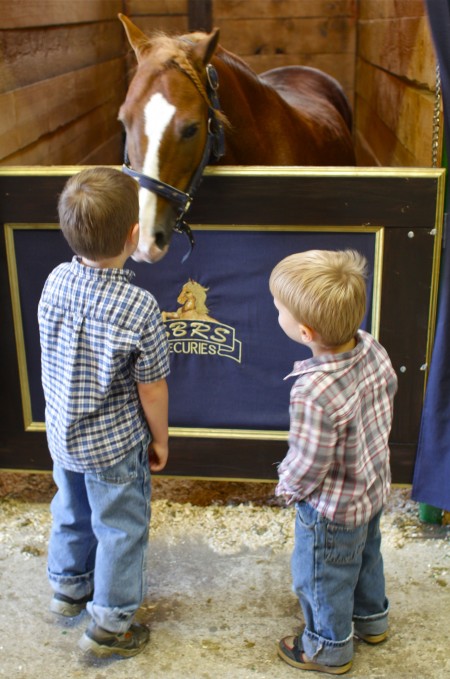 If a pastoral landscape dotted with livestock is not the view on your daily commute (and if it is, lucky you!) then you probably will appreciate the opportunity to get up close and personal with live animals at the country fair. We had fun spotting Wilbur, Black Beauty, Ping, The Runaway Bunny and many more of our favorite storybook characters in real life.
Noah and I walked slowly, hand in hand, through the stables, kicking up straw and reading the names of each horse as posted above their stalls. We admired cows of all sizes, buried our hands deep in a sheep's woolly back, and fed handfuls of pellets to eager goats.
A good portion of time was spent in the poultry barn, where we took time to identify wild turkeys, roosters, doves, Muscovy ducks and chickens of all breeds. We laughed watching two ornery roosters conduct a spat through the bars of the cages and sighed over the ever-so-soft rabbits.
It was Animal Science 101, it was 'Farmer Boy', and it was the best afternoon ever.
Agricultural Displays
The pumpkin display gave us something to aspire to for our next gardening season, as did all of the gorgeous produce showcased. I loved seeing all the varieties of local vegetables, while the boys checked out art and craft projects submitted by children.
Truck Stop
Where else except the fall fair is your toddler going to pose with a larger-than-life John Deere?  This is one event where toys really do come to life for boys of all ages. We spent the good part of an hour walking through (and climbing on) rows of shiny new farm equipment.
Picnic Play
Let's talk about one of the not-so-great aspects of the country fair – the tendency toward complete and utter junk food. The local canteens offer fried onions, burgers, corn dogs and hotdogs and from there it's a slippery slope. Cotton candy, deep-fried Mars bars, and caramel corn are just a few of the temptations for children – and let's face it – pregnant ladies!
Here's our rule of thumb, which works out for both our health and our budget (fair food isn't cheap, people): we pack a complete picnic and purchase one 'side' from the fairgrounds. Usually french fries (easy to share) or poutine – a Quebec specialty, and if it is really warm, ice cream.
The rest of the day's grazing is from our own snack bag, dried fruit, cookies, vegetable sticks, and crisp apples purchased at a roadside stand along the way. Just an observation: a bag of whole peanuts goes a long way when waiting for a horse show to start!
Petting Zoo
We found that no one minded if we petted any of the animals in the stables, but there was a petting zoo specifically for holding little furry creatures close. So we did that too.
My boys did ask for a bunny to bring home after holding three different ones each, but truth be told, I was starting to entertain thoughts of a little rabbitry on our property myself. They were just so cute!
Rides
We usually hit the rides early in the day, before it gets hot and while the line-ups are still reasonable. Our children are fresh and ready for some action after being cooped up in the car for the drive there. They aren't tall enough for most of the rides, so they do a couple each and then we leave the Midway and head for the stables.
Yesterday, it was just too much excitement for Mateo, who passed out on Danny's shoulder late in the afternoon. It's so rare that he does this now, that Danny snuggled him close for nearly an hour.
A perfect ending to the day.
Do you have memories of visiting a fall fair as a child? Are you taking time to create these memories now?