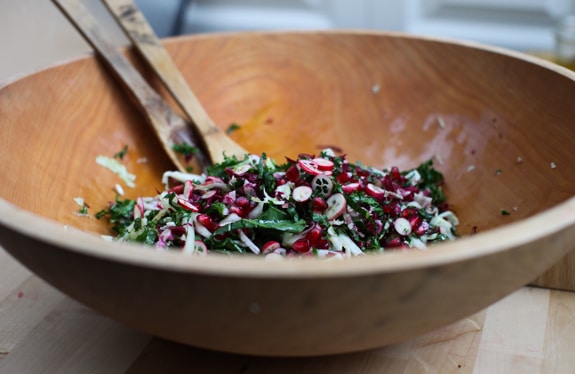 It's funny how this salad came to be: a rough chop of leftover greens from the crisper drawer and a few odd bits of scrounged fruit. It wasn't until I had everything assembled on my cutting board that I noticed the unmistakably festive red, white and green colors.
From there it was merely a matter of balancing the flavors – bitter versus sweet – and textures (the kale benefits from a five-minute marinade in the vinaigrette before the salad is tossed) before mounding it next to another holiday staple – tourtière.
One forkful into this plate and I realized it was the perfect match: rich, spiced pork pie with buttery pastry complemented by a slightly bitter, crunchy salad of winter greens.
Not only does this salad boast the colors of Christmas, but it offers a welcome burst of acidity at a time when foods tend to be so rich. I think you're going to want to stock some kale and pomegranate in the refrigerator this week.