I've been thinking about silver linings a lot. Usually I can spot one easily, but this week has me temporarily stumped.
We've been battling a severe stomach bug for a solid seven days, each of us succumbing one after another to the chills, shakes, nausea – and worse. I leave out the gruesome details, but sufficient to say, there's been a lot of ginger tea and saltine crackers. It's been rough; it's never easy to watch your children suffer.
As you can imagine, there's been very little eating, no cooking, and certainly no blogging. But we've survived so far, and after reading my friend Amy's story this week, I'm grateful this bout of gastro is only a temporary trial. Perhaps that is the silver lining I've been missing all this time.
So, being laid up, I've had a bit more time to read and reflect; here's what I'm loving and bookmarking from around the web in February. I can't wait to try these recipes just as soon as I'm back on my feet:
And here's a small round-up of my favourite recent images from Instagram:
This homemade meusli is going in my next cookbook. It makes a quick breakfast with sliced fruit and almond milk.
Clara and I often take an afternoon walk just as the sun begins to slant through the trees. It's beautiful every time.
I found a sale on cauliflower recently, and revived my love of a simple, creamy cauliflower soup. It inspired another winter white meal, rounded out with julienned apple, bagel & cream cheese.
A very February lunchbox: yogurt & roasted strawberries (frozen from summer), clementine, roasted chickpeas, carrot coins, leftover roast beef & Yorkshire pudding, homemade baby dill pickle, oatmeal chocolate chip cookies. This one was for me, when I was able to slip away for a solid 6-hour afternoon of writing.
Occasionally I am trendy, and make things like this breakfast bowl of chia pudding with all sorts of winter fruits, seeds, coconut and, yes, chocolate shavings.
Just a bit of Meatless Monday mac & cheese prep: parsley pesto from the freezer, roasted butternut squash, and brown butter panko topping.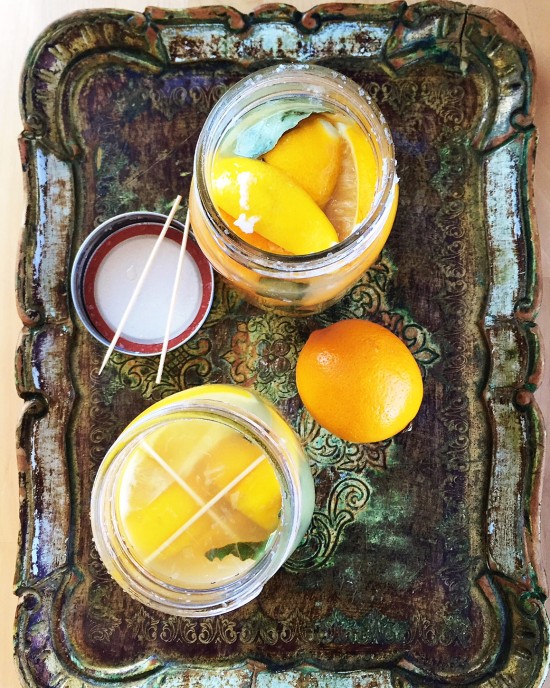 I recently made a new batch of preserved lemons so I can keep making these special madeleines. You all know this trick for keeping them submerged in the salt brine, right? Break two skewers and make a cross in the jar to hold the lemons down.
One more of the pond, this time at sunset. Our winter has been so mild it hasn't frozen over yet for skating.
Have a wonderful weekend, all!