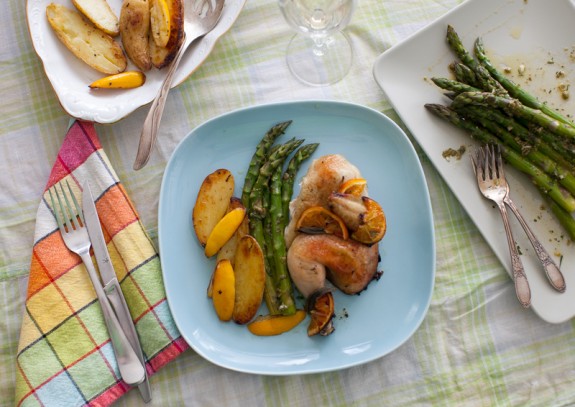 Buying potted yellow tulips, playing with bright flavors in the kitchen, and digging out my pair of summer Toms (even if only wearing them indoors) are a few of the motions I must go through during this time of the year to try and feign a feeling of spring.
It's late March and the snowbanks on either side of our driveway tower over my head like steady ramparts, as if barring spring from ushering in wildflowers and fresh clover. It's unfathomable to think that we will have a green Easter, although I can recall many an egg hunt in the past enjoyed in the grass, not to mention brunch on the patio. This year will be different and that's okay.
Since we are barreling toward the Easter long weekend, it's time to do a little menu planning. Mother Nature may not be on board, but perhaps that won't matter, as we'll be to busy tucking in to…this.
I made this menu for a recent Sunday dinner (remember, I'm bringing back the tradition for our family) and while I was setting the table and whisking together the mustard vinaigrette, it struck me that the meal would make a lovely, small scale Easter dinner.
The whole meal came together in just under an hour and featured Sunday dinner classics: roast poultry, young potatoes and fresh asparagus. Each component was simply prepared, but packed a punch of flavor thanks to vibrant pairings with ingredients such as Meyer lemons, capers, mustard and blood oranges.
Perhaps you'll only be joined by a friend or two for the holiday meal, or celebrating Easter with a few family members around the table. If you are, and don't wish to spend half a day in the kitchen, then this menu for you.
I would suggest beginning the celebration with a pretty plate of Guacamole Deviled Eggs, and finishing with these Easter Pavlovas with Lemon Whipped Cream and Vanilla-Rhubarb Compote. Of course there's always Mini Lemon Tea Cakes that are idea, too.
If you're not hosting on the upcoming holiday, bookmark this post for your next Sunday dinner. Better yet, forward it to your husband and drop a hint about Mother's Day. Either way, be sure to enjoy these recipes this spring.
Hit the jump for three recipes for a simpler, smaller Easter dinner menu.