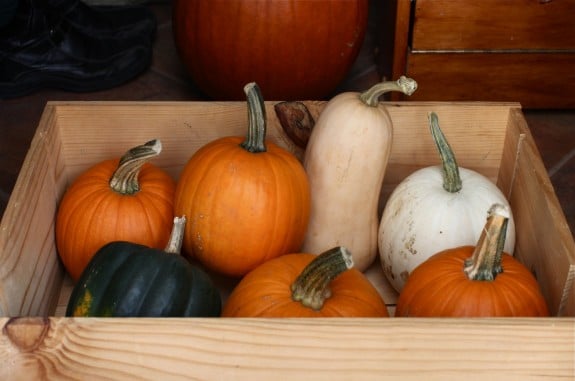 Written by Danny.
When I grew up, almost everyone had a basement in their house.  Where Aimee grew up, basements were anomalies.  Our current house doesn't have one, and so I pine from time to time and wax poetic about the virtues and benefits of having a basement.  Aimee disagrees (strongly), and sees them primarily as "dank caves" or glorified storage rooms. Most of the time, we agree to disagree.
What we both agree on, though, is that having a cool, dank storage room underneath your house can be particularly useful come harvest time when you want to be storing and preserving much of the season's bounty.  Of course in this case, I'm not talking about a basement room with pool tables and dart boards, or ones with mini-bar, karaoke stage complete with disco ball and orange shag carpet on the floor, walls and ceiling (yes, we did see one of these when house hunting!) – I'm talking about root cellars.
When I think of "root cellar", my thoughts immediately go to the first one I ever remember (first impressions…).  It was the quintessential setting for a horror movie: creaky door that didn't quite sit on its hinges; no light; moldy smell; roots (fingers?) sticking out of the earthen ceiling and grabbing at my hair; the back part was condemned because it had caved in and we were warned to not go in too deep… in case another section of roof were to give way. *Shudder*.  Our family was visiting a farm, and I was asked to go get some carrots or something.  I just remember standing outside, about 20-30 feet away from the entrance and trying to drum up the nerve to go and pry open the door.  Mercifully, one of the farmers came to give me a hand with the door, so I didn't have to enter alone.
Aside from the bravery and character-building that root cellars bring to small children, there are many other useful reasons to have a root cellar, whether as a separate structure to your house, or part of a cool room in your basement.  Because our garden is small, I haven't had to dredge up those old memories and start digging a hole in the ground for a DIY on building our root cellar. However, given that it is time to be storing some of the amazing deals on produce that we've been getting from our local farms at the market, I'll let you in on where we are storing our goods, and some of what you should be considering if you are looking for a cellaring solution. [Read more…]