Like each of my monthly #EatSeasonal recipes, today's post was inspired by a couple of ingredients that are coming into their own right about now.
It wasn't until I had worked out the kinks of the recipe and started photographing the dish, that I realized my Sea Salt Focaccia with Radish Ramp Butter would make a delightful addition to a Mother's Day tea. Perhaps because of the blush pink spread or the sheer decadence of crusty white bread slathered with butter, but this recipe denotes a fancy tea and deserves as much.
(Oh hey, if you are going the afternoon tea route next Sunday, may I suggest these Herbed Avocado Egg Salad Tea Sandwiches and maybe these Triple Berry Scones. And then please invite me over.)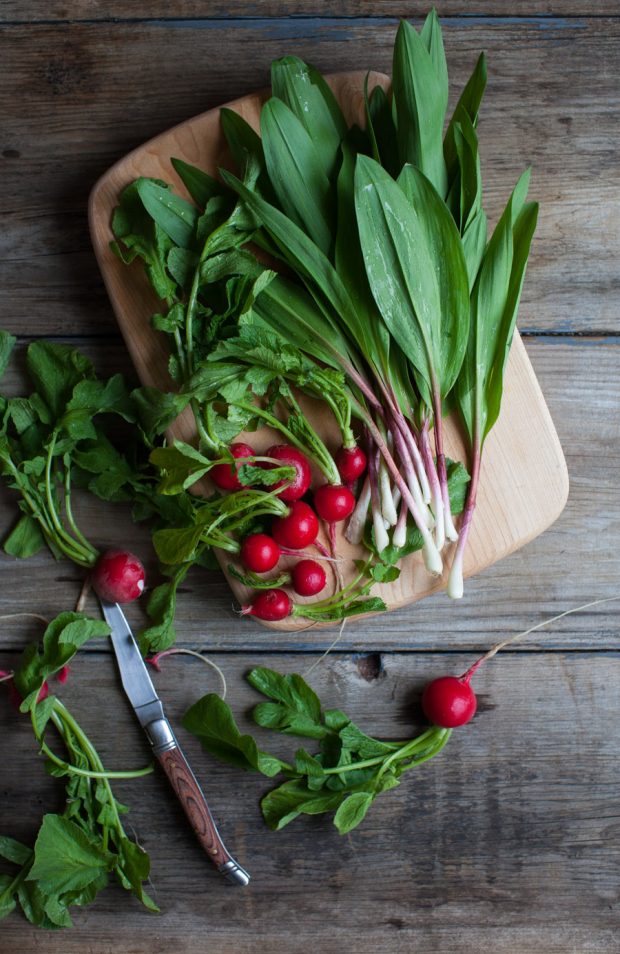 My radishes are not even planted yet, as heavy rains have kept me from getting out to the garden. However, my ramps are thriving in the rain and I've been out once or twice to gather a small handful. With radishes from my local market and a generous bump of unsalted butter, our spread comes together quite nicely.
Radish butter is the gateway to a lifelong love of this under-appreciated spring vegetable. And radish butter enhanced with the mild garlic flavour of ramps or wild leeks? Simply delicious.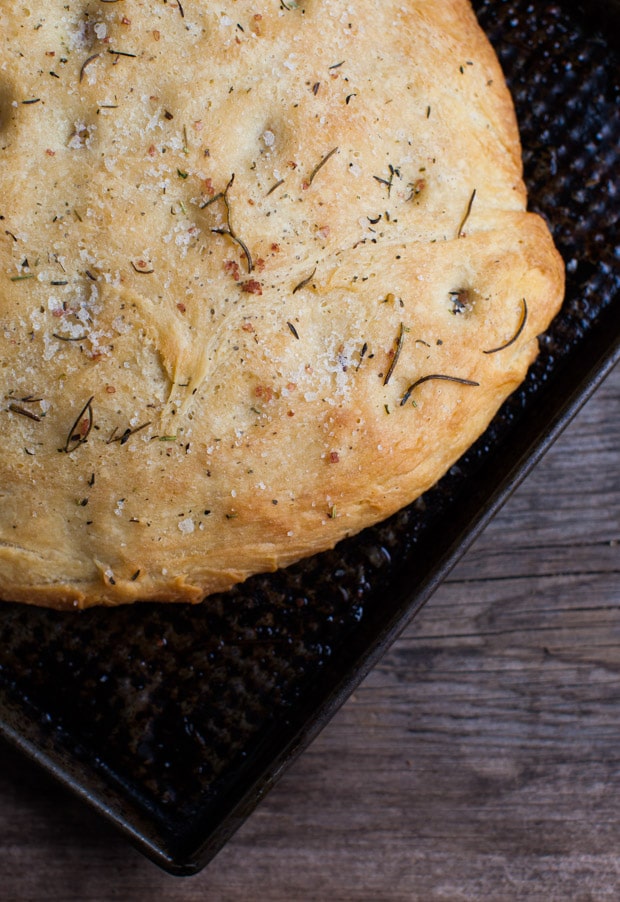 A simple French baguette would also work here, but thanks to all the rain, I've been baking nearly every morning to cheer the place up. This focaccia is a quickest route to fresh bread.
Because a focaccia dough isn't given the lengthy rising times needed to really develop a deep flavour, it's necessary to enhance the flatbread with unique salts and herbs. My favourite is a light sprinkling of dried rosemary and a generous dusting of flaky salt, such as Maldon.
In the focaccia pictures above, I also used a pinch of Alaea salt, which is an unrefined sea salt that gets its reddish colour from Hawaiian clay.
Be sure to cool your homemade focaccia completely before slicing it, or else the radish butter will melt as you spread it onto the slabs. The butter also needs to be at room temperature in order to incorporate the grated radish. These things matter, my friends!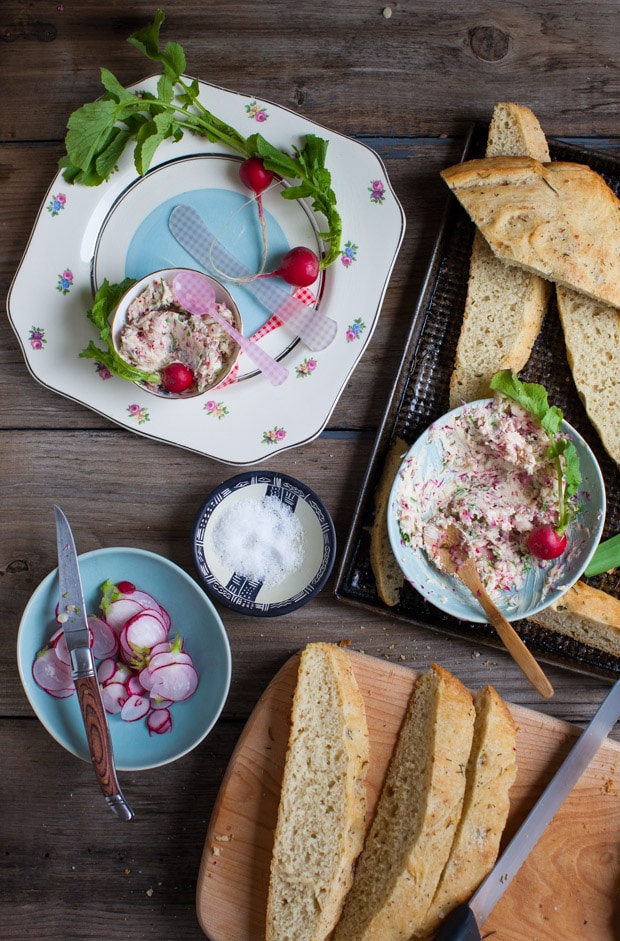 Be sure to only use unsalted butter for this recipe, as salted version will cause the radish to weep and your butter will be soupy rather than spreadable. But then do serve the radish butter with a small dish of flaky salt for garnish. It really brings the dish to life.
Sea Salt Focaccia with Radish Ramp Butter is a decidedly grown up snack and beats the heck out of cheese and crackers, pita and hummus, or – dare I say it – chips and salsa. At least, in May it does, because beautiful spring vegetables and alliums like radishes and ramps need to be showcased at the table.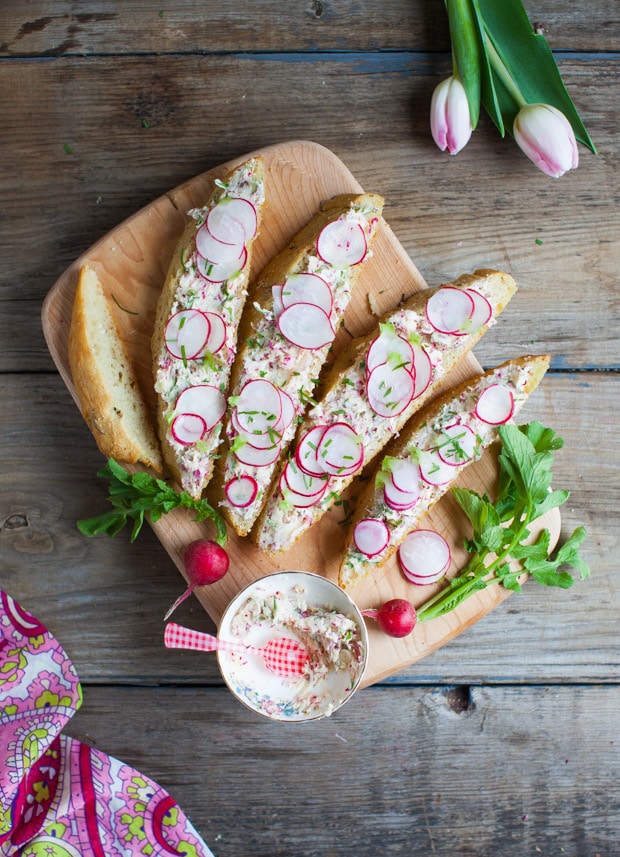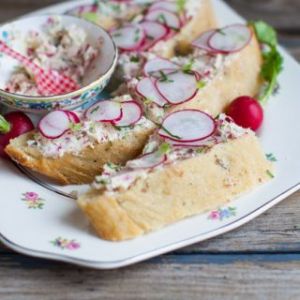 Ingredients
1/4

cup

unsalted butter

room temperature

4

large radishes

2

Tablespoons

chopped ramps

sea salt

for garnish
Instructions
Place butter in a small bowl and mash with the back of a wooden spoon.

Using a rasp or microplane, grate the radish into the butter. Add the chopped ramps and cream the mixture together.

Transfer to a small serving dish and serve at room temperature wit the salt for a garnish.
Notes
Alternate: use as a spread on cucumber sandwiches.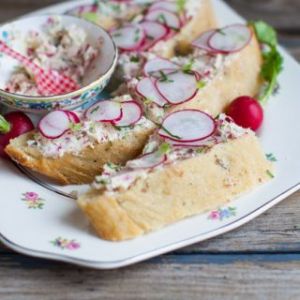 Ingredients
300

mL

warm water

110F

1/2

teaspoon

cane sugar

2

teaspoons

dry yeast

1

teaspoon

fine sea salt

3

cups

organic all-purpose flour

2

Tablespoons

extra virgin olive oil

divided

1

teaspoon

flaky sea salt

1

pinch

of dried rosemary

optional
Instructions
In the bowl of a stand mixer, combine the warm water and cane sugar. Sprinkle the yeast over the top and let stand for 10 minutes to bloom.

Add the fine sea salt and 1 1/2 cups of flour. Beat on high for one minute with the paddle attachment. Switch to the hook attachment. Add the remainder of the flour, mixing on low to combine. Knead on low for 7 minutes. If the dough is very sticky to the touch, add an additional 1-2 tablespoons of flour.

Coat a clean bowl with a teaspoon of olive oil and place the focaccia dough in the bottom. It will be quite soft and a little bit sticky. Cover with a tea towel and let rise in a warm place for 1 hour or until doubled in bulk.

Preheat an oven to 425F. Generously grease a rimmed baking sheet with the remainder of the olive oil. Without punching down the dough, gently tip the risen focaccia dough onto the oiled pan. Use your fingers to press dimples in the flatbread, without deflating it too much. It should be about 1 1/2 inches thick all over. Let rest for 10 minutes.

Sprinkle flaky sea salt on top of the focaccia and the rosemary, if using. Bake on the top shelf of the oven, for about 22 minutes, or until light golden on top. Cool completely.

Slice focaccia into thick slabs. Generously spread with the radish ramp butter. Top with a few thinly sliced radishes, sprinkle with salt and serve at once.
Notes
Use any fun, coarse salt for the top. I use a red salt from Hawaii or a flaky Maldon salt.
Eat Seasonal
May produce! It's here! From rhubarb to radishes and aaaaalllll the asparagus, dive into a whole new collection of original recipes from our group of seasonal eating bloggers.
Happy Seasonal eating in May, wherever you may be!