At the prompting of a few friends and one sister, we're watching The Kindness Diaries on Netflix as a family right now. One of our family 'mottos' is "Above all, be kind." so the series dovetails nicely with how we are endeavoring to live out our lives.
For me, showing kindness nearly always translates into food for others, whether it be a meal delivered, dinner around my table or, more recently, hunger relief. Today's recipe for Meyer lemon bundt cake is exactly the type of cake to bake for a friend and leave it, wrapped in a tea towel, on their front porch.
Equally worthwhile is to invite a friend over to join you for afternoon tea and cake. As long as cake is shared  – between friends or strangers – the world will continue to become a better place. I'm pretty sure I read that on a t-shirt somewhere.
I was going to save this recipe for Easter, but Meyer lemons are available right now and this cake needs to be on your baking list long before April.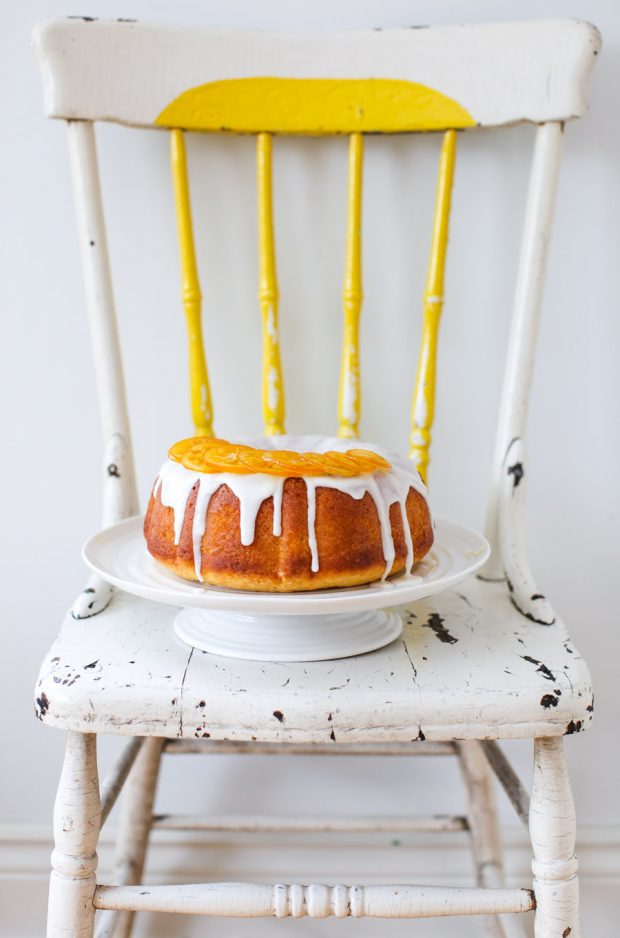 There is something so timeless about a classic lemon cake. I've dressed this one up with a glaze and a row of candied lemon slices, but rest assured, this bundt needs little adornment. My kids prefer it naked from the pan, preferably still slightly warm. It really is perfect on its own, thanks to rigorous testing on my end.
This cake is puckery lemon through and through. Lemon zest, lemon juice and, in the last version I tested, minced preserved lemon all contribute to a truly tangy cake. Then add a lemon glaze and those translucent candied lemon slices and you have a dessert that properly pays homage to the beloved Meyer lemon.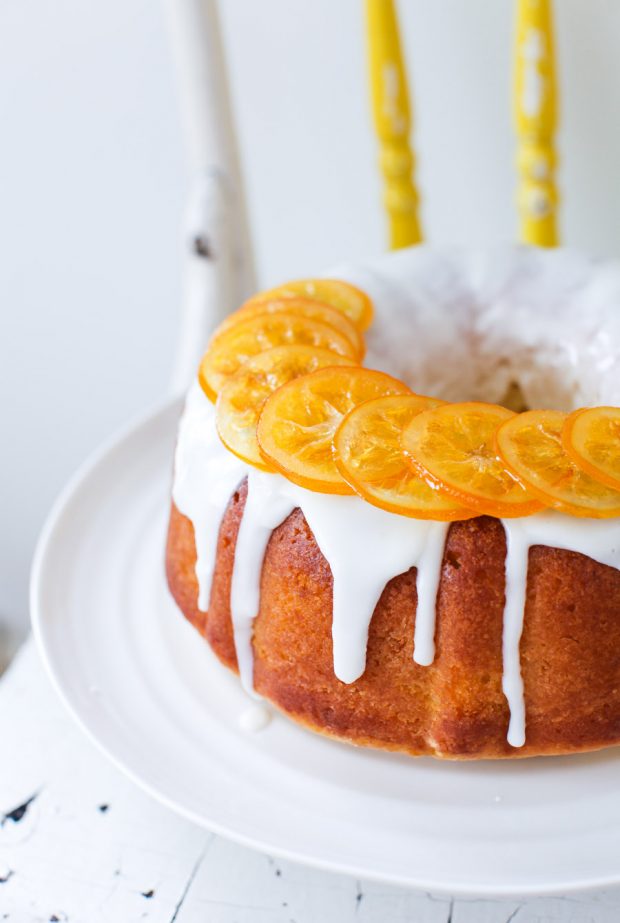 To me, a memorable cake must have butter, but in this recipe I've cut it in half with coconut oil. We still get the flavour of the butter, but the oil makes for an incredibly moist cake. The cake darkens on the edge slightly more than with all-butter but the fine crumb all but makes up for it.
And I bet you are wondering about preserved lemon, so the answer is 'yes'; this bundt cake is delicious with a teaspoon or so of minced preserved lemon folded into the batter. I add it with the lemon juice and vanilla, and decrease the amount of salt slightly.
You could also play around with different add-ins to the cake batter such as poppy seeds (classic!), finely chopped candied ginger (delicious!) or a pinch of dried lavender (artistic!).
For the garnish, I used the excellent Candied Meyer Lemon recipe from She Wears Many Hats. Amy wrote an excellent tutorial with visuals and her method worked perfectly. I should note that I only made half a recipe – but the candied lemons were so good, I should have made a full recipe and encircled the entire cake with slices.
Another great tutorial? How to properly grease a bundt pan from our friends at Kitchn. I feel like this should be recommended reading. Also? 5 Mistakes to Avoid When Baking a Bundt Cake. This is Adulting 101, friends.
Lemon Cake Love
Obviously I have a thing for lemon cake around here. Gracious! Oh and while we're on the subject of bundt cakes, bookmark these two recipe from the archives to try soon as well:
And now, onto the recipe – and our seasonal eating round-up for March.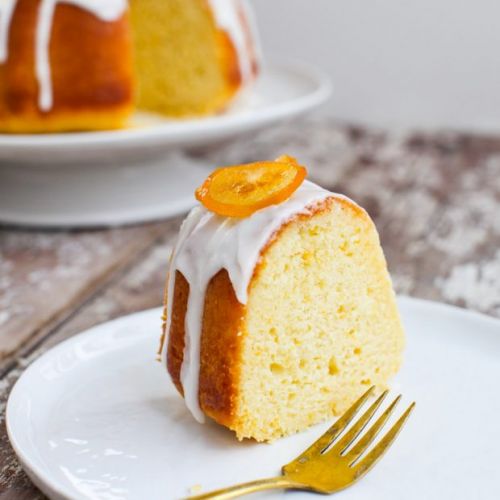 Meyer Lemon Bundt Cake with Candied Lemons
A rich pound cake, with a fine, moist crumb and an intense lemon flavour. The ingredient list is long, but the result is outstanding. A total of 4 juicy Meyer lemons are used.
Print
Pin
Rate
Ingredients
3

cups

organic all-purpose flour

plus more for the pan

2

teaspoons

baking powder

1/4

teaspoon

baking soda

3/4

teaspoon

fine sea salt

2

cups

raw cane sugar

1

zest of 1 Meyer lemon

1/2

cup

unsalted butter

room temperature

1/2

cup

coconut oil

solidified

4

large eggs

room temperature

1/4

cup

Meyer lemon juice

about 2 lemons

1

teaspoon

pure vanilla extract

1

teaspoon

minced preserved lemon

optional

1

cup

buttermilk
for the glaze
1 1/4

cups

powdered sugar

3-4

Tablespoons

fresh Meyer lemon juice

Candied Meyer Lemons

recipe here
Instructions
Have all ingredients at room temperature if possible. Preheat an oven to 350F. Generously butter a 10-cup bundt pan and then lightly dust it with flour. Tap out the excess flour over your kitchen sink.

Sift together the dry ingredients: flour, baking powder, baking soda and salt.

Zest the lemon over a small bowl with the sugar. Rub the zest into sugar with your fingertips.

In the bowl of a stand mixer fitted with the paddle attachment, cream together the butter and the coconut oil until smooth. Add the lemon sugar. Beat for 4 minutes on medium high until fluffy.

Add the eggs, one at a time, beating for about 30 seconds after each one.Scrape down sides of the bowl and the paddle. Add lemon juice, vanilla and preserved lemon (if using) and mix well. Don't worry if it looks curdled.

Remove the paddle and fold in the dry ingredients with a spatula, one cup at a time, alternating with the buttermilk like this: 1 cup flour, 1/2 cup buttermilk, 1 cup flour, the remainder of the buttermilk, the remainder of the flour. Use a very light hand, and fold only until the streaks of flour have disappeared.

Scrape the batter into the prepared bundt pan and smooth the top. Place on the centre rack in the oven and bake until a toothpick inserted into the thickest part comes out clean; about 60-65 minutes.

Cool the bundt for a full 10 minutes in the pan set on a wire rack. Then invert the bundt pan onto the rack, tap gently on the bottom until the cake releases. Cool completely before glazing.

In a small bowl, stir together the powdered sugar and 3 tablespoons of lemon juice. It should be quite thick. Place the cake on a stand or serving platter and drizzle the glaze over the top. If the glaze is too thick, add a little more lemon juice, a few drops at a time.

Top cake with candied lemon slices. Serve at room temperature.
Notes
I've tried this cake with sour cream instead of buttermilk and with a combination of plain yogurt and buttermilk. The point is, use what you have on hand. This is what I tend to do, because we must have cake!
This cake is best enjoyed on the same day it is baked, but it will keep, stored in an airtight container at room temperature for up to 3 days.
Eat Seasonal
We're hanging on until spring, and until it arrives, here's a bounty of inspirational recipes featuring March produce from our #EatSeasonal bloggers. And after you've cooked your way through this list, find more recipes on our group Pinterest board.
Here's to eating seasonally, even in March!