Picture this: coffee brewing, baby sleeping, fingers typing, preschooler coloring, cookies baking. On any given morning, that about sums up my work-at-home status update.
This little food blog has blessed me with a part-time job that is incredibly rewarding, ever challenging, and always exciting. I adore what I do and all of you who help make it possible. Without you, the reader, my craft would have little value. I so appreciate the community here, as I do on Facebook, Twitter and Instagram.
Although I hope not, there may come a day when I take it all for granted – the flexible hours, the instant feedback, the creative outlet – but for now I am grateful for this position that I have and hold it in high esteem.
The past year has been such fun. Can I just say, I loved blogging for you in 2012.
Why? Well read on, and I'll share some highlights.
In January, I began my Bite this Book series, and had the pleasure of interviewing an amazing group of authors – and then giving away their new cookbooks! I'll be continuing the series in 2013, you'll be happy to hear.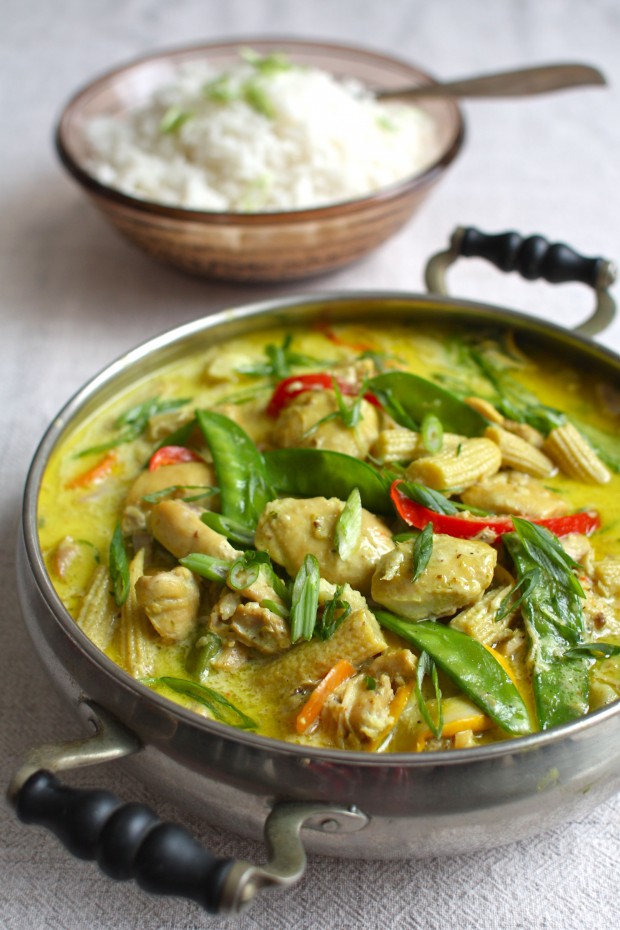 I truly embraced the slow-cooker for the first time and created two new family favorite dishes with Coconut Ginger Chicken & Vegetables and Overnight Apple Cinnamon Steel-Cut Oats. The slow-cooker even got a summer work out with a batch of homemade ketchup.
In the early spring, Baby Clara arrived, and a stellar line-up of guest posters filled in for me for a few week. By far, the most popular of those posts was Andrew's best party trick ever where he made 30-minute mozzarella. It's a genius little step-by-step tutorial, perfect for the novice cheesemaker, and which, incidentally, has been pinned nearly 50K times.
Things got personal this year, but you didn't mind when I wrote about my postpartum diet, shared my Mother's Day musings (and Clara's newborn photos), or waxed romantic on our 10th wedding anniversary.
Many of you chimed in when I shared A Day in the Life, with family at the center, work fit in here and there, and plenty of good food to go around. I'll write a winter/school version soon.
In June we fired up the grill, but not just for traditional eats. Grilled fruit salad with lime? Sublime. Grilled pizza? Revolutionary.
Some of the best forkfuls of food I put into my mouth in 2012 included my Warm Potato Salad with Grainy Mustard, Bacon & Ramps (from my backyard), my simplified Coq au Vin over egg noodles, and the summery Vanilla-Biscuit Peach & Plum Cobbler. I can only hope 2013 is just as tasty.
With the Homefries girls, Joy the Baker and Tracy!
Some of my favorite blogging perks from the year were meeting and hanging out with blogging friends, old and new. I took a workshop with Aran, attended Big Summer Potluck and Allume, and connected with some great girls in my own food blogging community.
I've said it before: these forged friendships are one of the greatest rewards of blogging. Girls like Shaina, Amber and Megan make me laugh daily as we commiserate together over life's everyday ups and downs. Others such as Kristen, Alice and Tsh inspire me to do more with my platform to help touch others.
Countless others encourage me and motivate me to reach further and higher. And I can't say enough good about the team behind Food Bloggers of Canada. (Psst! I'm speaking at their upcoming conference!)
Danny rocked as the resident urban homesteading expert, writing about our raised garden beds, our rain barrel installation, and backyard chickens. Any ideas for new projects for him in 2013?
Speaking of chickens, I mustered up the courage to write about how we harvested our brood in the fall (real life farm-to-table images and all) and your response was incredible! Thank you for that.
I put so many delicious fruits  and vegetables in jars in 2012, I don't know how I can possibly top them next summer. Slow-Cooker Blueberry Butter (pictured above), Zucchini-Pepper Sweet Relish and Cranberry-Pear Conserve with Ginger were just a few of my favorites.
Each new canning recipe was so well received and I loved reading your feedback and seeing your own canning projects on Instagram (hashtag #SBCanIt). Keep it up!
What else?
We hosted an epic harvest dinner, an event I am hoping to make an annual one, kids snacking station and all.
We embraced Baby-Led Weaning and a hearty conversation ensued in the comments of my first post. (Expect a follow-up soon!)
We rocked another month of October Unprocessed and we still ate chocolate cake. I'd call that a success.
And so much more. I really mean it when I say, I loved blogging for you in 2012.
One last thing that needs to be addressed.
I've barely cracked my laptop in the last week and a half, but when I did log on, I was surprised to see the year ending with some mudslinging by and at food bloggers. Many negative posts posted out trends to hate, reasons never to write a food blog, and calculate why no one reads your food blog.
Really?
For me, there are so many positives to food blogging, the negatives fade into the background, or perhaps they are blurry because I choose not to focus on them. I blog for you, the reader, not to fit into my community. I'm so not on trend. Any 'props' I own, I also use frequently for our day-to-day. I don't waste food. None. I believe in re-heats, leftovers, but I don't throw food away after I photograph it.
I adore the food blogging community. I have so much respect for anyone who holds down a food blog, because it is work to maintain. There should be NO taking sides, no dividing according to niches and genres.
In the New Year, how about we (I'm talkin' to the food bloggers now!) move toward building each other up and judging a lot less? Amen.
As for my dear readers, I loved blogging for you in 2012. Let's do it all over again (but better) in 2013, okay?
What was a favorite post from 2012? What would you like to see covered here on Simple Bites in the New Year?